How to make broccoli soup at home? TOP 5 most delicious recipes with photos. Culinary tips and cooking secrets. Video recipes.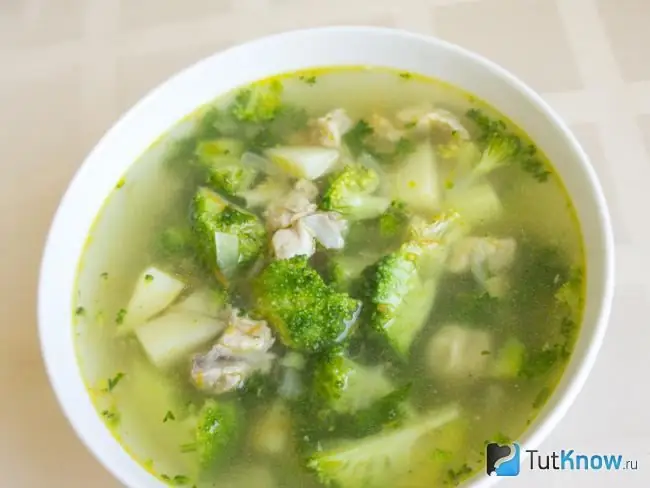 Broccoli soups are delicious and healthy. This is a healthy lunch that will energize the afternoon. This is the best source of minerals, vitamins, beta-carotene … At the same time, the calorie content of cabbage is not more than 28 kcal per 100 g. Therefore, broccoli soup will be an excellent addition to the diet of those who want to lose weight. How to cook broccoli soup at home, we learn in this review, which presents the most delicious 5 recipes with photos.
Cooking rules and tips from chefs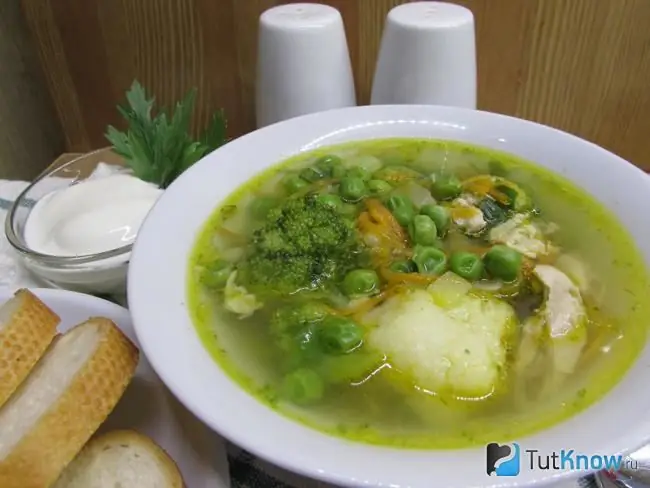 When buying broccoli, inspect the head of cabbage to make sure there are no flowers on it. It should be fresh green. If there is a yellowish tint, then the cabbage is not fresh.
To keep the broccoli buds crisp and attractive, add them shortly before the end of the soup. Broccoli can be eaten by boiling the inflorescences for 5 minutes in boiling water.
Use broccoli stalks as well. But they take longer to cook than inflorescences. Therefore, cut them into smaller pieces and add to the pan at the same time as other vegetables.
The delicate taste of broccoli is well revealed in cream soups and puree soups. Mashed broccoli soups are very popular in Europe.
To make cream soups, you need a meat grinder, blender or fine sieve. It is most convenient to work with an immersion blender, because no additional dishes required.
If you want the soup to be bright green, do not cook the broccoli for too long. And before chopping the soup in a blender, put a piece of fresh broccoli in it for 5 minutes.
Broccoli goes well with many foods: meat, fish, chicken meatballs, vegetables, leafy vegetables.
Emerald broccoli blooms contrast beautifully with orange carrots, red or yellow bell peppers and tomatoes.
If you add a little curry spice to the dish, then the soup will take on a delicate golden or yellow hue.
Soups are seasoned with sour cream, a piece of green butter, a few drops of lemon juice, cream, soy sauce.
Cheese, herbs, sesame seeds, pumpkin seeds are added to soups.
You can also make bechamel sauce for broccoli soup, squeeze a clove of garlic into a saucepan, sprinkle with paprika or chopped parsley.
Such broccoli soups are often served with croutons or white bread croutons.
Lean broccoli soup with tomatoes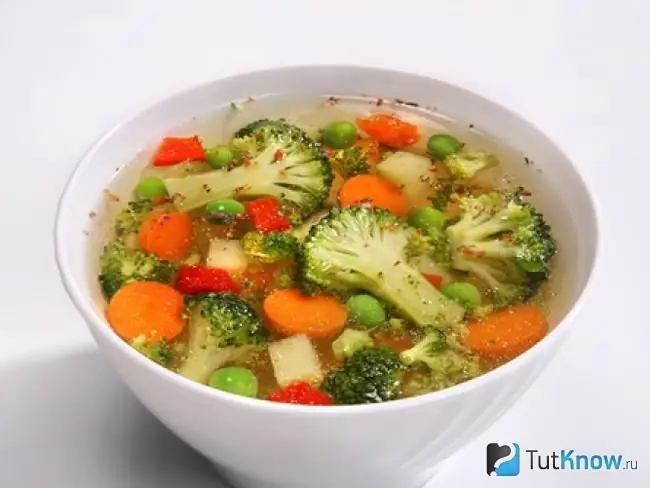 Emerald and beautiful vegetable lean broccoli soup with tomatoes. This first course, easy on the stomach, will surely open up a new taste, make lunch healthy and tasty.
Caloric content per 100 g - 45 kcal.
Servings - 4
Cooking time - 45 minutes
Ingredients:
Broccoli - 0.5 heads of cabbage
Dill - a few twigs
Bulb onions - 2 pcs.
Salt to taste
Olive oil - 2 tbsp. l.
Tomatoes - 3 pcs.
Fresh carrots - 1 pc.
Ground black pepper - to taste
Potatoes - 3 pcs.
Making Lean Tomato Broccoli Soup:
Peel the potatoes, cut into cubes and place in boiling water. Boil it for 7-10 minutes.
Peel the onions, chop a quarter into rings and fry in olive oil.
Peel the carrots, cut into thin strips and send to fry in a pan with onions. Saute vegetables until golden brown.
When the potatoes are almost cooked, add the fried carrots and onions to the pot.
Wash the broccoli, disassemble into inflorescences and place in a saucepan next to the vegetables.
Cut the tomato skins crosswise, scald the fruits with boiling water, peel, cut into squares and put in a saucepan 2 minutes before the end of cooking.
Season with salt and pepper to taste and sprinkle with finely chopped dill over the soup.
Chicken broccoli soup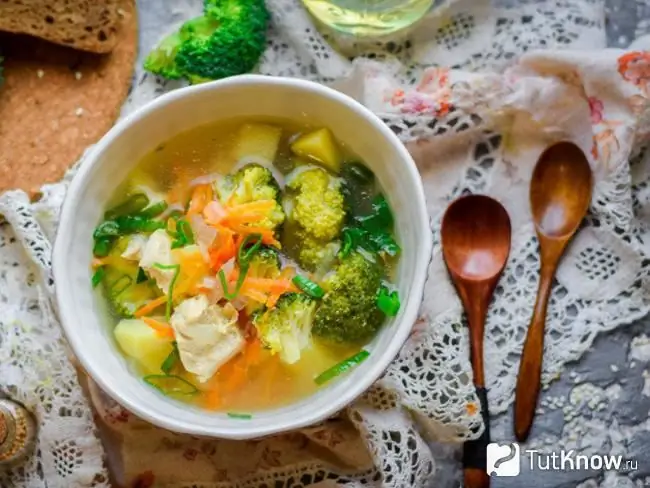 The colorful and delicious chicken broccoli soup will appeal to everyone. It is bright, light, satisfying, healthy, and cooking it is quite a simple matter.
Ingredients:
Chicken breast - 1 pc.
Broccoli cabbage - 0.5 kg
Potatoes - 2 pcs.
Bulb onions - 1 pc.
Carrots - 2 pcs.
Butter - 50 g
Dill greens - 20 g
Black allspice - 3-4 pcs.
Salt - 1.5 tsp
Cooking Chicken Broccoli Soup:
Place chicken breasts in a saucepan, cover them with water and put on fire. After boiling, remove the resulting foam and cook over low heat for 15-20 minutes.
Remove the cooked chicken from the broth and cut into small pieces.
Peel the potatoes, cut into small cubes, place in the chicken broth and bring to a boil.
Peel the carrots, wash and cut into rings. Peel and finely chop the onions.
In a skillet in butter, fry the chicken, carrots and onions until golden brown. Send the finished frying immediately to the pot with potatoes.
Wash the broccoli, divide into small inflorescences and place in a saucepan.
Season with salt and pepper, add any herbal seasonings to taste, reduce heat, and simmer, covered, for 15 minutes.
Garnish the prepared chicken broccoli soup with finely chopped dill.
Vegetable broccoli soup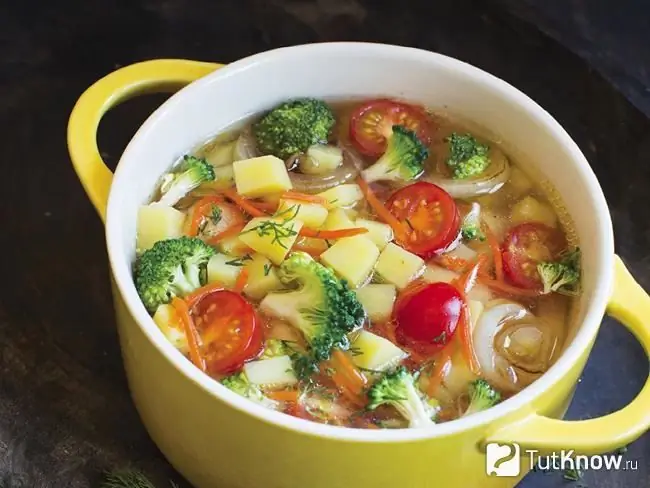 This light and spring vegetable broccoli soup is not only delicious, but also incredibly healthy. It is the ideal solution for those looking for health and weight control.
Ingredients:
Broccoli - 300 g
Carrots - 1 pc.
Zucchini - 1 pc.
Potatoes - 500 g
Green onions - 50 g
Salt to taste
Ground black pepper - to taste
Vegetable oil - 50 ml
Water - 2 l
Cooking Vegetable Broccoli Soup:
Chop the green onions finely enough. Peel the carrots and cut into thin rings. Fry vegetables in a frying pan in vegetable oil for 3-4 minutes.
Boil water and add peeled potatoes, cut into small cubes. Salt a little water and cook the potatoes until half cooked for 10 minutes.
Divide the broccoli into florets and add to the pot.
Cut the zucchini into cubes and send after the cabbage. If you are using young zucchini, you do not need to peel it. If the fruit is old, then peel it off and remove the seeds.
Add frying to the soup and cook until vegetables are cooked.
Season with salt and pepper and add whatever herbs you like.
Broccoli Mint Soup by Jamie Oliver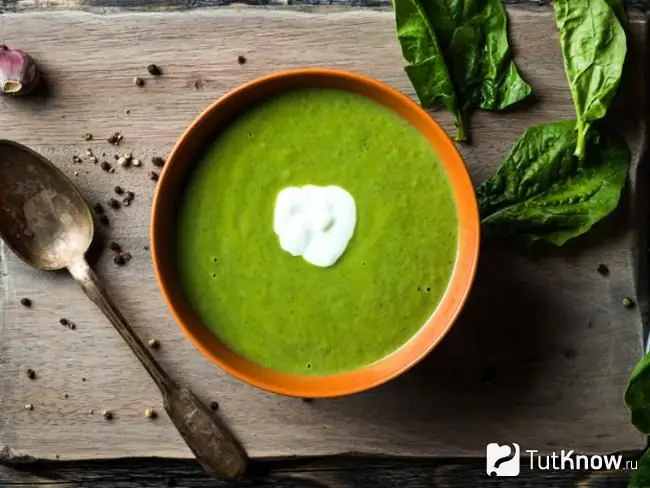 Jamie Oliver's first dish with broccoli blooms has a rich flavor with a slight minty hint. It is suitable for dietary and healthy eating. Its scent instantly induces an appetite.
Ingredients:
Broccoli - 400 g
Garlic - 1 clove
Celery - 2 sticks
Chicken or vegetable broth - 1 l
Mint - bunch
Olive oil - 1 tablespoon
Ricotta or unsalted cream cheese - 2 tablespoons
Salt to taste
Ground black pepper - to taste
Making Broccoli Mint Soup by Jamie Oliver:
Heat olive oil in a heavy-bottomed saucepan and sauté the finely chopped garlic and celery cloves for 3 minutes.
Disassemble the broccoli into inflorescences, add to the pan and simmer a little.
Pour in the broth and cook for 5-10 minutes to soften the cabbage.
Remove soup from heat, add mint leaves and puree with a blender.
Season the soup with pepper and salt to taste.
Serve broccoli puree with ricotta chunks or cream cheese.
Broccoli Soup by Gordon Ramsay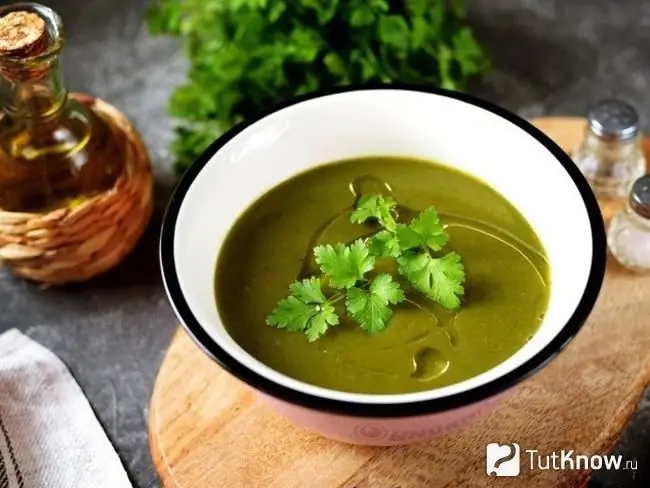 Gordon Ramsay's Broccoli Soup is filling well, despite its lightness. It can be boiled in water, vegetable or meat broth. If desired, add a little chicken breast to the soup for satiety.
Ingredients:
Broccoli - 600 g
Olive oil - 2 tablespoons
Water - 1 l
Salt to taste
Ground black pepper - to taste
Parmesan or cheddar cheese - 50 g
Making Broccoli Soup by Gordon Ramsay:
Cut the broccoli into small pieces and place in a saucepan of boiling salted water.
Cook the cabbage for 5 minutes and remove from the pot.
Place the broccoli in a blender, add 1/3 cup of the boiled water and purée with the blender.
Season the soup with salt and pepper. Pour in olive oil, stir and heat for 1 minute.
Serve the soup sprinkled with a little grated cheese.
Video recipes for making broccoli soup