How to cook clam soup at home? Cooking Tips and Chefs' Secrets. The most delicious TOP-4 recipes with photos. Video recipes.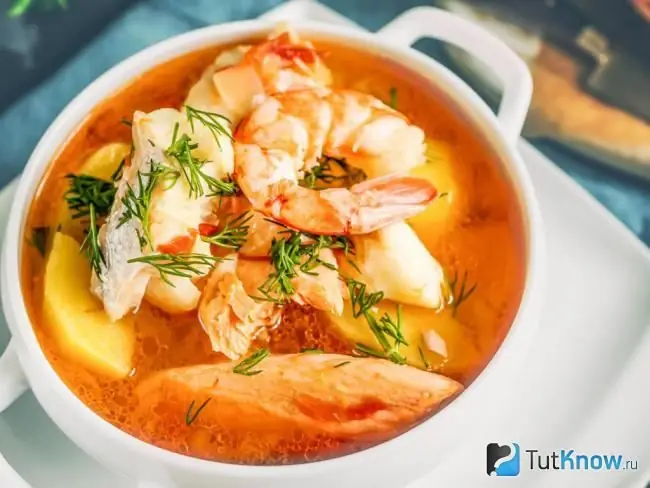 The shellfish broth is not only tasty, but also easy to prepare and well digested by the stomach. This dish is especially popular on cold winter days in the United States. Although the delicious shellfish soup will fit perfectly into any meal of millions of people around the world. In addition, shellfish are not only a delicacy, but also a healthy product. They consist of high quality natural protein, the content of which is equal to that of a chicken's egg. In addition, shellfish contain 30 trace elements and minerals. Therefore, in order to preserve the nutritional value in a product, you need to know how to properly prepare shellfish soup.
Cooking Tips & Chef Secrets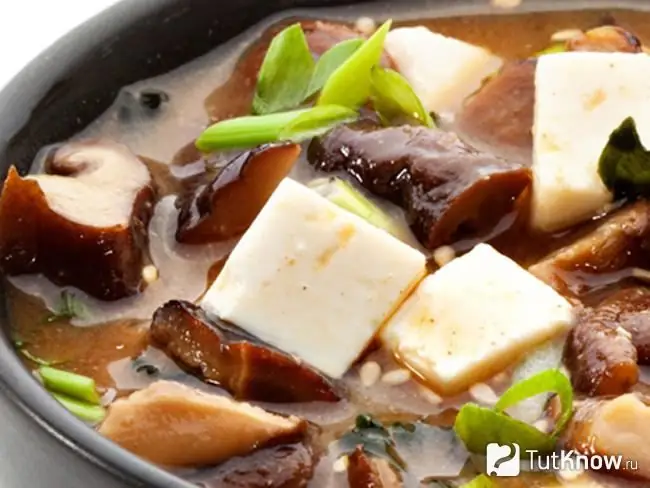 Large mussels are much tastier and juicier than small ones.
Mussels and other edible molluscs live in shells, which must be alive when purchased. Usually in live molluscs, the shell is tightly closed. If you come across a sink with open flaps, touch it with your fingers - it should close. If it does not close, it means that the shellfish is dead inside, and you cannot eat it.
Fresh shellfish should be cooked on the day of purchase. If you have to store them, then no longer than a couple of days and only in the refrigerator.
Before cooking, wash the shells thoroughly with water, brush the dirty ones with a brush, and remove all growths.
Molluscs in a shell should not be overexposed on fire so that they remain juicy and fresh. The peeled mussels are boiled for 5 minutes, and the clams in the shells until the valves open.
In our country, mussels are most often sold in a boiled-frozen state, so freshness can be determined only after defrosting. Therefore, they must be thawed at room temperature and sniffed. If you smell an unpleasant smell, discard the delicacy.
Preparing frozen clams is as easy as preparing fresh ones. After defrosting, rinse them thoroughly. Cook the peeled frozen clams for 7 minutes, and the clams in the shells until the valves open. It is important to first bring the clams in the shells to a boil, drain the water and continue cooking in clean water until the flaps open, which will take about 10 minutes.
Serve the clam soup hot, because cooled shellfish lose most of their taste.
Clam soup is prepared from various edible shells. Also, the dish is complemented with other seafood: any types of crustaceans and fish.
Salted bacon and pork fat are often added to the clam chowder. For satiety, the dishes are supplemented with vegetables (onions, potatoes), for density - with flour, and for a piquant taste - with a tomato or cream base, as well as cheese. Serve the clam chowder deliciously with chopped salted crackers or biscuits.
Shellfish and seafood soup
Delicate and aromatic, tasty and healthy, original and velvety creamy soup with shellfish and seafood. Using shellfish, shrimp, tuna and vegetables for the recipe makes the dish a little pricey, but the taste is worth it.
Caloric content per 100 g - 195 kcal.
Servings Per Container - 5-6
Cooking time - 45 minutes
Ingredients:
Clams (you can take a seafood cocktail) - 150 g
Garlic - 3 cloves
Salt, ground black pepper - to taste
Petiole celery - 50 g
Peeled boiled-frozen shrimps - 50 g
Canned tuna - 1 can
Potatoes - 2 pcs.
Onions - 1 pc.
Carrots - 1 pc.
Corn grains - 300 g
Sweet red pepper - 1 pc.
Butter - 3 tablespoons
Cream - 125 ml.
Parsley and dill - a few twigs
Flour - 3 tablespoons
Cooking Clam and Seafood Soup:
Peel potatoes, onions, carrots and celery, peel the bell peppers from the seed box. Wash the vegetables, dry them and cut them into small cubes.
Pour water (1.5 l) into a saucepan, put vegetables (potatoes, celery and bell peppers) and cook for half an hour after boiling. This vegetable soup will become a soup broth.
Put butter in a frying pan, melt over low heat and sauté onions, carrots and chopped garlic until golden brown. Add corn, stir and cook for 3 minutes. Sprinkle the contents of the pan with flour and stir.
Pour 125 ml of boiling broth into a frying pan and stir to make flour. Then add all vegetables in small portions to a saucepan with broth.
Season the soup with salt and pepper and add the shrimp, shellfish and tuna meat. Next, pour in the cream, stir and bring to a boil.
Add chopped dill and parsley and remove the pan from the stove immediately. Let the clam and seafood soup steep for 15 minutes.
Clam tomato soup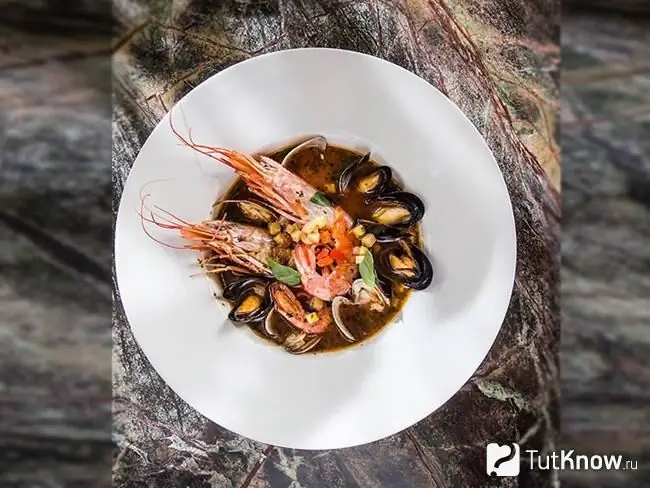 Surprisingly tender, with a pleasant taste, shellfish meat is well suited for preparing a wide variety of dishes. For example, tomato clam soup is a real treat.
Ingredients:
Water - 3 tbsp.
Molluscs in shells - 24 pcs.
Red onion - 0.5 pcs.
Petiole celery - 2 pcs.
Garlic - 2 cloves
Bacon - 50 g
Tomatoes in their own juice - 800 g
Potatoes - 2 pcs.
Parsley - a few twigs
Oregano - a few twigs
Vegetable oil - 1 tablespoon
Salt and black pepper to taste
Cooking Tomato Clam Soup:
Wash the clams and check that the clams are covered. Place them in boiling water, cover and cook for 10 minutes, until the shells open. Discard shells that do not open.
Remove the shells from the boiling water, remove the meat from them and place in a bowl. Top them with a little broth, in which they were cooked, so as not to dry out. Strain the remaining broth through cheesecloth.
Pour vegetable oil into a saucepan and add bacon, cut into 1 cm pieces. Fry it for 7 minutes, stirring occasionally, until golden brown. Remove bacon and place on a paper towel to remove excess grease.
Put finely chopped red onion, celery and garlic in the saucepan where the bacon remains. Cook vegetables over medium heat for 5 minutes until lightly golden.
Add tomatoes in your own juice to vegetables. If the fruits are large, chop them finely.
Next, pour in the clam broth and put the potatoes, cut into small cubes. Cook the potatoes until tender, about 10 minutes.
Then add finely chopped parsley, oregano and clams to the soup. Season with salt and pepper. Continue simmering the tomato clam soup, covered for 1 minute.
Clam puree soup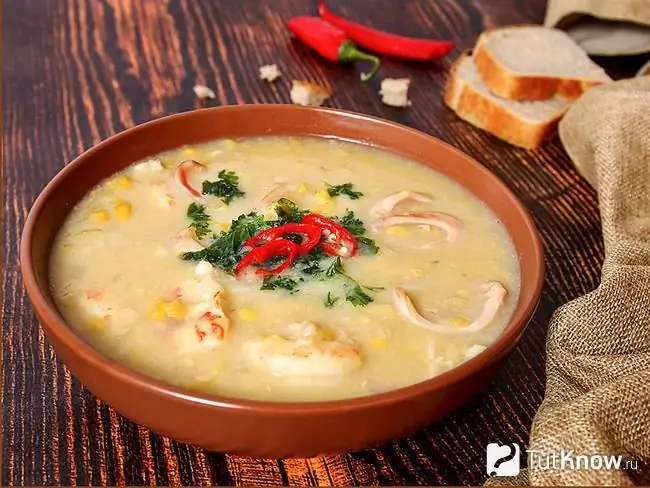 The clam puree soup has a mild sweet and salty taste. It is low in calories, so it will gain wide popularity among those who want to lose weight.
Ingredients:
Fish - 500 g
Carrots - 1 pc.
Shallots - 4 pcs.
Tomatoes - 4 pcs.
Salt to taste
Butter - 50 g
Saffron - to taste
Rosemary to taste
Corn flour - 2 tablespoons
Milk - 1 tbsp.
Shellfish - 500 g
Greens - a bunch
Eggs - 2 pcs.
White peppercorns - to taste
Cream - 100 ml
Making clam puree soup:
Peel the fish, wash, cut into pieces, cover with cold water and boil. Boil the broth for 20 minutes, salt and stir. Remove the fish and strain the broth through a fine sieve.
Wash the tomatoes and remove the skin. Chop the shallots into rings. Cut the peeled carrots into cubes. In a skillet in butter, fry the vegetables until golden brown. Then grind them with a blender until smooth and send to the broth.
Stir the cornmeal with the milk and pour into the soup, stirring constantly so that no lumps form. Add saffron, pepper and rosemary.
Wash the clams, add to the soup and cook for 20 minutes.
Beat eggs with cream and pour the resulting mass into the soup.
Sprinkle the prepared clam puree soup with chopped herbs.
Chowder with clams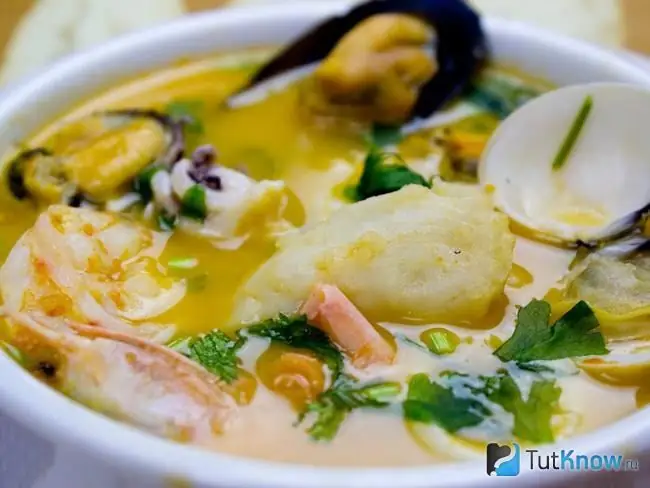 Chowder soup with a long history is worthy of a festive table. It is not easy to prepare, but it tastes great. It is the first dish based on broth and shellfish with the addition of milk or tomatoes. However, there are 3 main recipes for chowder. The first New England clam chowder with added milk or cream. The second is the Manhattan Clam Chowder with Tomatoes. The third is the Rhode Island Clam Chowder with clear broth and clams.
Ingredients:
Fish fillet (any) - 300 g
Seafood cocktail - 300 g
Red onion - 1 pc.
Bacon - 3 pcs.
Cream - 2/3 tbsp.
Potatoes - 2 pcs.
Broth - 250 ml
Ghee - 1 tablespoon
Flour - 1 tablespoon
Thyme - a pinch
Parsley - 2 sprigs
White pepper - to taste
Salt to taste
Cooking Clam Chowder:
Wash the fish fillet, remove the bones, cut into pieces and put in a saucepan. pour water and boil the broth for half an hour. Remove the fish from the finished broth and strain it through a sieve.
Place diced potatoes and thyme in strained broth and bring to a boil. Cook, covered, until the potatoes are tender, over a shallow heat for 20 minutes.
Melt the ghee in a skillet and sauté the chopped bacon. Take it out and set it aside.
Fry finely chopped red onions in the same fat until soft. Add flour to it, fry for 2 minutes and pour in a ladle of broth. Stir to avoid clumping and pour into pot of potatoes.
Then add the clams and cook for 5-7 minutes.
Pour in the cream, add the boiled pieces of fish, salt and pepper, stir, boil and remove from heat.
Place finely chopped parsley and sautéed bacon into a saucepan, cover and serve after 5 minutes.
Video recipes for making shellfish soup