Step-by-step recipe with a photo of buckwheat soup with meatballs and asparagus at home. Cooking technology, calorie content and video recipe.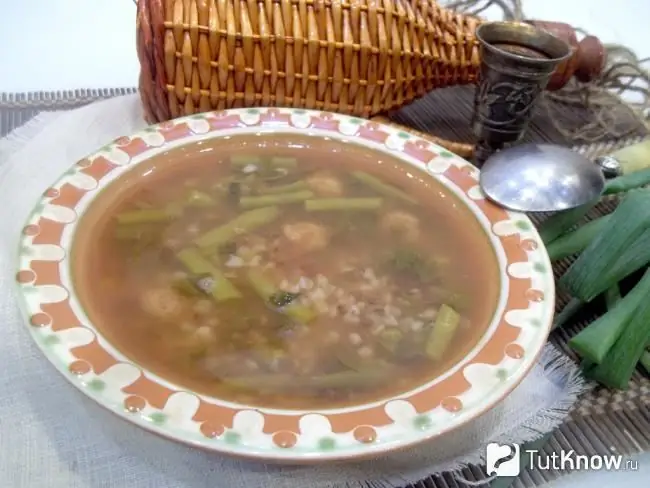 In the summer, you don't want fatty and heavy food, but light soups, cold okroshka and vegetable borscht. Buckwheat soup with meatballs and asparagus beans will appeal to everyone: the delicious taste of the eaters and the simple way of preparation for the chef. The successful combination of ingredients makes the soup a very worthy option for a quick and tasty lunch. It will appeal not only to adults, but also to the most fastidious little gourmets.
The first course can be cooked from both fresh green beans and frozen ones. What kind of meat the meatballs will be made from is not at all important. They can be lamb, beef, pork, mixed mince, chicken, turkey and even fish. For dietary soup, use ground chicken or turkey breast. For richer soups, use a 1: 1 mix of ground beef and pork. The main thing is that the minced meat is fresh, and the most ideal minced meat is of its own production, twisted independently in a meat grinder. Although it is possible to purchase and ready-made in the store. It is better to take it not coarsely, with a small amount of bacon and without large veins, otherwise the meatballs may disintegrate during cooking.
In addition to green beans and meatballs, buckwheat is added to the soup, which has both satiety and lightness. You can replace it with spaghetti or pasta of any kind. There is no frying here, because it makes the soup heavier, which you don't want at all in the summer heat. Use any spices, spices and herbs to create a unique bright and piquant taste. And for a rich mouth-watering aroma, add a garlic clove passed through a press.
Caloric content per 100 g - 115 kcal.
Servings - 4
Cooking time - 30 minutes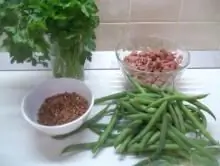 Ingredients:
Buckwheat - 80-100 g
Minced meat - 200-300 g
Asparagus beans - 200 g
Parsley greens - small bunch
Salt - 1 tsp or to taste
Bay leaf - 1 pc.
Ground black pepper - a pinch
Allspice peas - 2 pcs.
Step by step cooking buckwheat soup with meatballs and asparagus, recipe with photo: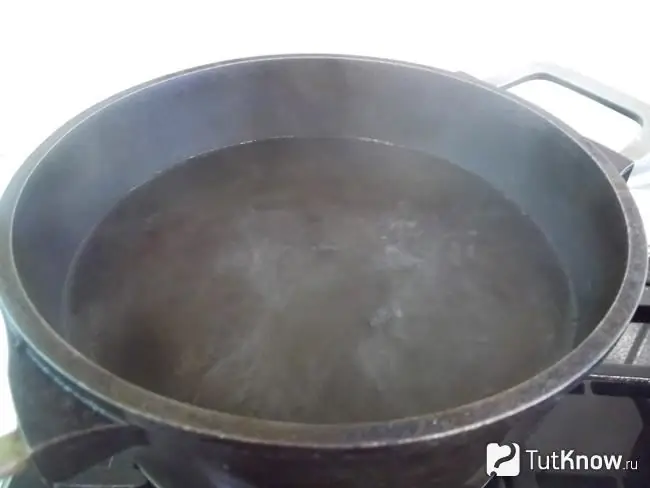 1. You can cook the soup in water, vegetable broth or meat broth. Pour any of the selected liquids into a saucepan and place on the stove to boil.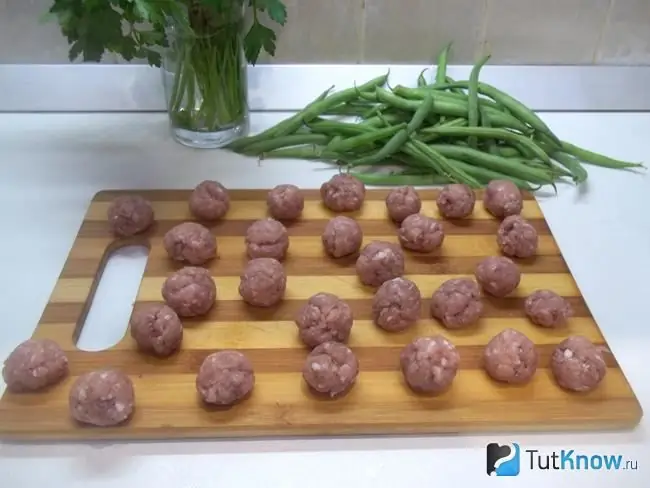 2. Season the minced meat with salt and black pepper, mix well with your hands, passing it between your fingers. Then, so that the meatballs do not disintegrate during cooking and hold well, beat it several times. To do this, take the minced meat in your hands, lift it and throw it back with force into the bowl or on the table. Do this about 15 times to release the gluten from the meat, which will hold the minced meat together. Then form into small round meatballs that range in size from walnut to cherry.
You can experiment with meatballs and, if desired, add a little butter if the minced meat is lean. Add water or chopped onions for juiciness. Enrich and add a piquant taste to the meatballs grated parmesan, fried carrots, bell peppers, chopped greens.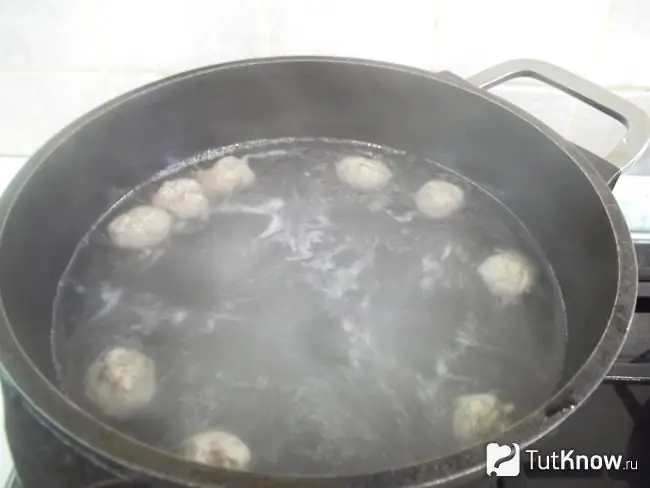 3. When the liquid in the saucepan boils, dip the meatballs into it and stir. They must be stirred periodically so that they do not stick together.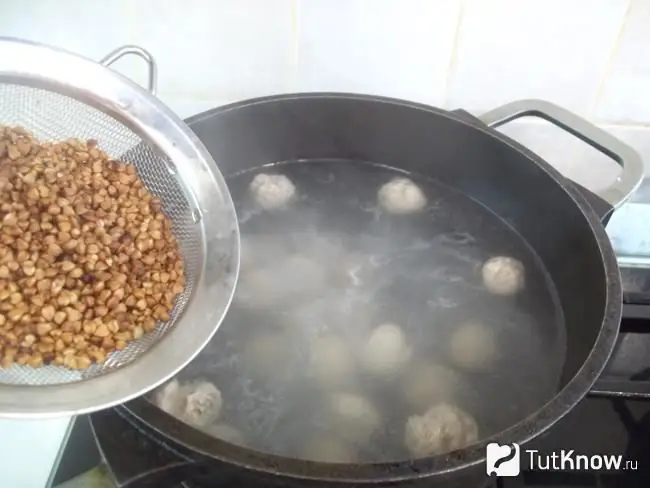 4. Sort the buckwheat, removing stones and debris. Wash and immediately place with the meatballs in the saucepan. Bring the contents to a boil, salt and pepper, cover and reduce heat to low. Boil the soup for 10-12 minutes.
If you can't imagine a soup without potatoes, along with buckwheat, send a few peeled and diced potatoes to the pan to boil.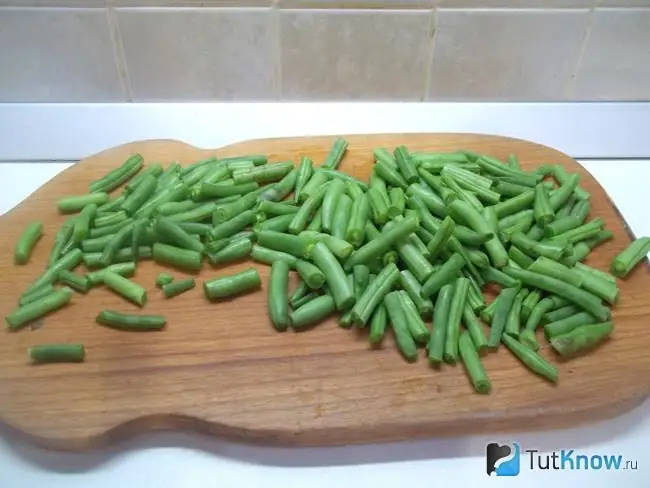 5. During this time, wash the asparagus beans, cut off the ends on both sides and cut the pods into 2-4 pieces, depending on the original size. The piece should be about 2 cm long.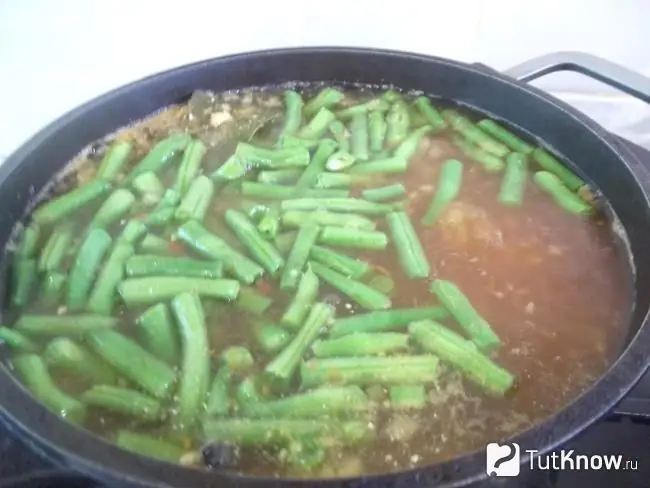 6. Send the chopped asparagus to the pan, add bay leaves, allspice peas and any spices. Stir and bring everything to a boil, reduce the temperature and cook, covered, for 4-5 minutes. Do not overcook the asparagus for longer, otherwise it will lose its bright color and some of the nutrients. For this reason, add it to the pot near the end of the soup.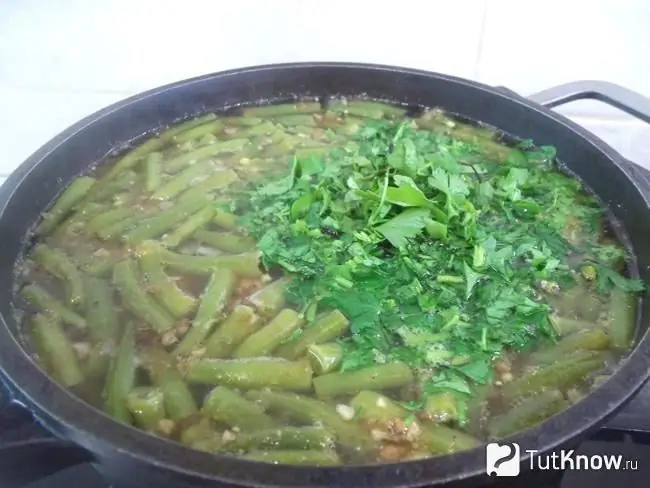 7. Wash the parsley, chop finely and send to all the ingredients of the dish. Taste with salt and add salt as needed. Allow all foods to simmer for 30 seconds and remove from heat. Cover the cooked buckwheat soup with meatballs and asparagus and leave to infuse for 15 minutes. Serve it with a fresh baguette, croutons or white bread toast. Perfectly accentuate the delicate taste of sour cream.
See also a video recipe on how to make meatball soup in 30 minutes