TOP-4 recipes with a photo of making pancakes with a bake for Shrovetide at home. Secrets and features of their baking. Video recipes.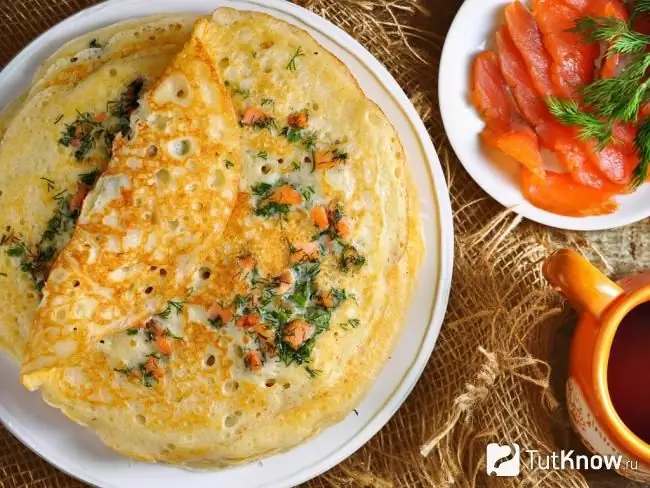 Delicious, hearty and interesting - pancakes with baked on for Shrovetide - pancakes with baked filling. The filling can be very diverse, and the technological process of this cooking method is carried out in several ways. This material offers TOP-4 branded recipes for pancakes with different fillings for baking and different technologies for their preparation.
Secrets and features of baking pancakes with baked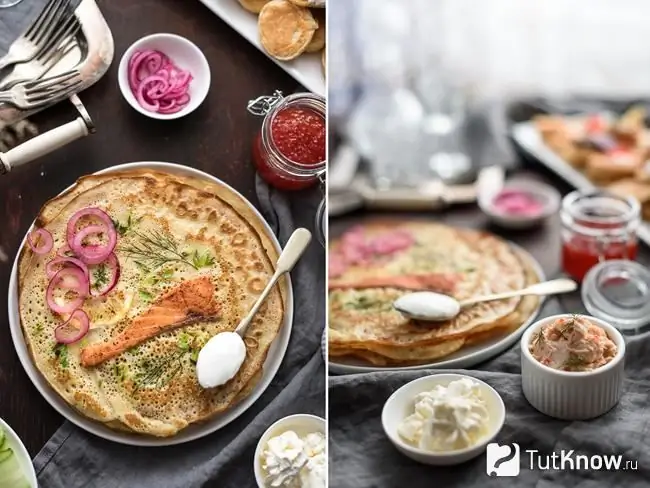 There are several ways to prepare a baking powder.
First, the dough is poured into the pan in a very thin layer. Until it grabs, the filling is laid out on top, which is poured on top with an even thin layer of dough. When the underside of the pancake is ready, turn it over and bake from the other side.
The second is the same option as the first, only the filling on top is not additionally poured with dough. The filling is spread on a still liquid and not tacked dough, poured into a pan, and, as it were, pressed into it.
The third - on the bottom of the pan greased with a thin layer of oil, the filling is laid out, which should be very thinly sliced. The dough is poured on top of it. Then pancakes are baked as usual.
The fourth is the most simplified option - baking products are mixed into the dough and ordinary pancakes are baked. The filling should be very finely chopped.
Fillings for baked pancakes can be very diverse.
For the sweet version: chopped chocolate, raisins, slices of prunes and dried apricots, chopped fresh fruits and berries.
For the salty version: hard-boiled and mashed eggs to small crumbs, thinly sliced smoked or lightly salted salmon, chopped green onions, sautéed onions, fried carrots, fresh mushrooms, thinly sliced or fried in oil, grated cheese, etc.
Baked pancakes are usually consumed on their own with additional toppings, depending on the filling: with sour cream, sauce, jam, honey … they turn out to be quite dense. However, these pancakes are suitable for making pancake cake or pie.
For pancakes with baking, you can use not only wheat flour, but also rye, rice, buckwheat, flaxseed, corn, oatmeal, starch, etc. As a liquid base, take milk, kefir, whey, curdled milk, yogurt, fermented baked milk, mineral water, plain water, beer, etc. However, there are no restrictions for the preparation of pancake dough with baking. It is made by anyone, as for ordinary pancakes.
Pancakes with ham and cheese baked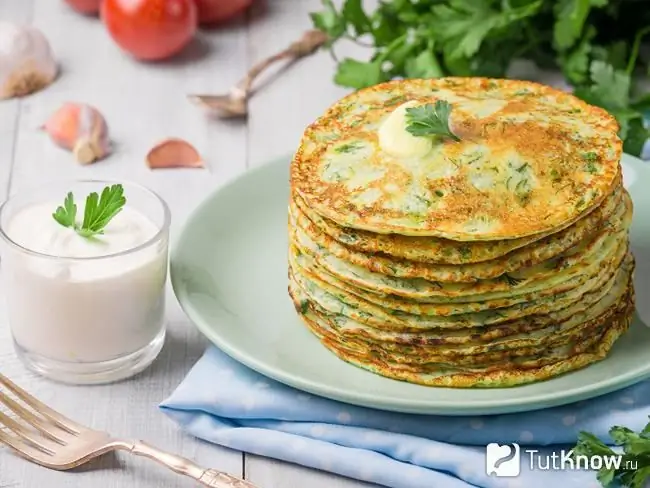 The most popular filling for baking is cheese and cold meats. The recipe is similar to sausage and cheese sandwiches, but tastier. These pancakes are perfect for a morning breakfast with a cup of coffee or tea.
Caloric content per 100 g - 249 kcal.
Servings Per Container - 12
Cooking time - 30 minutes
Ingredients:
Flour - 2 tbsp.
Salt - a pinch
Sugar - 2 tablespoons
Cheese - 300 g
Ham - 250 g
Eggs - 3 pcs.
Vegetable oil - 3 tablespoons
Milk - 0.5 l
Making pancakes with ham and cheese baking:
For baking, cut the ham into small cubes and lightly fry in a pan in vegetable oil. Grate the cheese on a coarse grater.
For dough, beat eggs with sugar and salt. Pour in warm milk and stir.
Gradually add the sifted flour and knead to a smooth, lump-free dough.
Pour vegetable oil into the resulting dough so that the pancakes do not stick to the pan and mix.
Bake pancakes. Pour a small amount of dough into a well-heated frying pan greased with vegetable oil. Put some ham and cheese on top of the pancake and immediately pour over the food with a portion of the dough so that the filling is inside.
When one side is fried and a ruddy edge forms around the pancake, turn the pancake to the other side and bake it until tender.
Yeast pancakes with salmon and dill baked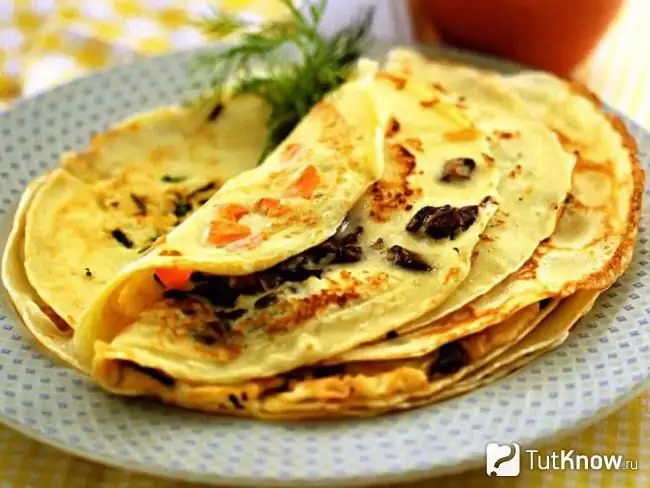 Ruddy, tasty and nourishing yeast pancakes with salted salmon and dill bake. This is a kind of pancake pastry pasties or closed pizza with exquisite filling.
Ingredients:
Flour - 250 g
Milk - 500 ml.
Dry yeast - 1, 5 tsp
Eggs - 1 pc.
Sugar - 1 tablespoon
Salt - 1 tsp
Vegetable oil - 3 tablespoons
Lightly salted salmon - 100 g
Dill - 30 g
Cooking yeast pancakes with baked salted salmon and dill:
Pour warm milk (100 ml) into a bowl, add yeast, sugar, flour (1 tablespoon) and mix everything until smooth. Cover the container and leave for 15-20 minutes to activate the yeast. A foamy "cap" should form in the mass from above.
Whisk the remaining warm milk, eggs, salt and vegetable oil in a large container.
Combine milk mass with rising yeast, stir and add flour.
Stir the dough well until smooth without lumps, cover and put in a warm place for 1 hour to rise 2 times.
Cut the fish fillet into small cubes, finely chop the washed dill and mix the products.
Heat the frying pan, brush with vegetable oil, pour in the dough and twist with the pan so that it spreads over the bottom.
Put some of the filling on top of the dough and fry the pancakes until golden brown at the bottom and browned at the edges. Then turn it over and fry for another 1-2 minutes until tender.
Pancakes with chocolate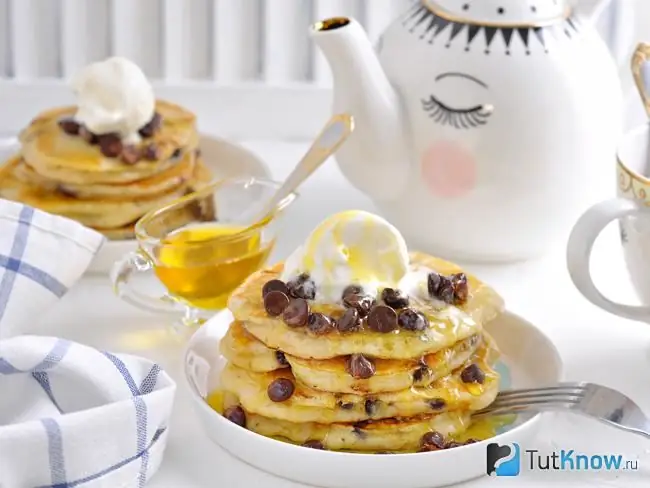 Recipe for Shrovetide - dessert pancakes with chocolate baked. Pancakes are usually prepared with meat or mushrooms, or with apples. But with chocolate drops, they turn out to be especially tasty, aristocratic and noble.
Ingredients:
Flour - 120 g
Kefir - 250 ml.
Eggs - 1 pc.
Butter (melted) - 30 g
Baking powder - 1.5 tsp
Baking soda - 0.5 tsp
Salt - a pinch
Sugar - 2 tablespoons
Vanilla sugar - sachet
Chocolate drops (or chopped chocolate) - 70 g
Ghee, honey or ice cream - for serving.
Cooking pancakes with chocolate baked:
Stir in flour, baking soda, baking powder, and salt.
Whisk eggs, sugar and vanilla sugar in a separate bowl. Pour in the melted butter at room temperature and stir.
Pour kefir at room temperature into the egg-butter mass and mix. If kefir comes out of the refrigerator, heat it up in the microwave for 10-15 seconds. Since soda in a cold fermented milk environment will not "work".
Pour the liquid components into the flour and mix so that there are no lumps.
Then add chocolate drops to the dough and stir again.
Grease a frying pan with vegetable oil, heat well and turn on medium heat.
Spoon the dough with a ladle and pour it into the pan. Swirl it to spread the dough along the bottom and fry the pancakes on one side for 2 minutes until golden brown and bubbles appear on the surface. Then turn it over and cook for another 2 minutes.
Grease hot pancakes with chocolate baked with melted ghee, pour over with honey or add a scoop of ice cream.
Pancakes with apple and cinnamon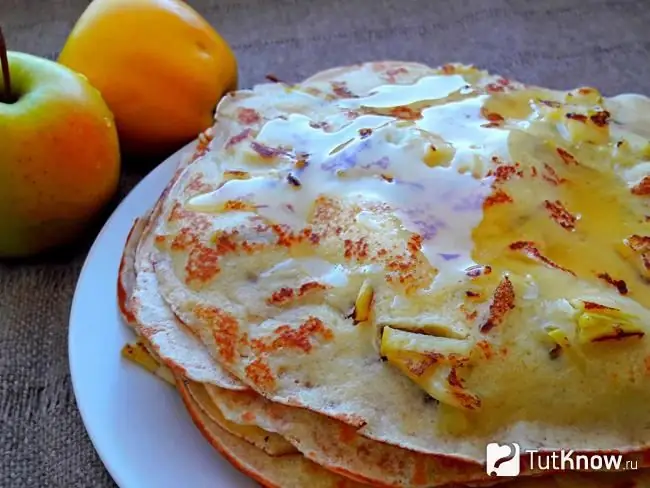 Incredibly delicate and delicate pancakes with apples and cinnamon baked for Shrovetide will decorate any festive table. They can be baked from ordinary pancake dough, or from sweet. And if desired, apples can be replaced with pears, peaches or apricots.
Ingredients:
Flour - 120 g
Milk - 100 ml
Eggs - 2 pcs.
Vegetable oil - 2 tablespoons
Salt - a pinch
Baking soda - 0.5 tsp
Sugar - 1 tablespoon
Apples - 2 pcs.
Cinnamon - 1/3 tsp
Making pancakes with apple bake and cinnamon:
Whisk the eggs with salt, sugar, baking soda and cinnamon.
Pour milk at room temperature into the egg mass and stir.
Pour flour into the milk mass and stir to make the dough with a consistency like thick sour cream.
Pour butter into the dough, stir and leave to stand for 10-15 minutes.
Peel the apples and remove the seed box. Grate the pulp on a coarse grater, put in the dough and mix.
Heat the frying pan, brush with vegetable oil and pour out a portion of the dough.
Fry pancakes on both sides for 1-2 minutes until golden brown.
Serve sour cream, jam or honey with pancakes with apple baked and cinnamon.
Video recipes for making pancakes with baking for Shrovetide