Aromatic, tasty, satisfying, beautiful, very easy to prepare - veal with potatoes and carrots in spices with adjika. A detailed description of the preparation with a photo. Video recipe.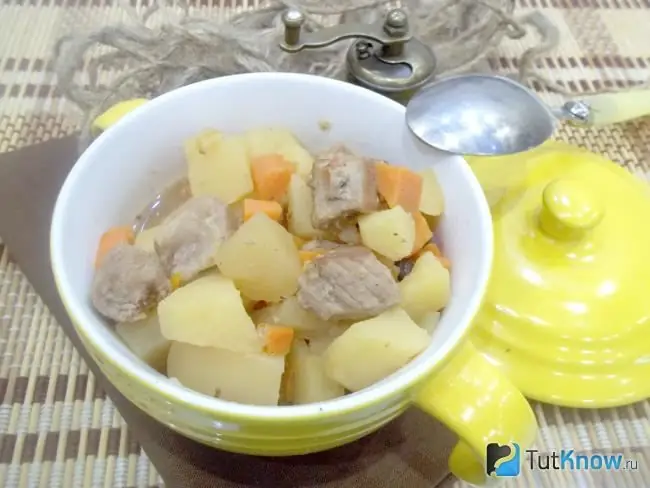 A universal recipe for stewing veal with potatoes and carrots in spices with adjika. This, of course, is not a light and dietary food, but nutritionists say that periodically you need to eat something high in calories to speed up your metabolism. The products are pre-fried and then stewed in a cauldron. Although you can use any dish with thick sides and bottom for the recipe. It can be clay pots, a cast-iron pan, etc. Only in such a dish will the dish turn out tender and melt in the mouth, potatoes - crumbly, and gravy - thick and rich.
The main ingredients of the dish are meat and potatoes. The rest of the food makes the dish tastier. So don't forget about onions and carrots. Spices, prunes, mushrooms will add special piquancy. Meat can be used not only veal, but the variety that you like the most. The main thing is that it is juicy and fatty, the most preferable is the neck. Although chicken, turkey, veal, and rabbit are also suitable. Any combination of potatoes with a soft and juicy piece of meat, drenched in sauce, will be very "tasty". At the end of cooking, it is not forbidden to add tomato paste to the dish, then you get a richer color and taste.
See also how to cook khashlama with veal and beer.
Caloric content per 100 g - 329 kcal.
Servings - 3-4
Cooking time - 2 hours 45 minutes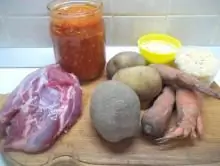 Ingredients:
Potatoes - 4-6 pcs. depending on the size
Salt - 1 tsp or to taste
Veal - 600 g
Ground black pepper - 0.5 tsp
Dried ground garlic - 1 tsp
Adjika - 1-2 tablespoons
Vegetable oil - for frying
Carrots - 2-3 pcs.
Dried ground onions - 1 tsp
Step-by-step cooking of veal with potatoes and carrots in spices with adjika, recipe with photo: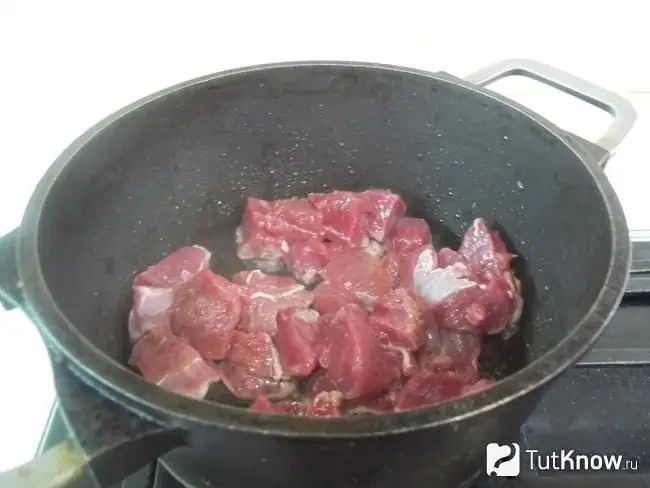 1. Wash the meat under running water and dry it with a paper towel (be sure, otherwise oil will shoot). Cut the veined films and cut into medium sized pieces. Pour vegetable oil into a frying pan or any other convenient container and heat. Add the pieces of veal and turn on a high heat so that they quickly set in a crust that will keep all the juice inside.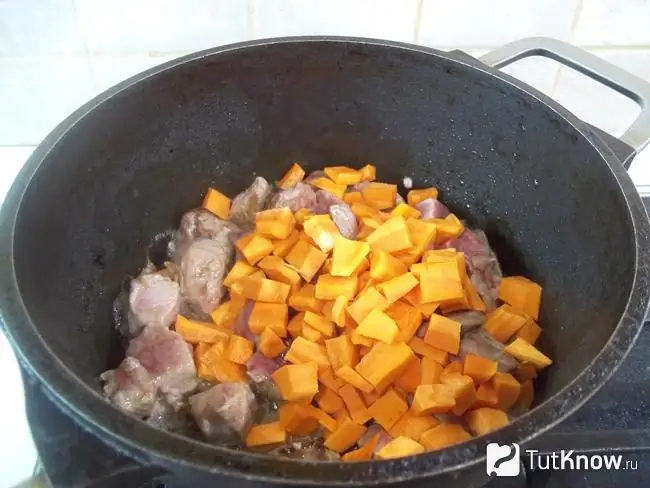 2. Peel the carrots, wash, cut into bars and send to a saucepan with meat. Reduce heat to medium and continue frying until the carrots are golden brown.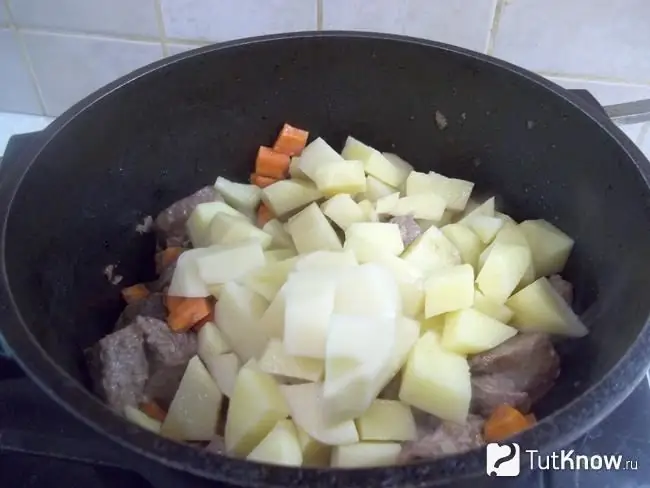 3. Peel the potatoes, wash, cut into medium-sized bars and send to the pot with food.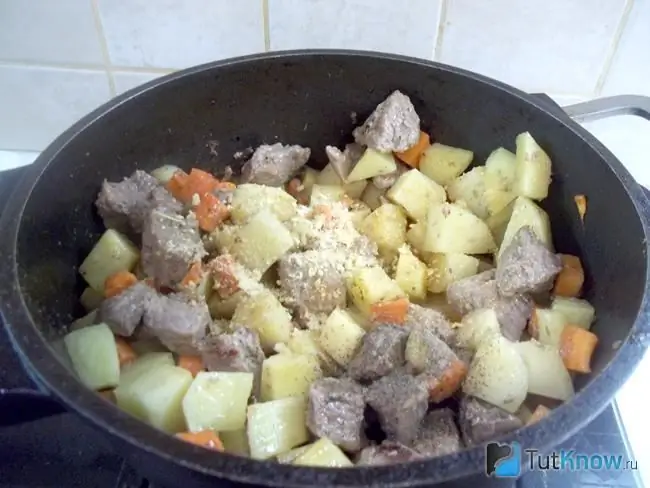 4. Continue frying ingredients until golden brown. Season food with dried ground garlic and onions, salt and black pepper.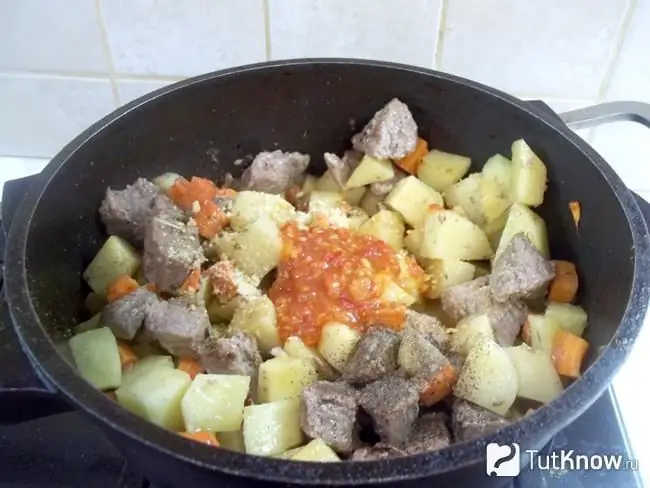 5. Stir the food and add the adjika.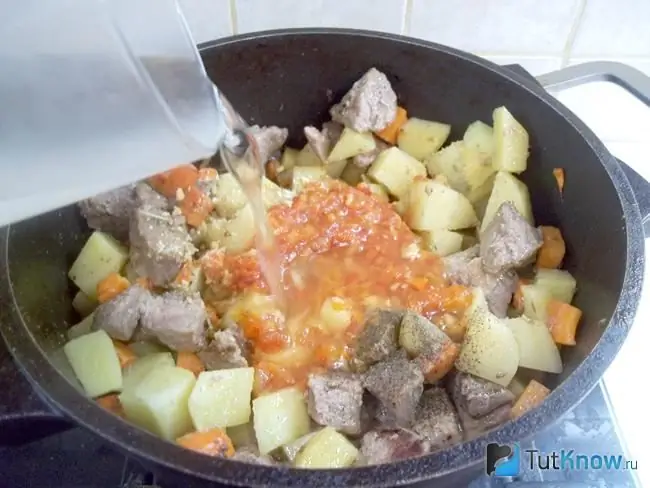 6. Pour drinking water into a pot to cover all food. Instead of water, you can use broth (meat, vegetable), tomato juice, milk, sour cream, etc.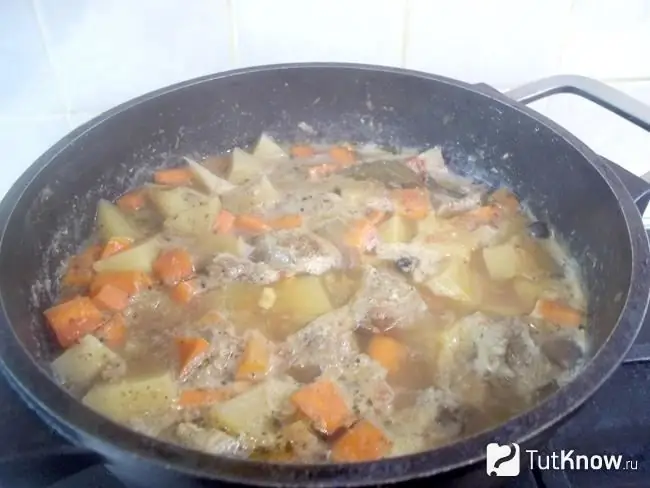 7. Stir food and bring to a boil. Close the container with a lid, turn on low heat. Simmer veal with potatoes and carrots in spices with adjika for about 1, 5-2 hours. The longer the food is stewed, the more tender the meat will be, the friable the potatoes and the thicker the gravy. If you add tomato, then do it at the end of cooking, because it increases the cooking time of the potatoes. If the roast comes out liquid, dilute a tablespoon of flour in a ladle of broth from it and pour in a saucepan.
See also the video recipe on how to cook beef stew.