Step-by-step recipe for chicken tobacco: selection of products, cooking technology. Video recipes.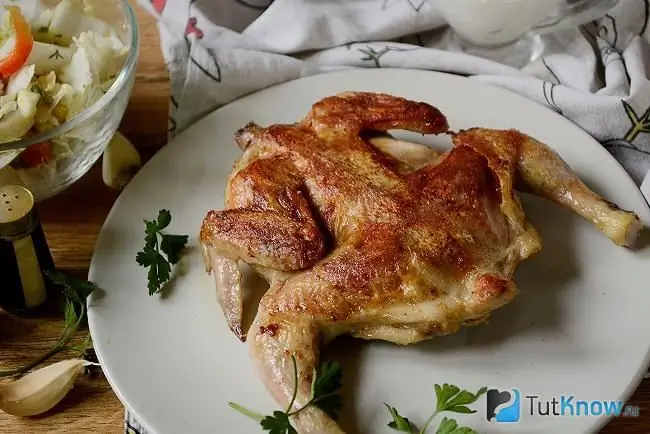 Chicken tabaka is a well-known Georgian dish that has conquered a large number of people in many countries. In the preparation of this dish, there are nuances not only in the choice of the product, but also in the technology itself. And, despite his fame, not all housewives know how to cook tobacco chicken and whether it can be done in a home kitchen.
The main ingredient is the carcasses of young chickens. Their weight should not exceed 700-800 g. The meat should be pinkish, aromatic and elastic - these are the main indicators of the freshness of the product. It is not difficult to determine the color and smell. And to check the elasticity, simply press on the soft part and remove your finger. The fresh product quickly takes on its original shape.
For marinade chicken tobacco, you can use basil, coriander, dry red wine and garlic in different combinations. But even if you cook a product without additional ingredients, you still end up with an exquisite dish. young carcasses have a pleasant taste and are tender.
For many years, such a dish has been prepared in the home kitchen using a special frying pan equipped with a screw press or a heavy lid. However, even without such kitchen utensils, you can easily please your loved ones and guests with the amazing taste of fried young chicken.
We suggest that you familiarize yourself with a simple recipe for chicken tobacco with a photo, which can be easily used to compose a festive menu.
See also pan-cooking tobacco chicken.
Caloric content per 100 g - 233 kcal.
Servings - 2
Cooking time - 40 minutes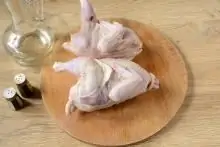 Ingredients:
Chicken - 2 pcs.
Salt - 1 tsp
Ground black pepper - 1/2 tsp
Vegetable oil - 30 ml
Step by step cooking of tobacco chicken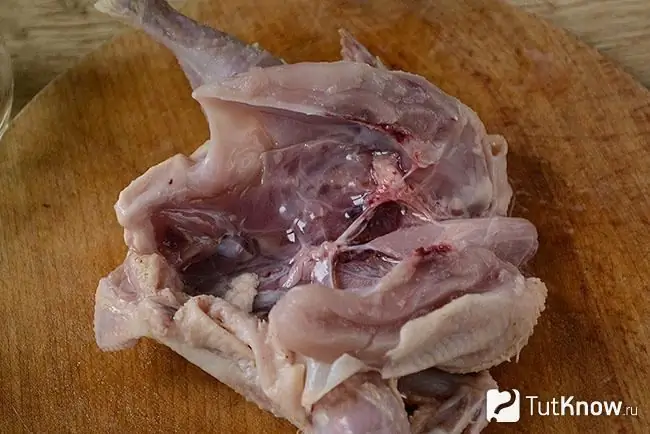 1. Before preparing the tobacco chicken, we process the carcass using a special technology. To begin with, we cut with a knife or kitchen scissors along the middle line from the side of the breast, as if opening it, like a book. We put it on a wooden board with the insides down, cover it with a thick plastic wrap on top and beat it off a little with a special hammer for meat. You should not apply too much, because broken bones in the finished dish are not very well felt. Lubricate on all sides with a mixture of ground black pepper and salt, leave to marinate for 10-15 minutes.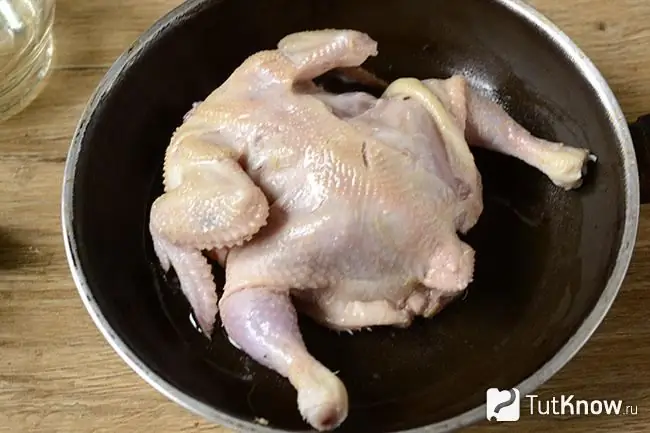 2. Next, heat the vegetable oil in a frying pan. Gourmets can fry the crushed garlic on it a little to enhance the flavor of the finished dish, but the garlic must be removed before placing the carcass. Put the prepared chicken upside down and fry over high heat for 4-5 minutes.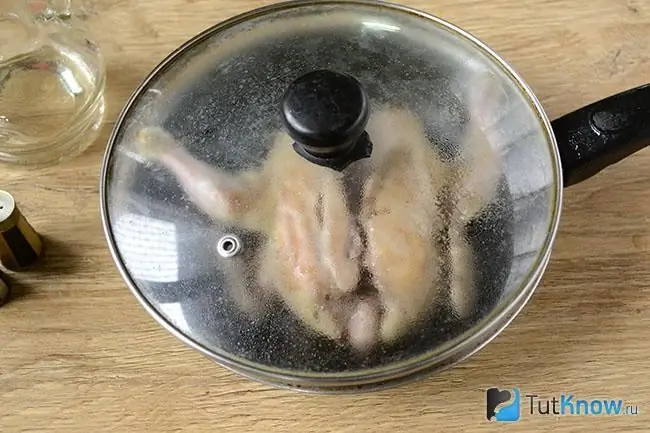 3. Turn the carcass over, reduce the heat, cover and leave for 5-7 minutes.
4. To bring the preparation as close as possible to the classic recipe for chicken tobacco and get an amazing crisp crust, cover the carcass with a metal lid of a smaller diameter than the pan, and put a weight on top of it, for example, a saucepan of water or a few pancakes from a dumbbell. In this state, cook the dish for about 20 minutes more.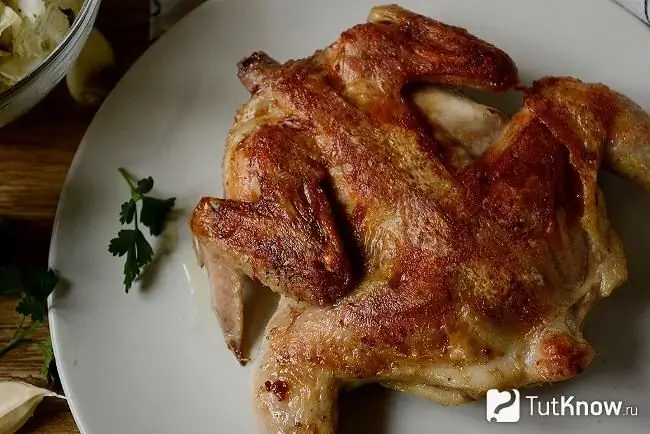 5. The tobacco chicken is ready! Golden crust, striking aroma will surely awaken the appetite of even the most demanding gourmet. It is better to serve such a dish on a separate plate, accompanied by thin lemon wedges and fresh herbs. Many people prefer to eat it without a side dish, but with sour cream sauce and a slice of bread.
See also video recipes:
1. How to cook chicken tobacco
2. Chicken tobacco - lick your fingers