How to cook frozen meatballs in tomato sauce, stewed in a pan at home? Features and secrets of cooking. Step by step recipe with photo and video recipe.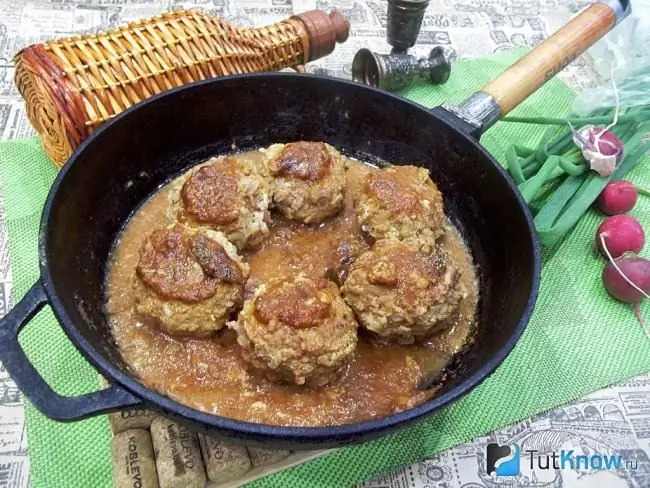 In this review, I will tell you how to quickly and deliciously cook frozen meatballs stewed in tomato sauce in a pan. I independently procure such semi-finished products so that there is always a small supply in the freezer. After all, homemade products are more useful, and you always know what they are made of. And then when I need to, I quickly cook a hearty dish. Frozen semi-finished products are especially helpful when there is absolutely no time for cooking. In this review, I will not tell you how to cook meatballs. You can find a lot of similar different step-by-step recipes with photos on the site. To do this, use the search bar, where enter the name of the desired recipe. If you don't like to cook or don't have time, then get frozen convenience foods at the supermarket.
This recipe for making delicious meatballs with sauce is very quick. The whole process is not particularly difficult and will take no more than an hour in time. The meat balls are soft, tender and juicy. Another plus of the recipe is that meatballs belong to dietary recipes, tk. I do not fry them beforehand. Therefore, the dish is suitable for those who follow their figure or do not eat heavy and fatty foods. Serve ready-made meats with any side dish, salads, or pickled platter.
Caloric content per 100 g - 152 kcal.
Servings - 6
Cooking time - 1 hour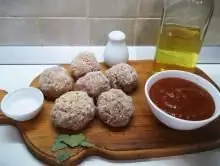 Ingredients:
Frozen meatballs - 6 pcs.
Vegetable oil - 1 tsp
Drinking water - 200-250 ml
Tomato paste - 3 tablespoons
Sugar - 1 tsp
Bay leaf - 1 pc.
Salt - 0.5 tsp
Spices and herbs - to taste and as desired
Step by step preparation of frozen sautéed meatballs in tomato sauce: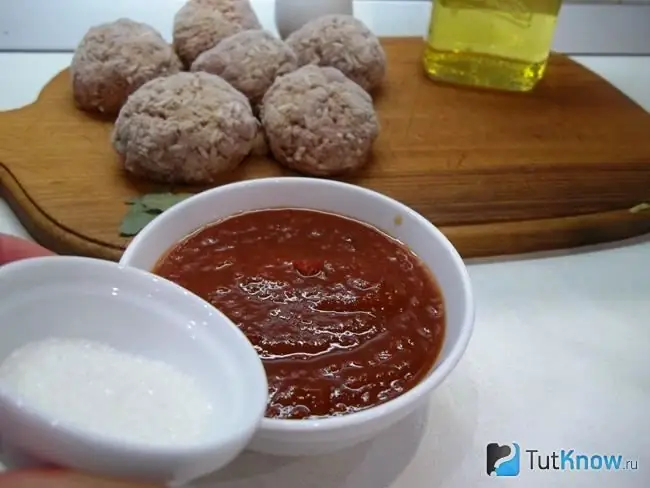 1. First of all, bring the tomato paste to the desired taste and add sugar.
Instead of tomato paste, you can use tomato puree, tomato juice, or twisted fresh tomatoes.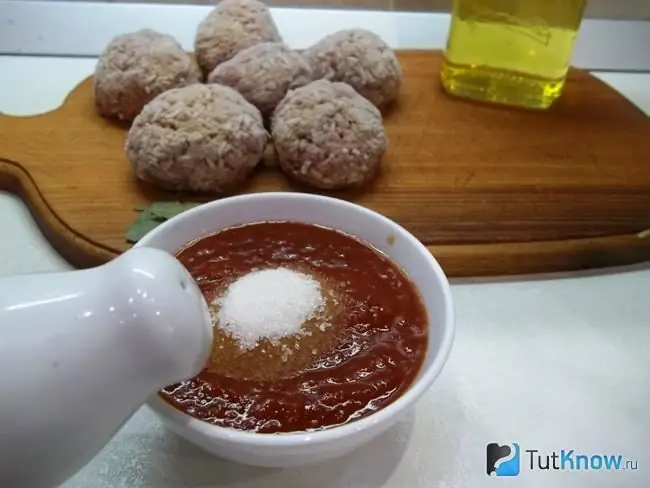 2. Then adjust the taste of the pasta for salt. Stir well and taste. Add missing spices as needed. Everyone has their own tastes, so you may need to add different herbs and spices to the sauce. I get by with two spices, salt and sugar. You can also add black or red ground pepper, dried ground garlic or onions, suneli hops, minced garlic, etc.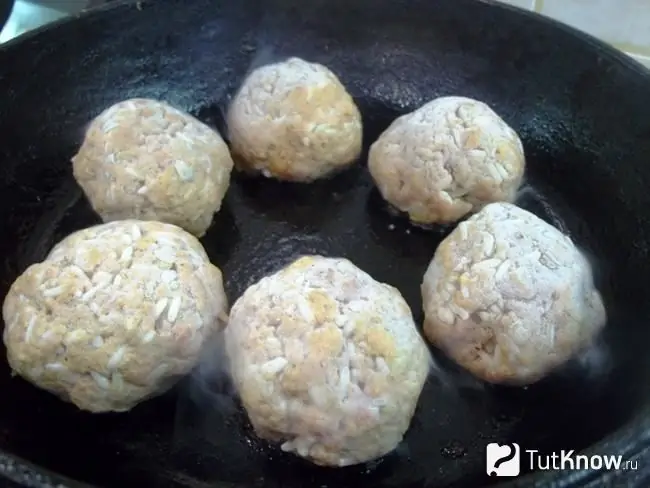 3. Grease a frying pan with a thin layer of vegetable oil and heat well. Place the frozen meatballs in the skillet. You do not need to defrost them beforehand. They will defrost during cooking, and then cook. Optionally, the meatballs can be pre-fried on all sides until golden brown. I didn't do it, because there was little time, and even after frying, the dishes will have a higher calorie content, and I cook diet meatballs. If you don't have such a goal, then you can make a fragrant vegetable fry. To do this, peel the onions and carrots, cut the onions into half rings, and grate the carrots on a coarse grater. Saute vegetables in a skillet. Put frozen meatballs on the resulting vegetable pillow and cook them further according to the recipe.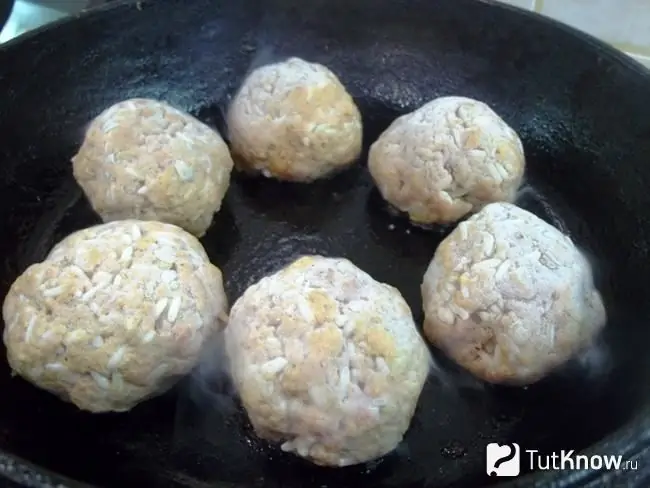 4. Pour the meatballs with tomato sauce.
Also meatballs can be stewed in sour cream, sour cream tomato, creamy, creamy mushroom sauce. Then they will be even softer, tender and juicier.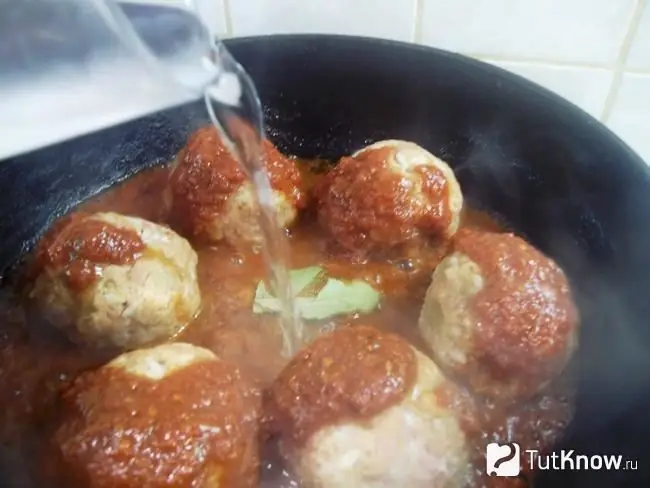 5. Put bay leaf into the pan and pour in drinking hot water. If the fill is not enough, add a little more water. If you want to thicken the sauce, then dilute flour or starch in water in advance and stir with a whisk. You can use broth (vegetable or meat) instead of water. The total volume of liquid should be at least half of the meatballs. You can additionally put slices of tomatoes or mushrooms in the pan. It will turn out to be extraordinary yummy.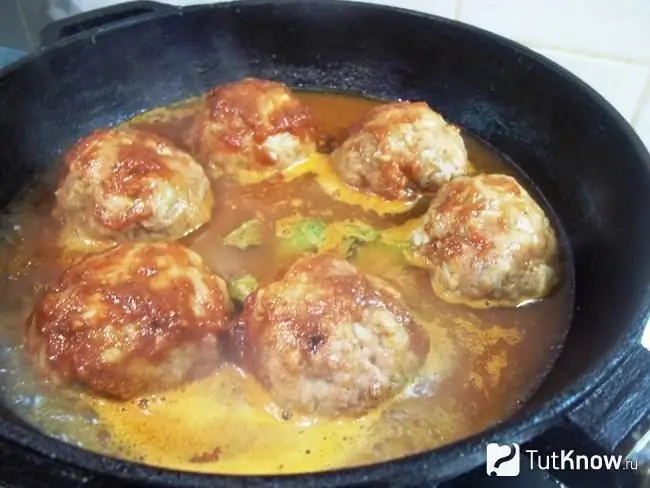 6. Bring the contents of the pan to a boil over high heat.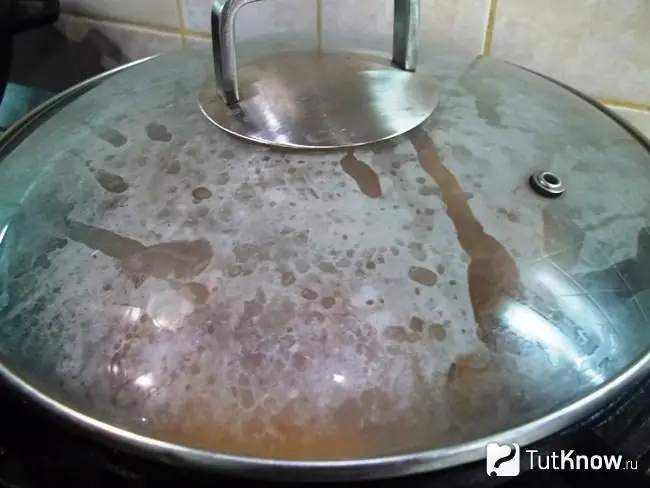 7. Cover the pan with a lid, simmer and simmer meatballs for 20 minutes. Slide the lid to the side to release steam.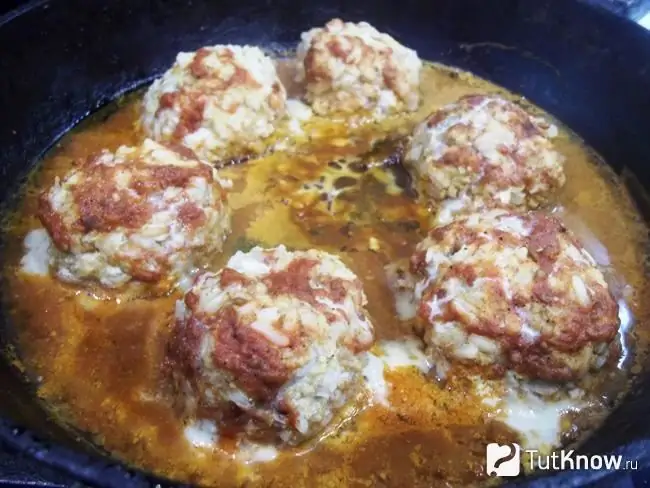 8. Open the pan, turn the meatballs over to the other side, close the lid back and continue simmering on low heat for another 20 minutes.
Still frozen semi-finished products can be stewed not on the stove, but baked in the oven.
You can sprinkle the finished frozen stewed meatballs in tomato sauce with cheese on top. Serve them with any side dish that definitely requires a sauce: rice, cereal or spaghetti.
See also a video recipe on how to cook frozen meatballs in tomato sauce