Step-by-step recipe for cottage cheese casserole with chocolate: list of ingredients, technology for preparing a delicious and healthy dessert in the oven. Video recipe.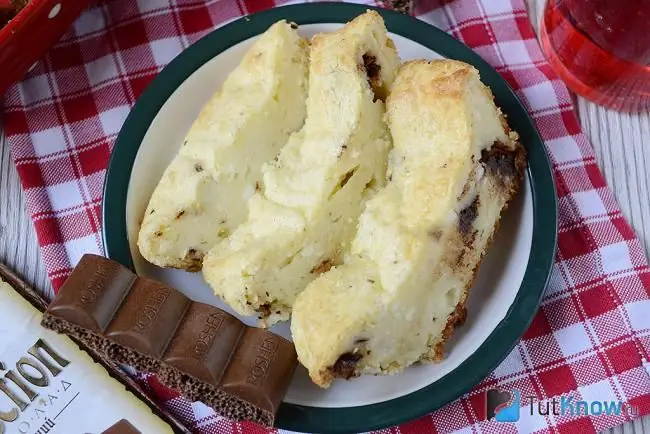 Cottage cheese casserole with chocolate is a delicious and healthy dessert based on cottage cheese, baked in the oven. It is a simplified and healthier version of the cheese pancakes. When preparing a casserole, there is no need to get your hands dirty in the dough, stand at the stove and turn over fried cakes, while such a culinary masterpiece is absolutely not inferior in taste and nutritional value.
Cottage cheese is the basis of the dish. The result depends entirely on its quality. For the recipe, we take a fresh product made from natural milk. It is desirable that its composition does not include foreign additives and flavors. The fat content of this fermented milk product is selected according to preferences.
Using semolina in the recipe, which replaces wheat flour, makes the casserole lighter and fluffier. And the pieces of chocolate certainly add a special charm to the dessert.
The following is a recipe with a photo of a cottage cheese casserole with chocolate, which will help you quickly prepare a delicious dessert and please your household.
See also how to make a curd casserole with cherries and semolina.
Caloric content per 100 g - 170 kcal.
Servings - 5
Cooking time - 50 minutes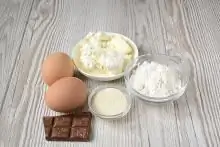 Ingredients:
Cottage cheese - 400 g
Egg - 2 pcs.
Semolina - 5 tbsp.
Sugar to taste
Chocolate - 150 g
Step by step preparation of cottage cheese casserole with chocolate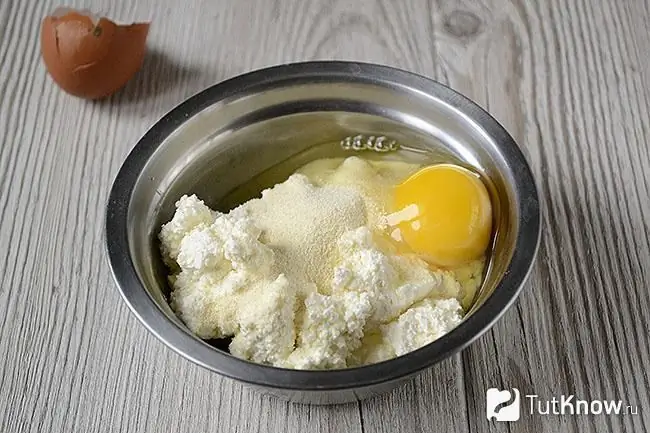 1. Before preparing the chocolate curd casserole, prepare the ingredients and knead the dough. We mash the cottage cheese with a fork to break the grains. Add the egg, semolina and mix thoroughly. At this point, you can add some vanilla sugar.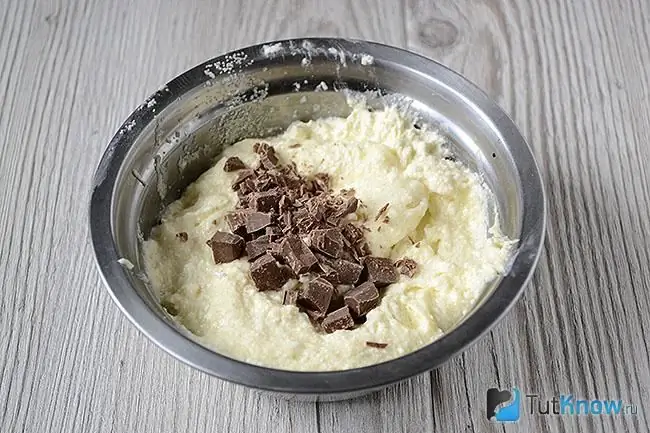 2. Break a bar of chocolate or cut it into small pieces with a knife. It is not advisable to grind on a grater, because the idea of the recipe so that the chocolate tastes good not only in taste, but also be noticeable in the crumb. Add to the curd mass.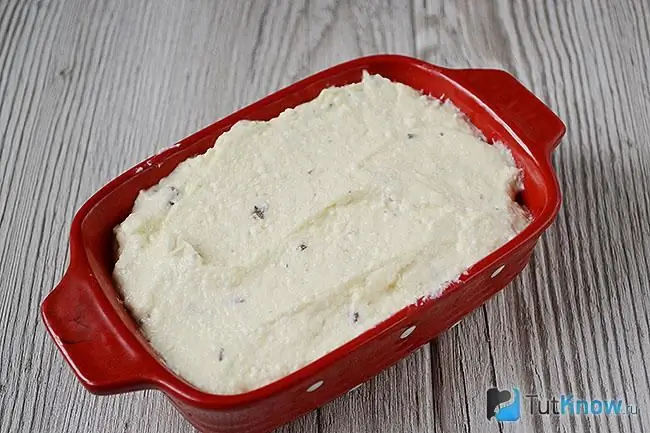 3. We select a baking dish of the required size. You can use a large one for one casserole, or several small ones for a portioned dessert. The dough usually fits about a third. Lubricate the bottom and sides with butter or refined vegetable oil. We spread the prepared dough.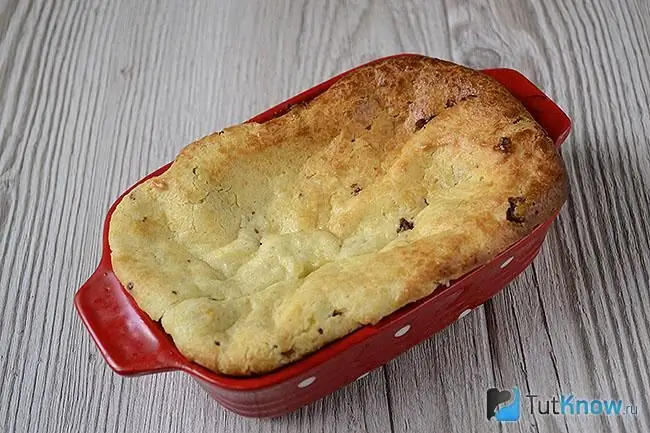 4. There is no need to preheat the oven. You can turn it on as soon as you put the form into it. While it warms up to 180 degrees, the semolina has time to swell a little, due to which the casserole bakes well and becomes more fluffy. The baking time is 40 minutes.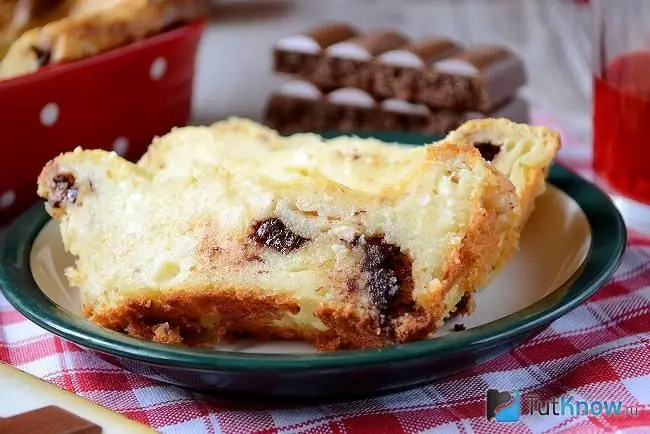 5. When the casserole is baked well, remove it from the mold. This must be done carefully so as not to damage its integrity. Alternatively, lift with a wooden spatula on all sides, then cover with a cutting board of a suitable size on top, turn it over, substitute the dish instead of the form and turn it over again. Top can be decorated with powdered sugar or grated chocolate.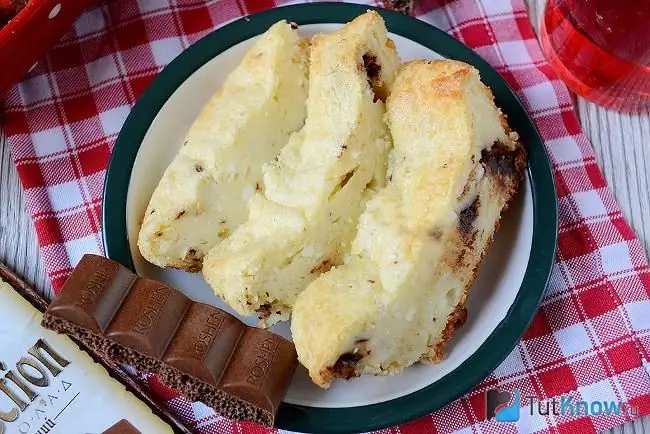 6. Amazingly delicious cottage cheese casserole with chocolate in the oven is ready! It is advisable to serve it warm, so its taste is best revealed, and melted chocolate pieces are obtained as a delicate cream.
See also the video recipe:
1. Cottage cheese muffins with chocolate