What is a frame pool for a summer residence, advantages over competitors, advantages, disadvantages. Design, dimensions and main varieties. Reliable manufacturers, the most popular models and their prices. Features of choice, real reviews.
The frame pool is a large-capacity prefabricated structure that is installed in the open air. Designed for swimming, relaxation after a working day, sports and water activities. The range of products on the market goes off scale, suppliers offer frame pools for every taste - for various purposes, sizes, depths and shapes, the variety of additional equipment for frame pools, which simplifies and improves their operation, is striking, numerous ratings recommend different manufacturers. It is easy to get confused in a wide variety of models, so it is important to find out what characteristics of the frame pool will be key when choosing, what you should pay attention to first of all, which suppliers are the most reliable, how much the purchase will cost on average and what the owners of suburban areas who already had dealing with wireframes.
What is a frame pool for a summer residence?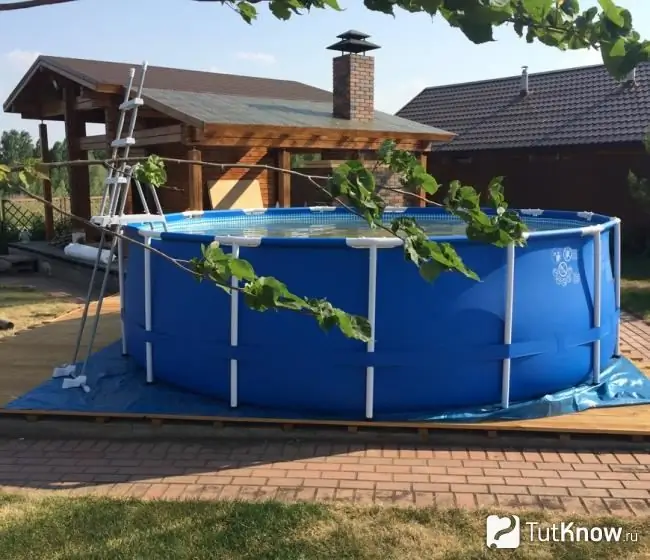 In the photo there is a frame pool for a summer residence
A private pool in the country has long been considered a luxury. This is a place where children can have a lot of fun in the summer heat and it is easier to endure the heat, and adults can relax after working days. In addition, there are plenty of opportunities for sports.
To arrange a pool in the country, there is no longer a need to prepare a pit and install complex hydraulic structures. On sale in a wide range are frame structures that have high technical characteristics and decent quality for use in everyday life and are not inferior in terms of comfort to traditional stationary pools.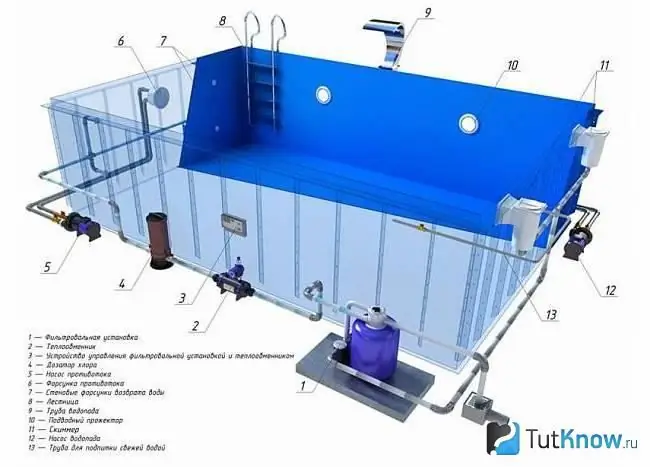 Scheme of a frame pool for a summer residence
The frame pool is a prefabricated mobile structure and consists of a bowl (strong film), a frame (collapsible or stationary) and an attachment, which excludes breakage after water is filled into the container.
The bowl is made of hardened three-layer polyvinyl chloride with a thickness of 0.5-0.7 mm. The material has proven itself well in various fields of application.
Unlike inflatable ones, frame pools rest on a rigid metal frame, which fully takes the load from a bowl of water. Every detail is treated with anti-corrosion treatment.
There are the following types of frame for the pool:
Rod … The support is assembled from hollow metal tubes that are attached vertically and horizontally to each other with T-shaped clamps. Vertical tubes take the load from the bowl, horizontal ones form a tie. This design is assembled within 30-60 minutes, but is used only in small models.
Sheet … This type of frame is used in deep pools. In this case, the frame is assembled from ready-made thin metal or plastic sheets, which are connected with bolts or special locks. The sheet frame is very rigid and durable; it is used in stationary structures.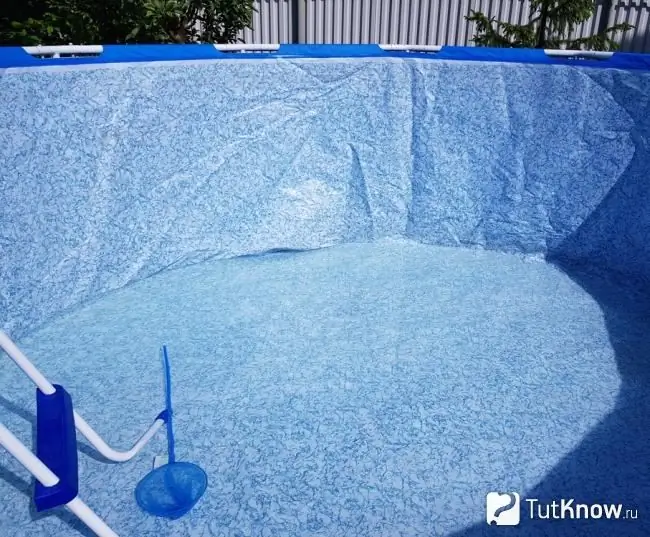 Photo of the frame pool - inside view
They produce frame pools in various designs, which allows you to choose a model for every taste and budget. A wide range of frame frames for different purposes, shapes and sizes is on sale: diameter - 2-10 m, length of rectangular bowls - up to 10 m, width - 1-5 m, depth - 0.3-3 m. The choice of model is carried out individually order depending on the goals that the buyer is guided by.
Advantages of frame pools for summer cottages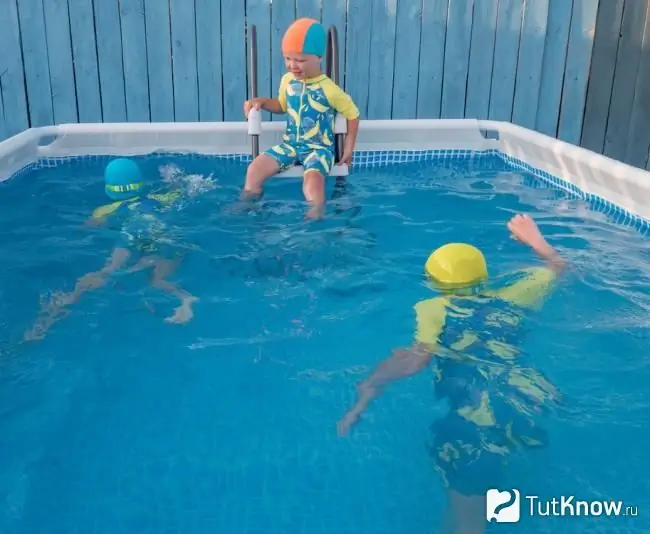 A frame pool is an excellent alternative to an expensive stationary pool in the country, due to the ease of installation, such bowls remain unrivaled for owners of summer cottages and suburban areas. At the same time, they compare favorably with inflatable models, which are in the same price category, since they have all their inherent advantages, but are devoid of their disadvantages.
Advantages of frame pools for summer cottages:
Full water activities … In the hot summer, your family will be provided with a pleasant pastime. Ideal for both children for games, because they have a shallow depth, and for adults, because here you can relax and tone up after a working day. In addition, you can buy a children's frame pool, which is focused on a depth of no more than 30-45 cm.
Rich choice … Frame pools come in a wide range of sizes, shapes and colors, and you can easily find the model you want. The same applies to the characteristics of the materials from which the structure is made. In addition, almost any configuration is available to the buyer: despite the fact that a standard kit usually consists of parts for assembling a pool, instructions and a filter, you can always additionally purchase any equipment that is available on the market in a wide range, for example, it can be a convenient ladder to descend into the pool or children's slide.
Ease of assembly … The installation algorithm for the frame pool is quite simple. The standard kit always includes instructions in the form of a diagram, and is often accompanied by a video disc of the workflow, which simplifies the assembly process. The fastenings of the support elements are thought out to the smallest detail, after 30-60 minutes the structure will be ready for use. The same goes for dismantling the pool if you plan to move it to another area or reassemble it at the end of the season.
Design mobility … The simple technology of assembling the frame pool allows, if necessary, to move it to a new place without disassembling, it is enough just to drain the water from it if the selected area is not suitable. For example, when it gets very hot and you want to move the pool to the shade.
Possibility of transportation … Due to the low weight of the structure (on average about 20 kg), the frame pool can not only be easily transported across the territory of your site, but also transported over any distance, for example, if you have planned a vacation with a trip to nature.
Simple maintenance … Thanks to modern pool care products, cleaning and wiping the smooth surface is very easy. This requires a standard household inventory, no special equipment is needed. Labor is also made easier thanks to the reduced volume of water inside the bowl.
Reliable water quality control … It is not at all necessary to drain it, because it does not bloom and does not accumulate pathogens. The water quality control procedure is thought out carefully. Its cleaning system is distinguished by its reliability and is not inferior in its characteristics to the equipment used in stationary concrete tanks.
Mechanical endurance … The fastenings of the frame structure are made reliably enough, which excludes the film breaking under water pressure after it is drawn into the formed bowl. The same applies to the contact of the material during the assembly of the frame pool with various hard and sharp objects. Also, three-layer polyvinyl chloride is not afraid of point effects and thermal expansion.
Durability … The details of the frame pool are very durable and resistant to the influence of the atmospheric environment, so the product is used for 8-10 years. Such bowls are not afraid of temperature changes, rain, wind, the structure of the forming film and frame does not change. All-season models do not deform from frost, they do not have to be dismantled for the winter.
Maintainability … If, nevertheless, the pool film is damaged, you should not panic: it is not disposable and can be repaired very well. By the way, for this, when buying a frame pool at the dacha, you can also purchase a special repair kit.
Affordable cost … We will talk about the numbers themselves later, they differ from different manufacturers, however, nevertheless, frame frames are a fairly salable product, because they outperform their competitors in many respects - plastic, composite, concrete and inflatable pools. For example, even a person with a modest income can buy an Intex frame pool from the most popular supplier, such models are inexpensive.
Disadvantages of frame pools for summer cottages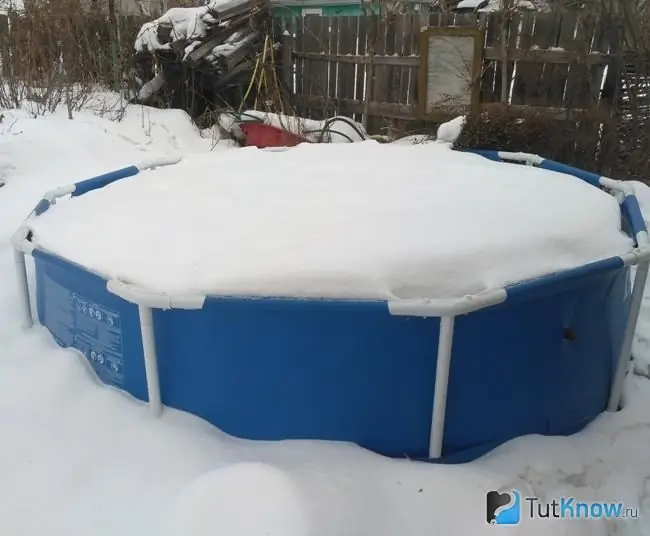 Despite the numerous advantages and advantages of frame pools over competitors, they have a number of disadvantages that buyers should be aware of. If you choose a seasonal model, then it should be borne in mind that it does not tolerate frost, for this reason, for the winter, the structure must be disassembled and transferred to the storage location in accordance with the manufacturer's requirements. Of course, you can build a special dome for a pool or a separate room, but such an expensive protection does not correspond to budget frames, but is constructed for a concrete or composite pool.
The dimensions of frame pools are inferior to a stationary structure, they serve only a limited number of people. You can't swim especially at 3-5 meters, although there is always an opportunity to order an individual production of a structure of any allowable size. But if you intend to spend money on a huge 20-meter pool, it is more expedient to build it from scratch and for a long time, for example, from concrete.
In addition, not all equipment can be put into a frame pool. For example, it will be difficult to install the function of heating water, hydromassage, additional lighting, bubbles, waterfall. As for the installation of a pump, filter, skimmers, slides, stairs, there are no problems.
Note! You cannot sit on the edges of the frame pool.
Criteria for choosing a frame pool for a summer residence
Before buying a frame pool for a summer cottage, it is important to study in detail its characteristics, application features and functionality, choose the appropriate shape and size, the necessary equipment and additional equipment to facilitate operation. Further details on how to choose the best model.
The functionality of frame pools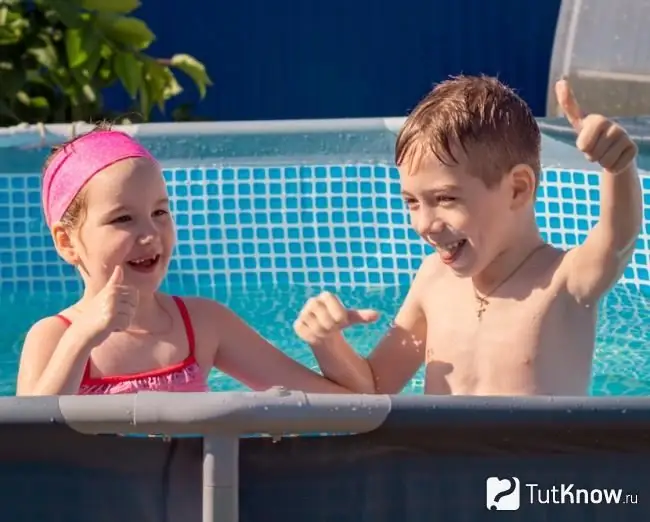 The key characteristics of a frame pool are the features of its use, purpose and functionality: do you plan to assemble and disassemble the structure for the winter, move it to another place if necessary, transport the frame, if, say, you plan to have outdoor recreation. You are buying a model for a family, a large company, children, a hot tub or a swimming pool.
Depending on the features of use, there are three types of frame pools:
Seasonal … Designed for use only in the warm season. For the winter, it is disassembled and stored indoors. The design of such an inexpensive frame pool is very simple and allows you to quickly assemble and disassemble it within a short period of time. The frame is tubular and reinforced with galvanized steel sheets fixed along the entire perimeter. The product is quite lightweight, it can be easily moved manually around the site, after draining the water.
All seasons … Compared to the previous version, it has a number of design differences that allow it not to be disassembled for the winter. These include the use of thicker bowls and reinforced base tubes, the presence of a polymer or enamel coating of metal parts to protect against moisture. The plastic elements are frost-resistant. The height of a frame pool of this type is up to 1.5 m. During installation, it is recommended to bury such models in the ground for additional protection from frost. It is problematic to move the structure assembled across the territory.
Stationary … This is a large frame pool up to 2.4 m deep, which is installed once. They are assembled from separate sections and attached to each other using a bolt and glue method. A three- or four-layer polyester bowl with a thickness of 1.5 mm is placed on the finished support. However, due to this design, the price of a stationary frame pool is high.
Frame pool shape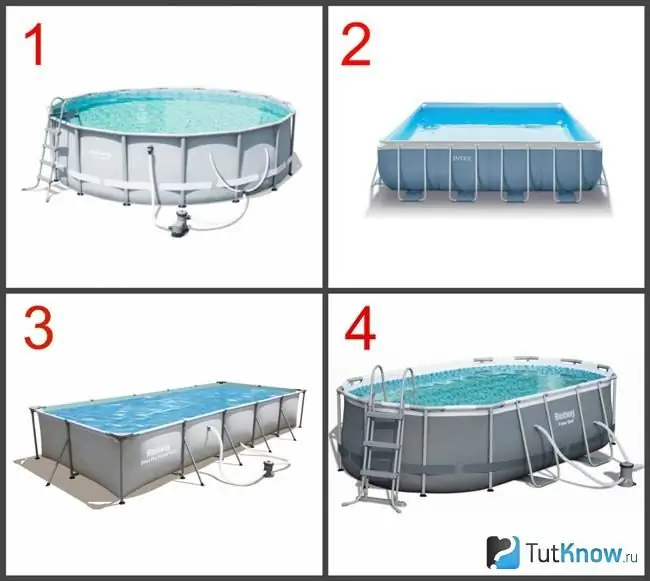 In the photo frame pools for summer cottages of different shapes: 1 - round, 2 - square, 3 - rectangular, 4 - oval
The models of frame frames are varied, it is difficult to say which frame pool is better, because this is the desire of the buyer. However, among the proposals of manufacturers, you can find for yourself the most suitable bowl, which is round, square, oval, rectangular, in the form of an eight. There are also asymmetric models.
The standard design is a round bowl. Such a model is compact, the most convenient to use, looks aesthetically pleasing, easily fits into any landscape design, and allows full use of the entire volume.
A frame rectangular pool is also considered versatile and looks great on an area with any landscape.
When choosing a design, pay attention to square models, which are not inferior to round and rectangular in terms of comfort.
Oval frame pools look original. If you wish, you can also purchase an asymmetrical bowl, but keep in mind that the more complex the shape, the more expensive the purchase will be. Massive structures of complex shape are the most expensive.
Frame pool dimensions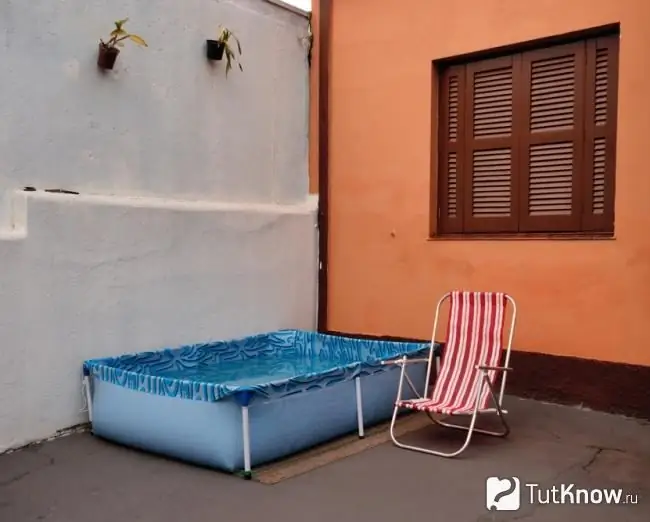 Photo of a children's subcompact pool for a summer residence
After we have decided on the functionality and shape of the frame pool, we move on to its dimensions. Model lines from different manufacturers are represented by structures of different lengths (3-10 m), widths (1-5 m) and depths (0.3-3 m).
When choosing the size of the frame pool, take into account the area of the site: it should not be located somewhere in the corner under the trees, the leaves of which will constantly bother you, the structure is installed in a conspicuous place with a good view, so that it is convenient to observe the children.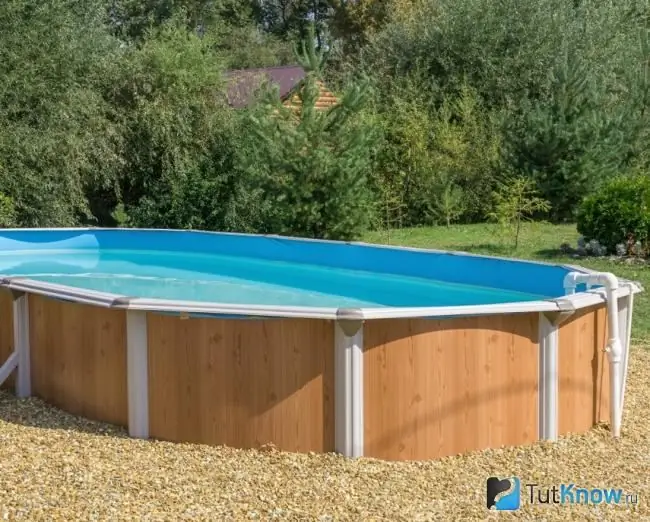 In the photo there is a multi-volume frame pool for a summer residence
For a standard suburban area of 6-12 acres, compact bowls up to 1.5 m deep are suitable. If you have a large area, you can buy an overall structure. For example, Bestway frame swimming pools with a length of more than 7 m are installed only in large adjoining areas. For a child, you can purchase a paddling pool with a depth of 30-45 cm.
When choosing a design, take into account not only the dimensions of the bowl itself, add 20-40 cm on each side if you are dealing with a rectangular frame pool, or 30 cm when choosing a round model, there should also be room for stairs nearby.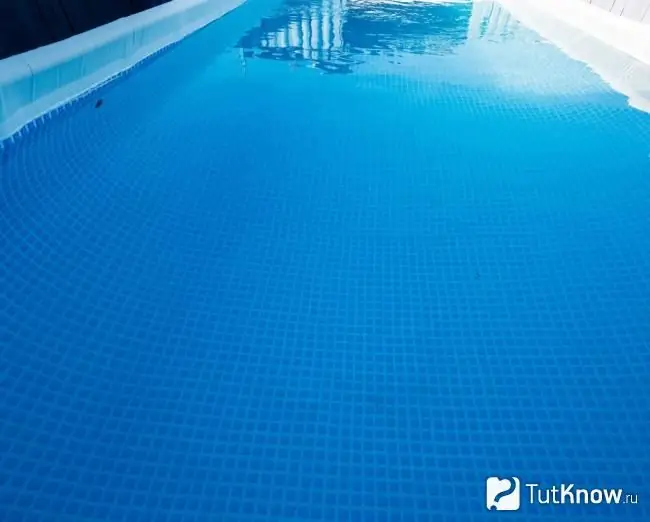 Family frame pool for summer cottages
In addition, the size of the frame pool is selected depending on the number of swimmers. By the volume of the bowl, the models differ as follows:
Subcompact … Compact children's designs with a low side. They have a diameter of up to 3 m and a depth of 0.7 m. Designed for 1-2 young children, so the bottom has an anti-slip coating. The frame parts are covered with a polymer sheet to reduce the risk of injury. Often equipped with ladders or slides.
Multi-displacement … More spacious models designed for 3-4 adults or several children. This is the most popular type of frame pool for country houses. Produced with a diameter of 3 m and a depth of 1, 2-1, 5 m. Such home frame pools are heavy, rigid, often equipped with a metal rim, it is recommended to additionally install a ladder.
Family … These are the most spacious models for a large family or a group of friends. Round containers can be up to 10 m in diameter, rectangular ones reach 8 m in length and 5 m in width. For example, the frame pool Intex Frame Ultra has dimensions of 732x366x132 cm and holds 31805 liters of water. Some models are manufactured with a depth of 2.4 m. All kits are equipped with a pump, filter, purification system and other equipment.
Frame pool complete set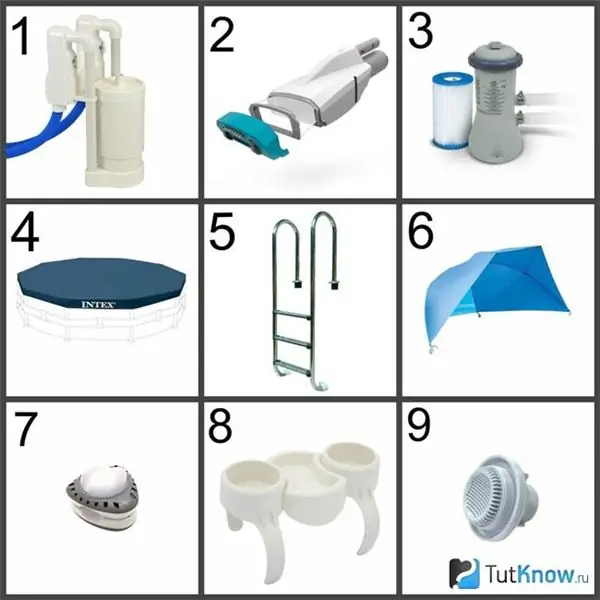 In the photo, the equipment for the frame pool: 1 - skimmer, 2 - vacuum cleaner, 3 - pump with filter, 4 - cover, 5 - ladder, 6 - awning umbrella, 7 - lamp, 8 - tray, 9 - nozzle
To facilitate operation, a frame pool for a summer residence should be equipped with special equipment. Pay attention to the set of the frame and decide for yourself whether you need the maximum set of all existing equipment, which, of course, will affect the price of products upward, or a standard set of delivery is enough.
As a rule, a filter, a ladder, an awning for a frame pool are required, children will want to buy a slide. However, the more options are included, the more comfortable it is to use the frame pool. When buying inexpensive models, most likely, some equipment will have to be purchased separately in the future.
The equipment for the frame pool is presented in the table:
| | |
| --- | --- |
| Equipment | Appointment |
| Skimmer | Automatic cleaning of the upper layer of water from coarse debris |
| Filter pump | Deep water purification from small debris |
| Injectors | Providing the bay and drain of the frame pool |
| Vacuum cleaner + brush with telescopic handle | Mechanical cleaning of the bowl walls |
| Butterfly net | Manual water purification from large debris |
| Substrate | Preventing scuffs and punctures in the bowl |
| Ladder | Descent and ascent from the pool |
| Installation for monitoring the chemical composition of water | Determination of acid-base balance of water, pH |
| Awning | Fully covers the bowl with base |
In addition, there are additional accessories for frame pools on sale - floating drink coasters, bars, side-mounted tables, floating basketball sets, waterproof lights, etc.
Frame pool manufacturers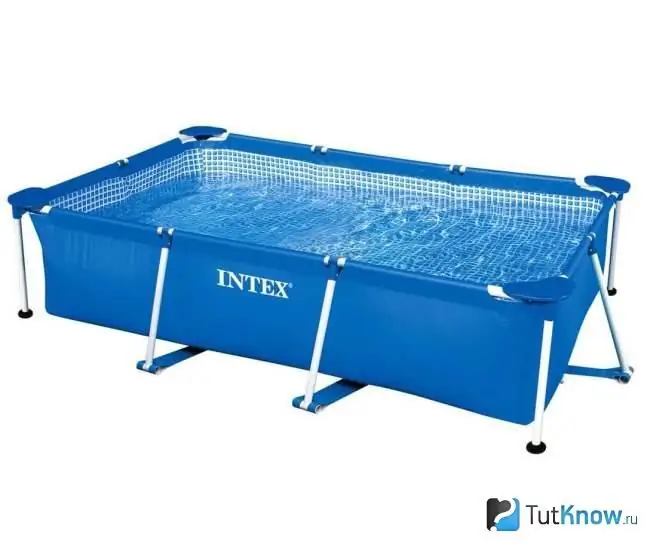 In the photo frame pool Intex
The range of frame pools is very wide. There are several main suppliers of products to the domestic market, and numerous ratings indicate its quality. The first positions in recent years have been steadily occupied by Intex and Bestway.
Bestway is a Chinese manufacturer with a wide range of products that are certified according to European standards, offering fairly high-quality pools at an average price. Intex is a Chinese company whose products are in high demand around the world and are sold in over 100 countries. The main characteristics of the Intex and Bestway frame pools are the same, but there are also minor differences. For example, the bottom of the Bestway is more durable, but the Intex has a better covering film.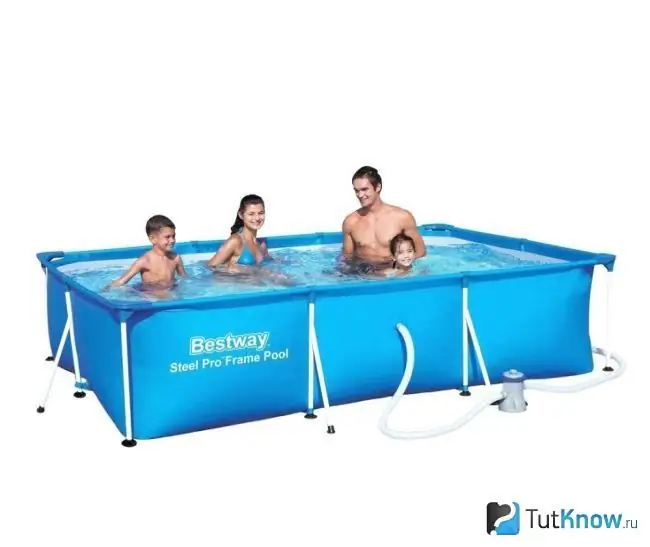 Photo of the frame pool Bestway
Along with the market leaders, the most prominent brands of frame pools are:
Unipool … German company that produces structures with a sheet frame. Due to its high reputation, the cost of products is higher than that of competitors. On the Internet, reviews about these frame pools are always positive.
Sunny pool … German manufacturer of frame frames of very high quality. The company's products are very expensive, therefore they are not common in our country.
Azuro … A Czech company that carefully designs and manufactures every detail for its products. Such pools serve for a very long time.
Atlantic pool … A Canadian company that equips frame frames with high quality sand filters. It supplies products to 90 countries of the world.
Stationary frame pools are produced by a limited number of companies: for example, the Italian and French Myrtha and Desjoyaux.
When buying, first of all, pay attention to the products of well-known manufacturers. An authoritative brand is a kind of quality guarantee. Cheap goods are worse in performance, and their service life is reduced to 1-3 seasons!
Due to the low price and good quality, Intex frame pools are the most popular. They are produced in five modifications (see table):
| | | |
| --- | --- | --- |
| Model | The form | Individual differences |
| Metal Frame Pools | Round | The inside of the bowl has a mosaic design. The price for this series is minimal. |
| Rectangular frame | Rectangular | Super-Tough technology gives the pool walls high reliability and triple strength. |
| Ultra frame pool | Round and rectangular | Very robust frame pools up to 2 m deep with a girdle. Details made of thicker material. |
| Prism frame | Round and rectangular | The most durable products with an oval tube frame. |
| Graphite Gray Panel | Round and rectangular | Elegant models with gray decorative plastic plates. |
Frame pool price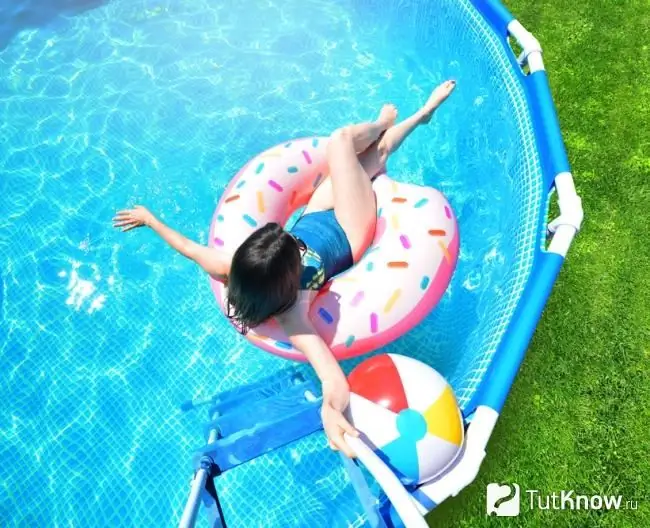 The cost of frame pools is influenced by many factors. The more famous a manufacturer is, the more expensive it evaluates its products. However, there are many new companies that make good quality wireframes. But if you decide to buy a frame pool with a little-known name, study the reviews on the Internet about the model you like.
The most affordable models are those that are sold without additional equipment for operation, for example, they do not include a frame pool, a filter or a skimmer. You can try to replace them with devices that are in the country. Built-in decorative elements, underwater lighting, original cladding, etc. significantly increase the cost of products.
The price of a frame pool also depends on the features of its use: you plan to buy a seasonal or all-season model. Lightweight quick-release bowls cost significantly less than all-season bowls. When choosing the geometry of the model, one must take into account that the more complex the shape, the more expensive the product.
The price of the best frame pools in Russia:
| | | |
| --- | --- | --- |
| Model | Water volume, l | price, rub. |
| Intex Prism Frame 26718 | 10685 | 17700-18700 |
| Bestway Power Steel 56441/56251 | 6478 | 21700-22600 |
| Summer Escapes P20-1252 | 11900 | 12500-13900 |
| Intex Rectangular Frame 28272/58981 | 3634 | 5480-6300 |
| Bestway Steel Pro MAX 56420 | 10250 | 17000-18500 |
The price of the best frame pools in Ukraine:
| | | |
| --- | --- | --- |
| Model | Water volume, l | Price, UAH. |
| Intex Prism Frame 26718 | 10685 | 8200-9100 |
| Bestway Power Steel 56441/56251 | 6478 | 10300-11500 |
| Summer Escapes P20-1252 | 11900 | 11100-12000 |
| Intex Rectangular Frame 28272/58981 | 3634 | 2500-3100 |
| Bestway Steel Pro MAX 56420 | 10250 | 7900-8600 |
Whether to buy a frame pool for a summer cottage during the promotion is a difficult question. This is where opinions differ. Often during the sale, stale and low-quality goods are brought to the market, which explains the reduced price tag. However, at the same time, good discounts of 30-40% are possible in the off-season.
Note! When determining the budget for the purchase of a frame pool, consider not only its price, but also delivery, if it is not included in the final cost, installation, if you plan to entrust this work to specialists.
Real reviews about frame pools for summer cottages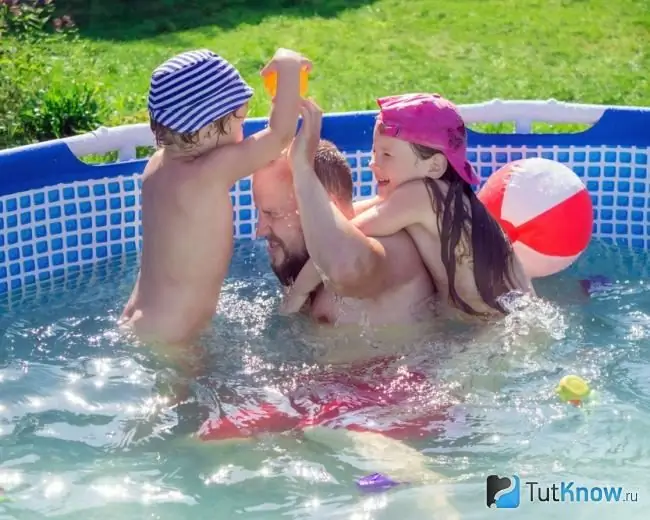 Studying the information about the model you like, the recommendations of specialists, do not forget to read the reviews about frame pools from relatives, neighbors in the country, and also read what they write on the forums on the Web, the owners of suburban areas who have already dealt with frame pools. It is very important to get an opinion on a product from a disinterested person and compare the rating models. Further, the most indicative reviews of the best frame pools.
Oleg, 37 years old
My wife and I decided to buy a frame pool for our children (5-7 years old). We settled on the Intex 28200. This is an inexpensive design with a diameter of 305 cm and a depth of 76 cm, just for our case. There is no filter and pump for the frame pool in the package, but we did not need them - we took water from the summer cottage system and, after contamination, simply changed it. The structure weighs only 17 kg without water, so we often moved the pool together to a place where it is convenient to watch the children or where there is more sun. I recommend this model to all families with a small child, which is convenient for children to swim, and for adults to watch them.
Svetlana, 33 years old
We have long wanted a pool for our summer cottage, but the size of the plot is small, and it is difficult to allocate a permanent place for its placement. The problem was resolved when we got the Bestway 15427 frame pool. In a bowl 366 cm in diameter and 133 cm deep, our whole family of 4 people will be housed at the same time. The delivery set includes all equipment for operation - a filtration system, a filter cartridge, a ladder for a frame pool, which we quickly put in place. The bowl is used only for three summer months, the rest of the time it is stored in the barn and does not clutter up the territory. I recommend the frame to anyone who does not have enough space for a stationary pool.
Vadim, 42 years old
Our family inherited a summer cottage plot in an elite village. This is a great place, which had only one drawback - the lack of a pool, which everyone greatly regretted in the summer. We chose the model for a long time and settled on the Bestway 56719 Power Steel Comfort Jet Series. The pool is equipped with everything you need for a comfortable stay - LED lighting, hydromassage, comfortable stairs. In a spacious bowl more than 6 m long, you can not only swim, but also swim. Stylish cladding under light brown brick blended well with the landscape of our site. After filling with water, the bowl glows with a pleasant blue tint thanks to the inner mosaic cover. Such a frame looks even better than the stationary ones from the neighbors (we specifically compared). We recommend this model to everyone who wants a beautiful pool at their dacha.
How to choose a frame pool - watch the video:
When buying a frame pool, worry about the warranty conditions and the possibility of returning the goods. Thoroughly inspect the products, check the exact package, the availability of instructions and all declared equipment.