TOP 10 recipes for sauces for salads. Components of home gas stations. Helpful cooking tips. Video recipes.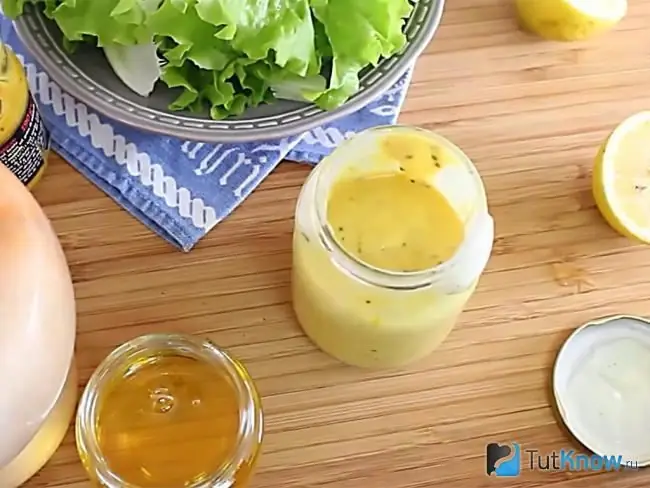 Summer is the time for light meals, namely salads, of which there are hundreds of different types, as well as dressings for them. There are many options for sauces for summer salads, from classic to complex component and exotic. The ideal dressing is the one that turns the simplest ordinary salad into something unique and a real culinary masterpiece. In addition, sauces make the taste of the same food different every time, which helps to diversify the menu. Such a huge scope of culinary creativity and imagination allows you not to be limited to ordinary mayonnaise, sour cream and vegetable oil. Cooking such dressings, as salad sauces are now called, is not at all difficult. This review offers popular summer salad dressings that will accentuate and refine the taste of many dishes.
Salad dressing ingredients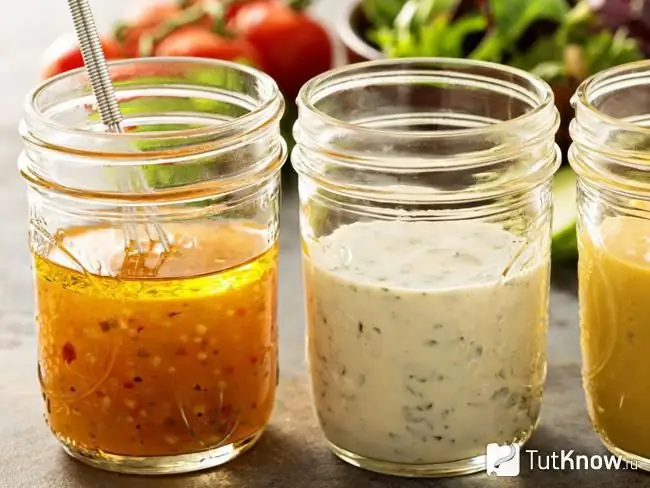 Having several ingredients available, you can combine them, creating new sauces each time. Liquid and pasty products only need to be combined in a bowl and whisk or with a fork lightly beat or grind with a blender so that they combine into an emulsion.
Base: oil (olive, refined vegetable, grape seed, pumpkin, sesame, linseed, peanut), Greek or natural yogurt, kefir, sour cream, mayonnaise, avocado.
Acid: vinegar (balsamic, white wine, grape, apple), lemon juice or sour berry juices.
Shades of taste: soy sauce, honey, orange, lime, garlic, whole grain mustard and pasty.
Herbs: parsley, dill, basil, mint, cilantro, arugula, chard, romano, iceberg, cabbage, spinach.
At the same time, it is important that the food for the dressing is fresh. Do not take 3-day sour cream, sunflower oil, or expired mayonnaise, etc.
Summer salad dressings - tips and tricks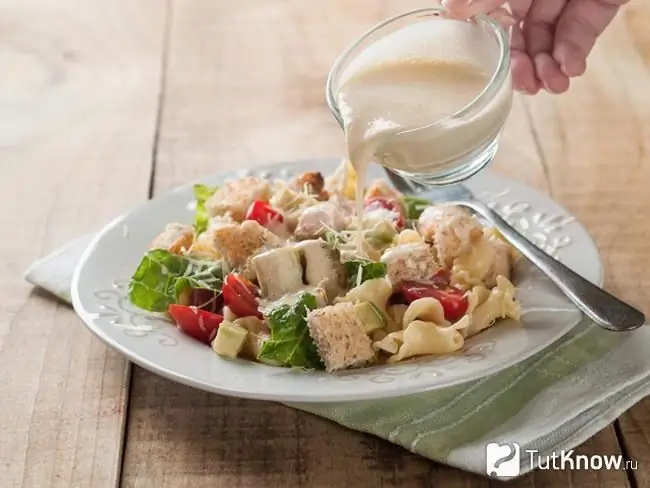 For sauces, take fine table salt and powdered sugar, they dissolve better.
Always add fats, they cover the vegetables with a thin film and prevent vitamins from being destroyed.
The salad will retain more vitamin C if you add a few drops of lemon juice or vinegar to the sauce.
Do not season the vegetable salad in advance with salt, but do it before serving. Otherwise, the dish will turn out to be unappetizing and will release a large amount of juice.
Please note that salt does not dissolve in oil. Therefore, season the salad with oil after you add salt to it.
If the seasoned salad is left to stand for 2-3 hours, it will lose its nutritional value and will be of little use.
Stir the salad with some of the sauce in a bowl, then transfer to a serving bowl and top with the rest of the sauce.
Sprinkle Italian-style salads with grated Parmesan or mozzarella. Fans of gourmet cuisine can add goat cheese, and those who follow the figure - feta or feta cheese. In doing so, keep in mind that cheese will add nutritional value and saltiness.
Chopped nuts, crackers, pomegranate seeds, sesame or flax seeds will become the highlight of any salad. Sprinkle them on a serving plate.
Do not spare greens in any salad. It can be added to absolutely any salad. In addition, greens will decorate the dish and add additional vitamins.
Caloric content per 100 g - 329 kcal.
Servings - Any Amount
Cooking time - 5 minutes
Universal Sauce Recipes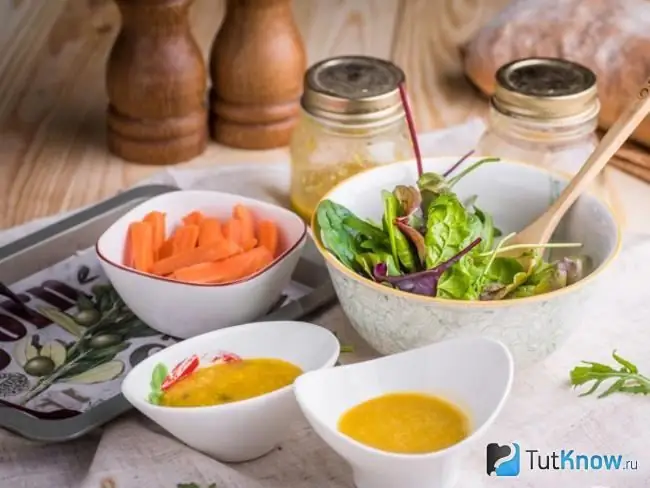 A salad using the same products, but using different dressings, dramatically changes the taste. Even the traditional "summer" salad of cucumbers and tomatoes, dressed with an interesting sauce, will acquire a completely different taste. Examples of universal fillings are shown below.
Classic dressing
For the simplest vegetable salad of cucumbers, tomatoes, lettuce and greens, use olive oil (3 tablespoons), balsamic vinegar (1 tablespoon), salt and pepper.
Spicy dressing
A salad based on leaves, for example, arugula with an intense flavor, as well as with fruits, berries or avocado, will be decorated with a dressing of olive oil (2 tablespoons), orange juice (2 tablespoons), soy sauce (1 tsp.), balsamic vinegar (1 tsp), mustard peas (1 tbsp).
Dressing honey-mustard
Vegetable salad with pieces of meat, especially if it is baked in the oven or on the grill, season with a sauce of honey (2 tsp), Dijon mustard (2 tsp), lemon juice (1 tbsp) and half zest lemon. After stirring the food, gradually add the olive oil (70 ml).
Lemon-honey dressing
For salads with herbs, vegetables and chicken, serve the well-mixed ingredients of the sauce of lemon juice (4 tablespoons), honey (2 tablespoons) and olive oil (3 tablespoons).
Garlic yoghurt dressing
For summer vegetable salads, a sauce made from natural yogurt (100 ml), lemon juice (0.5 tsp) and one clove of garlic is suitable for a uniform consistency.
Sesame dressing
Dressing with toasted and chilled sesame seeds (25 g), sesame oil (2 tablespoons), olive oil (4 tablespoons), white wine bite (1 tablespoon.l.) and granular mustard (1/2 tsp.).
National sauces recipes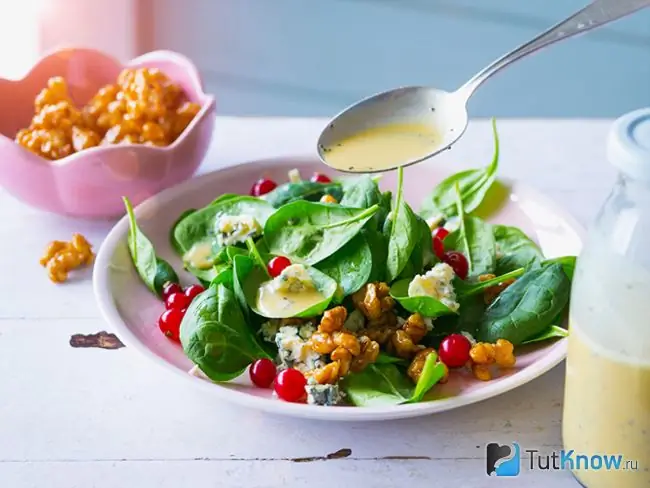 In all countries, they are not limited to dressing salads only with butter and mayonnaise. Each national sauce enhances the taste of salads thanks to well-chosen ingredients and their proportions.
French dressing
Add a shine to a dish of salad vegetables, lettuce or just tomatoes with a standard French dressing. To do this, squeeze the garlic (1 clove) through a press and pour lemon juice (1 tablespoon) with balsamic vinegar (1 tablespoon). Add olive oil (3 tablespoons), medium hot mustard (1 teaspoon) and whisk.
Italian dressing
In any combination of onions, salad vegetables and leaves, as well as in snacks where there are nuts, a dressing whipped with a blender of olive oil (5 tablespoons), lemon juice (1 tablespoon), wine vinegar (1 tablespoon) will be good. l.), one clove of grated garlic.
Mediterranean dressing
Not only the summer vegetable set, but also baked vegetables in any combination will become more delicious with a dressing of olive oil (1 tablespoon), avocado pulp (1 pc.), Lemon juice (2 tablespoons) and chopped garlic clove.
Greek dressing
With any salad dominated by cucumbers, a Greek dressing made from Greek yogurt (2 tablespoons), kefir (2 tablespoons), lemon juice (1 tablespoon), grated garlic clove and lemon zest (1 tsp).
Asian dressing
Any salad based on cabbage or where fresh grated carrots or celery predominates will be crispy and delicious salad with vegetable oil (2 tablespoons), sesame oil (1 tablespoon), lemon juice (2 tablespoons) and soy sauce (1 tablespoon).
Mexican dressing
Lettuce with avocado, corn, bell pepper or peas, as well as salad with meat or chicken, Mexican housewives dress with whipped sauce in a blender of vegetable oil (2 tablespoons), olive oil (1 tablespoon), lime juice (2 tbsp) and grated lime zest (1 tsp).
Recipes for classic sauces for traditional salads
Dressings are an addition to salads, which is practically indispensable today. It is the dressing that will complement and highlight the taste of the dish, making it unique.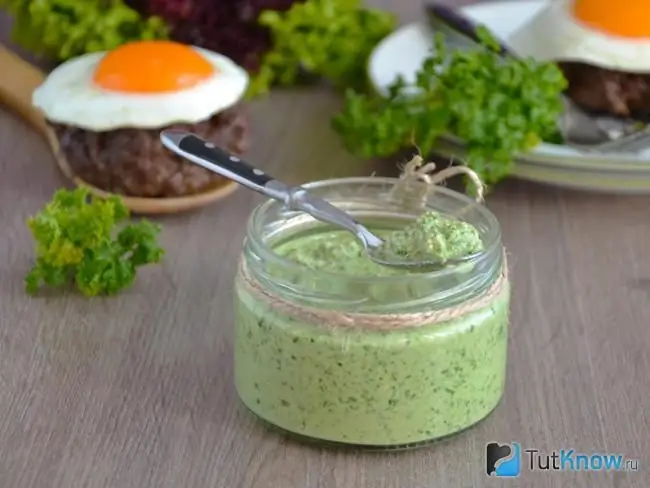 Caesar salad sauce
Real Caesar sauce requires a rare ingredient - Worcester sauce. It is often replaced with sweet mustard. Such a creation will satisfy the most sophisticated gourmets no less! To prepare such a dressing, beat 1 egg yolk (1 pc.), Garlic (1 clove), juice of one lemon, Dijon mustard (0.5 tsp) and anchovies (4 pcs.) With a blender. Gradually pour in olive oil (100 ml) and drinking water (3-4 tablespoons). At the end, toss in the grated Parmesan (one handful).
Greek salad sauce
Greek salad owes much of its original taste to the dressing. Interestingly, the sauce does not have a single recipe. The Greeks take as a basis olive oil (3 tablespoons), to which they add other products to taste. But the most common additives are: sweet mustard (0.5 tsp), garlic (one clove), lemon juice (1 tbsp), oregano, basil, salt, and black pepper.
Classic Vinaigrette sauce
This is a classic vegetable salad dressing made with 2 tablespoons of vinegar. balsamic or apple cider vinegar. Beat it with mustard (2 tsp), a pinch of salt and black pepper. Then olive oil (100 ml) is gradually added.
Video recipes:
Sauces for summer salads
Honey mustard sauce
Easy salad dressing