A salad with pears, eggs and nuts is prepared within 15 minutes, but the result is worthy of a festive and romantic dinner. How to cook it, read the step-by-step recipe with a photo. Video recipe.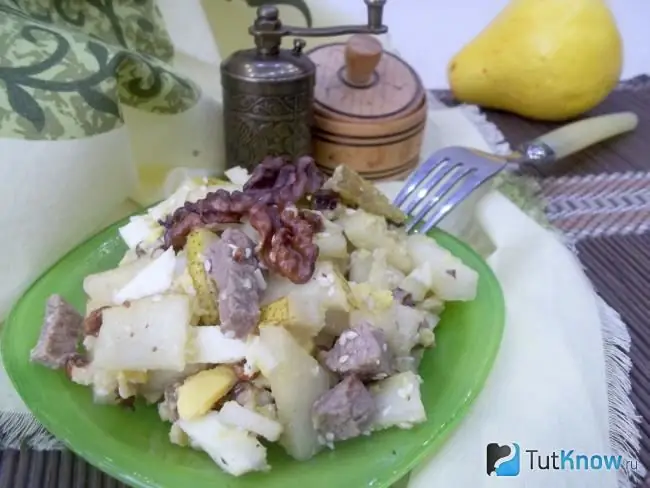 Usually, pears are not prepared salted, but sweet salads. Although recently, more and more often you can find the fruit in a meat appetizer or dish than in a dessert. As an appetizer, it is stuffed with cottage cheese, soft cheese, smoked beef, feta cheese, nuts … Also, a salad is made with it in a company with a variety of products: boiled chicken, bell peppers, green onions, meat, eggs, etc. In this review, we will look at how to make a salad with pears, eggs and nuts.
Different types of pears are perfect for a variety of salads. For example, sweeter varieties harmonize better in fruit dessert salads, less sweet fruits - in unsweetened salads, which are seasoned with vegetable oil, vinegar, lemon juice, soy sauce, yogurt … In the proposed recipe, we will combine the pear with boiled meat, boiled eggs and fried walnuts nuts. Season the dish with vegetable oil and lemon juice. Preparing this salad is very simple, and very quickly turns into an exquisite dish.
See also the recipe for salad with eggs, green onions and cream cheese.
Caloric content per 100 g - 85 kcal.
Servings - 1
Cooking time - 15 minutes for slicing food, plus time for boiling and cooling eggs and meat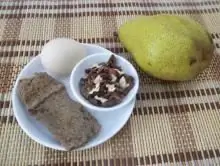 Ingredients:
Pears - 1 pc.
Walnuts - 50 g
Vegetable oil - for dressing
Salt - a pinch
Boiled meat (any sort) - 150 g
Lemon juice - 1 tablespoon
Eggs - 1 pc.
Step by step preparation of salad with pears, eggs and nuts, recipe with photo: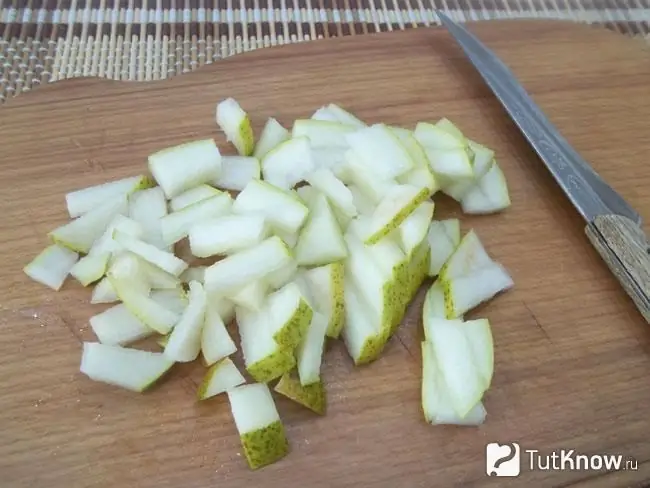 1. Wash the pears, dry with a paper towel, remove the core and cut into strips. If you wish, you can peel the fruit from the peel, but keep in mind that it is in the peel that the most vitamins are contained. For the recipe, choose a dense pear so that it keeps its shape well.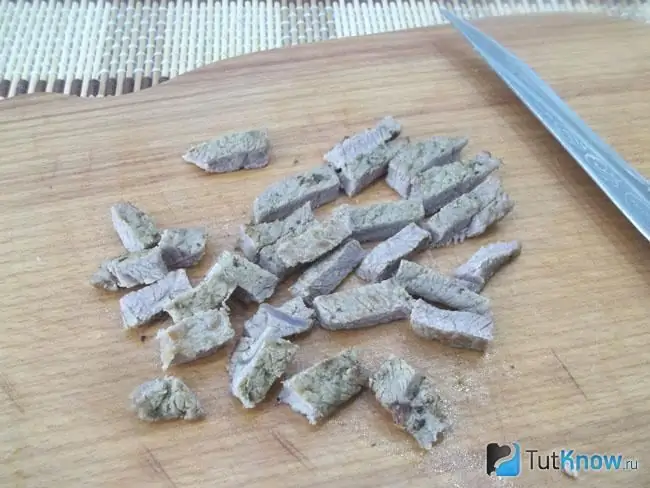 2. Pre-boil the meat in any convenient way and cool. It can also be baked in the oven or fried in a pan. With baked meat, the salad will be more delicious, fried - high-calorie, boiled - dietary. Cool the heat-treated meat and cut into pieces or tear along the fibers.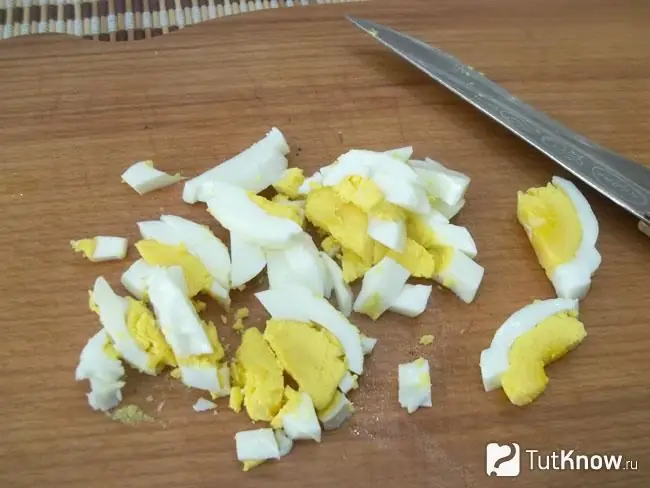 3. Boil the eggs until they have a cool consistency 8 minutes after boiling, cool in cold water, peel and cut into cubes. How to cook eggs, you will find detailed step-by-step instructions with photos on the pages of the site.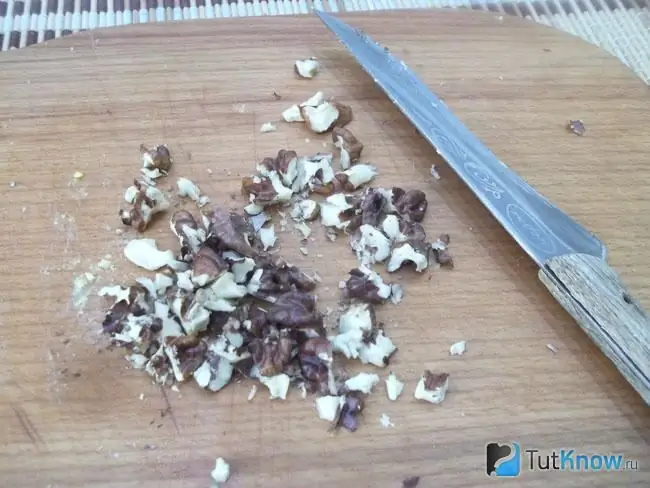 4. Pierce the walnuts in a clean and dry frying pan, stirring so that they do not burn and cut into smaller pieces with a knife.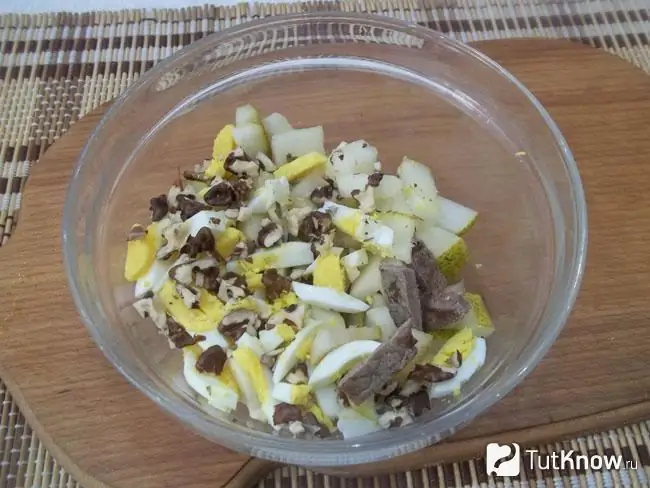 5. Combine the food in a deep container, salt, season with vegetable oil and lemon juice. Toss salad with pears, eggs and nuts, chill in the refrigerator for 15 minutes and serve.
See also the video recipe on how to make a salad with mint, arugula, pears, walnuts and blue cheese.