Pumpkin has been gathering its fans more and more lately. It is mixed into casseroles, salads, pancakes, and of course, pies. Today I will share a super-simple pumpkin-oatmeal pie recipe that will win you over with its tenderness.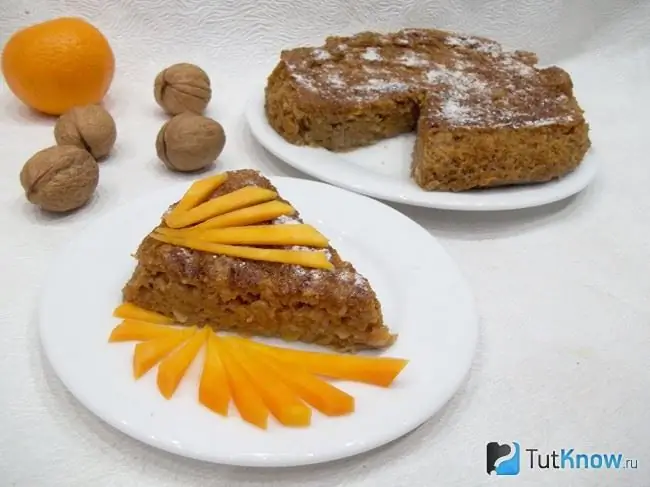 Recipe content:
Ingredients
Step by step cooking
Video recipe
If you are looking for a successful pumpkin pie recipe, then you've come to the right place. All the advantages of the product are collected here. First, the ingredients are affordable and affordable. Secondly, the dough is easily kneaded and cooked quickly. Thirdly, it turns out to be dietary and low-calorie. And, fourthly, it is very useful for the body. It is simply impossible to overestimate all these qualities. Any hostess will be happy with such a find.
It turns out the cake is very aromatic, tasty and slightly moist in the middle. For its preparation, you absolutely do not need butter, and sugar is replaced with honey. Serve it very well for breakfast, with a cup of coffee or a glass of warm milk. In addition, it can be cooked not only in an oven, but also in a multicooker. Then you will only need to set the desired mode and not worry about the fact that the product will burn. This cake also easily turns into a birthday cake. To do this, it must be covered with chocolate glaze or smeared with curd cream. In general, there are many options for experimentation. And you have a huge opportunity to create many different pumpkin desserts on the basis of this pie.
Caloric content per 100 g - 144 kcal.
Servings Per Container - 1 Pie
Cooking time - 15 minutes for boiling pumpkin, 20 minutes for cooling pumpkin, 15 minutes for kneading dough, 40 minutes for baking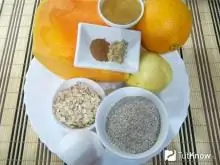 Ingredients:
Pumpkin - 300 g
Oat flakes - 150 g
Bran - 50 g
Apple - 1 pc.
Orange - 1 pc.
Egg - 2 pcs.
Honey - 2-3 tablespoons
Ground nutmeg - 1/3 tsp
Ginger powder - 1/3 tsp
Salt - a pinch
Making Pumpkin Oatmeal Pie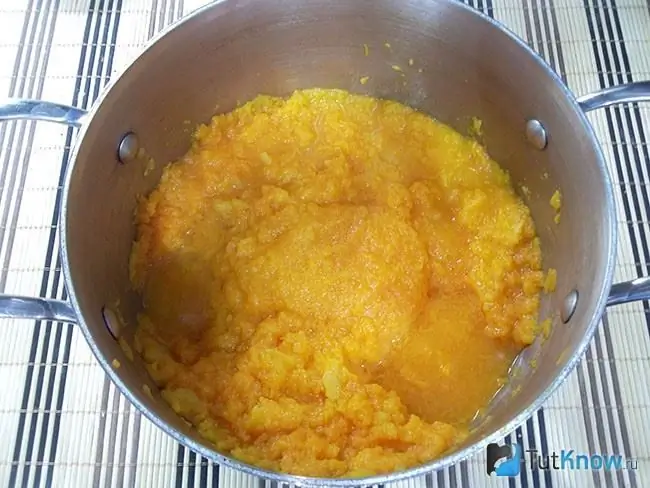 1. Divide the pumpkin into parts, take the necessary piece for the pie, and send the rest to the refrigerator. Remove the hard peel from it, remove the seeds, wash, cut into pieces, put in a saucepan, cover with water and boil until soft for about 15 minutes. The exact cooking time depends on the size of the pumpkin slices. If you need to speed up this process, then cut the vegetable into smaller pieces. After that, drain the water from the pan, cool the fruits and grind with a blender to a puree texture.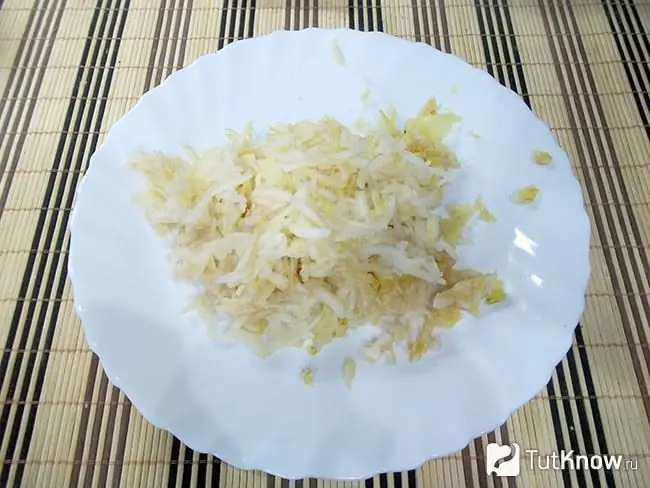 2. Peel the apple, remove the seeds, and grate the pulp.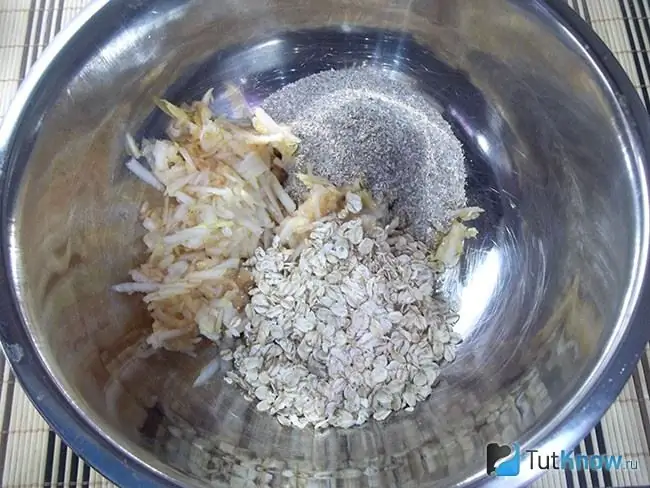 3. Pour oatmeal, bran, apple and a pinch of salt into a mixing bowl.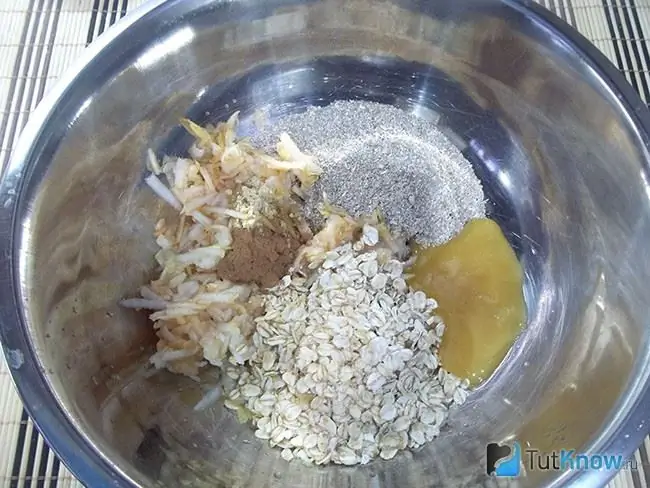 4. Add honey, nutmeg, ginger and squeeze out the juice from lemon rugs. You can grate the zest if you like.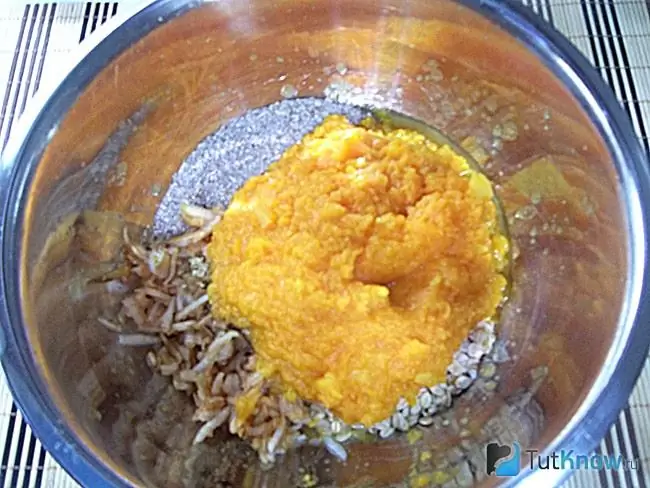 5. Add pumpkin puree.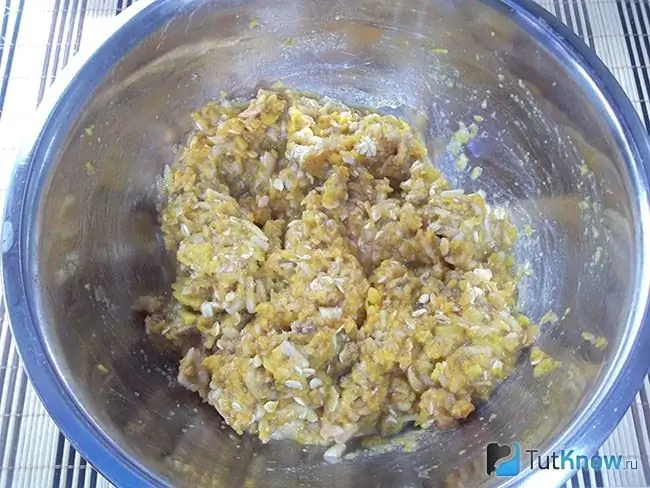 6. Stir the food well.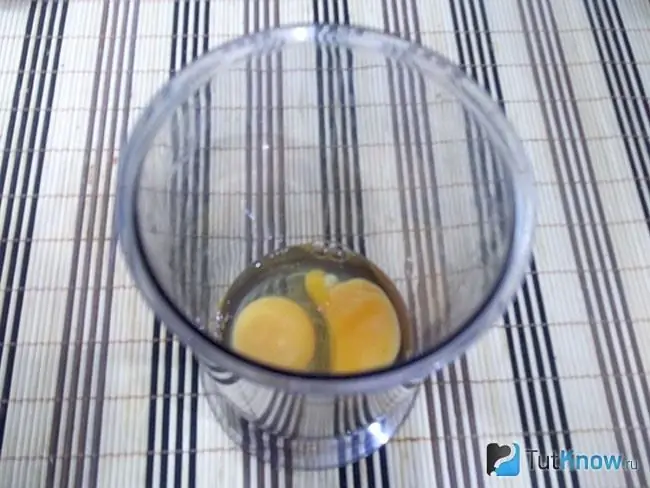 7. Drive eggs into a deep bowl.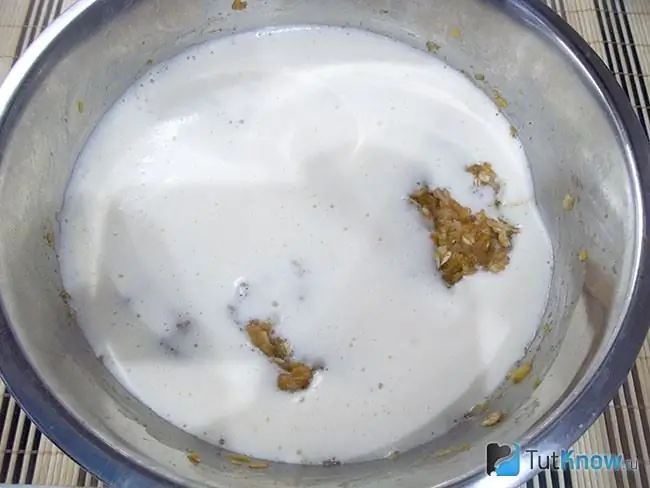 8. Beat the eggs until they form a thick foam and pour into the dough.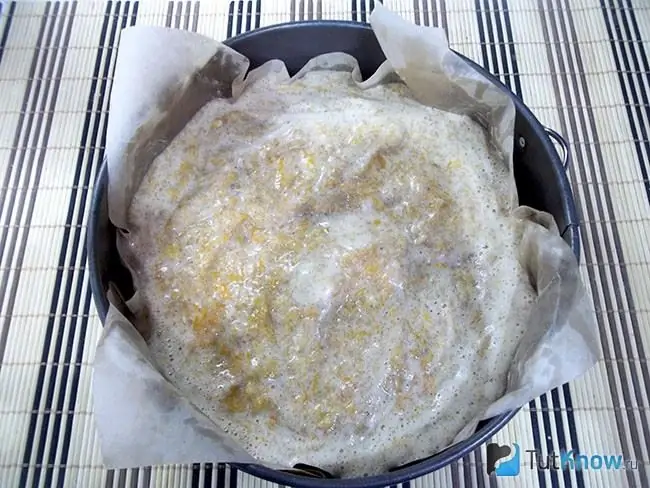 9. Knead food well and pour into a parchment-lined mold.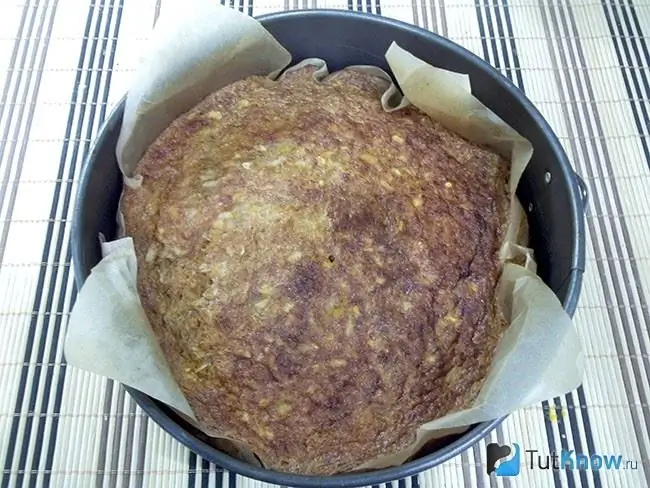 10. Heat the oven to 180 degrees and send the treat to bake for 35-40 minutes. Check the readiness with a match - it must be dry.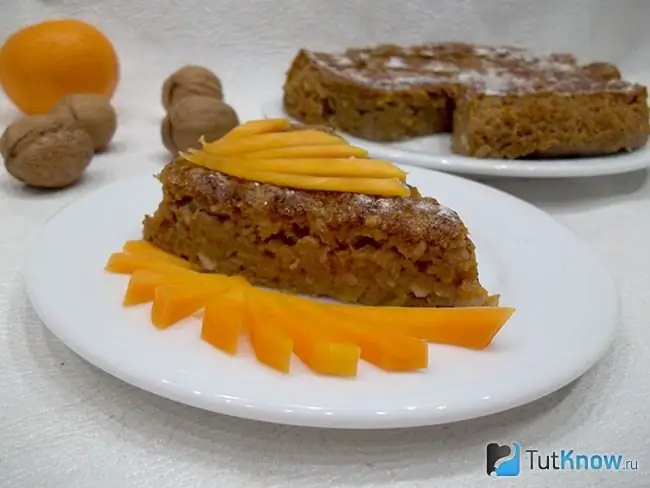 11. Chill the cake, gently remove from the mold, sprinkle with chocolate chips or powdered sugar and serve.
See also the video recipe on how to cook pumpkin oatmeal pie.