Simple products such as Chinese cabbage, cheese and walnuts can be used to make a delicious, and most importantly, healthy salad. Read how to do this in a step-by-step recipe with a photo. Video recipe.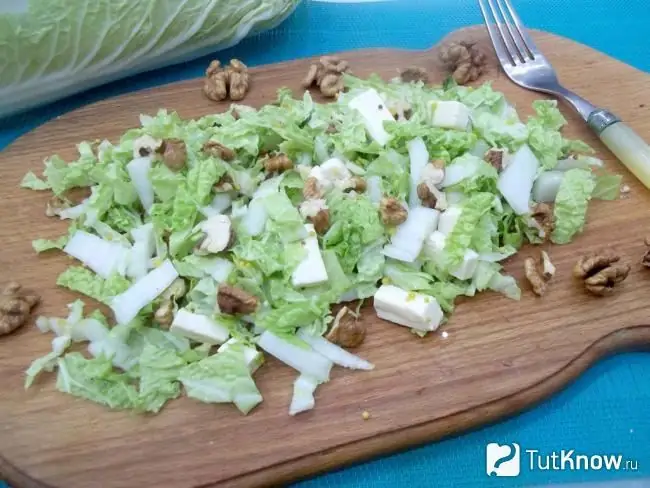 All salads are equally healthy. Today's recipe for a healthy Peking cabbage salad with cheese and walnuts is good for those who follow a healthy diet and want to lose weight. And if you add chicken breast to this salad, you get a wonderful dietary lunch or dinner! An additional plus of the dish is the budgetary cost. In the autumn-winter period of the year, Chinese cabbage will replace summer salads, and even save money. We first got acquainted with this variety of cabbage in the late 90s. But now it has become a very popular product on our tables, thanks to its high fiber content, which cleanses the body of unnecessary toxins.
The benefits of walnuts used in salad are vitamin E, which can lower the risk of heart disease and blood pressure. It is also a source of antioxidants, fiber, potassium and vitamins. It should be remembered that the nut is a very high-calorie product. Therefore, it should be consumed in moderation to avoid weight gain. To maintain health, it is recommended to eat about 30 g per day.
See also How to Make Peking Cabbage Salad, Avocado, and Poached Eggs.
Caloric content per 100 g - 129 kcal.
Servings - 1
Cooking time - 15 minutes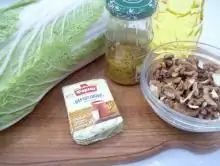 Ingredients:
Peking cabbage - 4-5 leaves
Salt - pinch or to taste
Processed cheese - 100 g
Vegetable oil - for dressing
French grain mustard - 1 tsp
Walnuts - 30 g
Step by step preparation of Peking cabbage salad with cheese and walnuts, recipe with photo: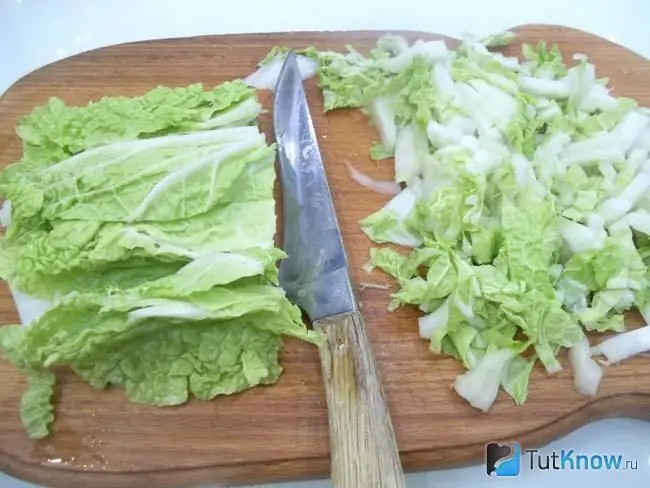 1. Wash Chinese cabbage under running water, dry with a paper towel and chop into thin strips. I recommend washing exactly the amount of leaves required for the salad. Because if the cabbage is not used all at once, it will wilt and lose its crispness.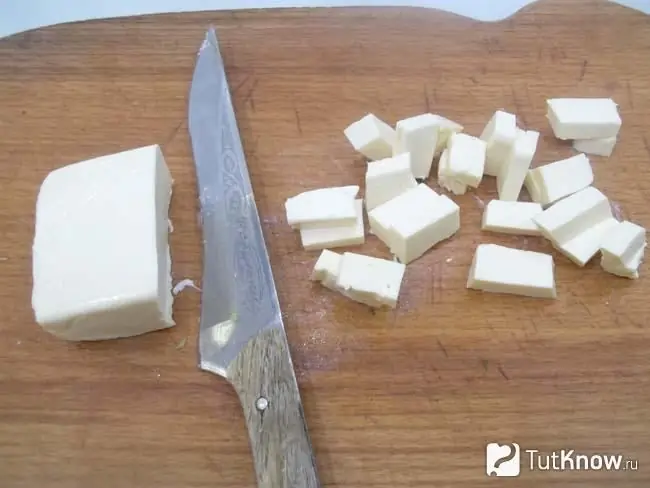 2. Cut the processed cheese into cubes or strips. If it crumples and squeezes during cutting, then pre-soak it in the freezer for 15 minutes. It will freeze a little and cut easily.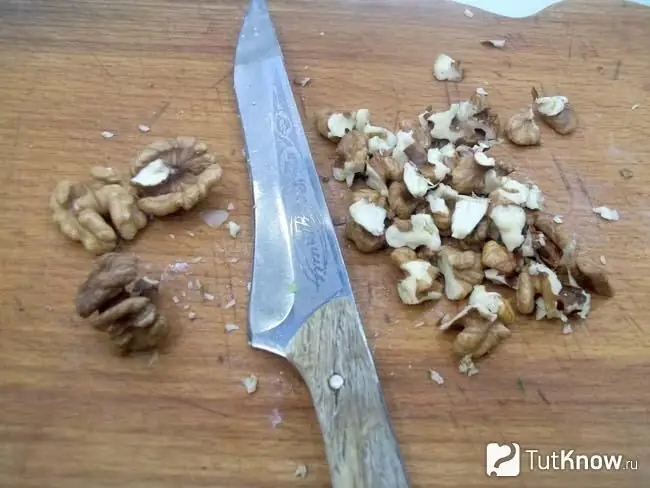 3. Pierce the walnuts in a clean and dry frying pan, stirring occasionally for about 5 minutes. Although this step is optional, the salad tastes better with roasted nuts. Then cut the nuts into medium slices.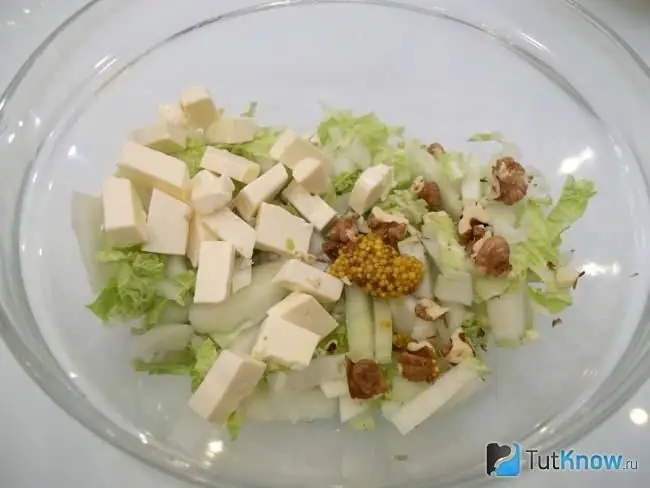 4. Place food in a deep bowl, season with salt, add grain mustard and pour over with vegetable oil.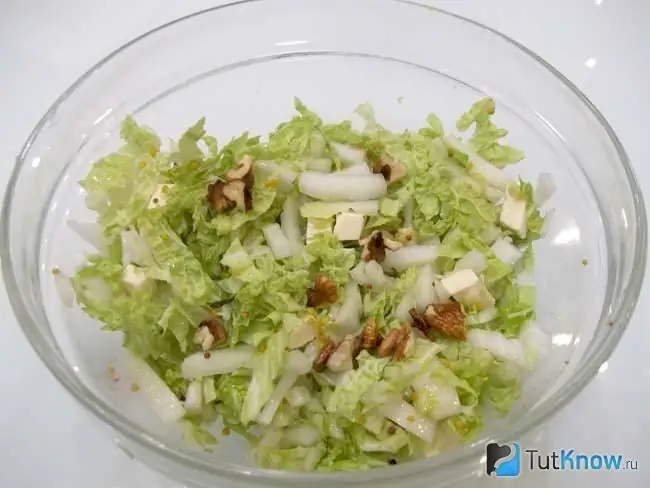 5. Toss Chinese cabbage salad with cheese and walnuts. Soak it in the refrigerator for 5-10 minutes and serve.
See also the video recipe on how to make Chinese cabbage and nuts salad.