Now it has become fashionable to return to old traditions, a healthy lifestyle and proper nutrition. I offer a step-by-step recipe with a photo of potato pots with liver and zucchini, which requires minimal effort and time. Video recipe.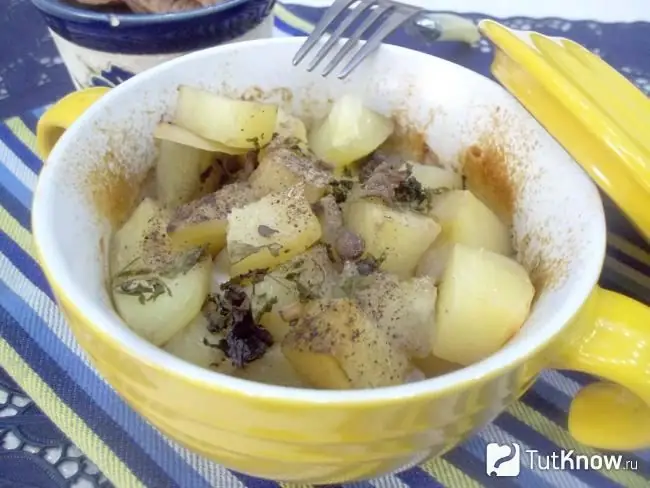 It was not for nothing that in the old days food was baked in pots and iron pots, and they were tormented in the depths of a Russian oven. This cooking method is good for several reasons. First, time is freed up for other activities. Secondly, food prepared in this way turns out to be especially tasty and satisfying. Thirdly, this method is the most promising for novice cooks, because here the oven will do everything for you. And the fourth plus, you can cook all the products in the iron pots. Therefore, today we will follow the example of our ancestors, take modern heat-resistant ceramics and prepare a family dinner. And since the proposed recipe is taken from the origins of antiquity, then we will make offal in pots, which the townspeople very rarely make at home. But in the villages, where there are animals in almost all yards, by-products are widely used. We will diversify the family menu and make potato pots with liver and zucchini.
Delicious, aromatic, real delicious and, importantly, very easy to prepare. The liver turns out to be the most tender, and the combination of zucchini and potatoes will not leave anyone indifferent. The food according to this recipe will appeal to absolutely everyone, will make you feel and remember the forgotten feelings of childhood, grandmother's care and holidays in the village.
See also how to cook pots of chicken liver, hearts, and potatoes in the oven.
Caloric content per 100 g - 246 kcal.
Servings - 2
Cooking time - 1 hour 15 minutes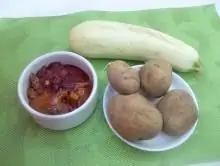 Ingredients:
Chicken liver - 300 g
Dried ground garlic - 1 tsp without slide
Potatoes - 4 pcs.
Any greens - to taste
Salt - 2/3 tsp or to taste
Zucchini - 1 pc.
Vegetable oil - for frying
Bay leaf - 2 pcs.
Ground black pepper - a pinch
Step by step cooking potato pots with liver and zucchini, recipe with photo: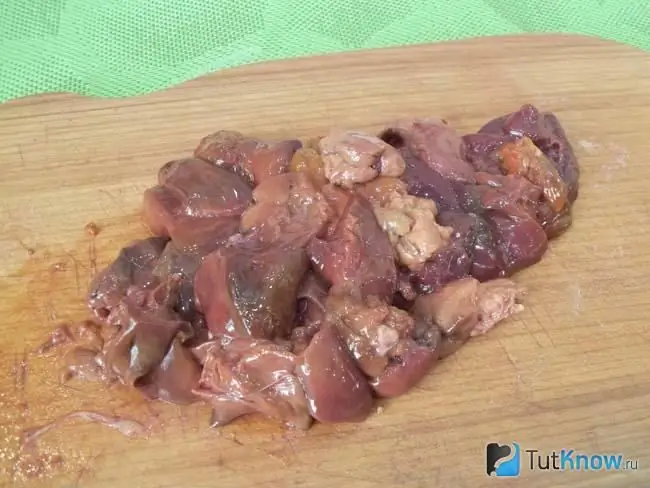 1. Wash the chicken liver under running water, cut off all films and cut into medium-sized pieces. Instead of chicken liver, you can use any other kind of offal. For example, turkey or veal liver.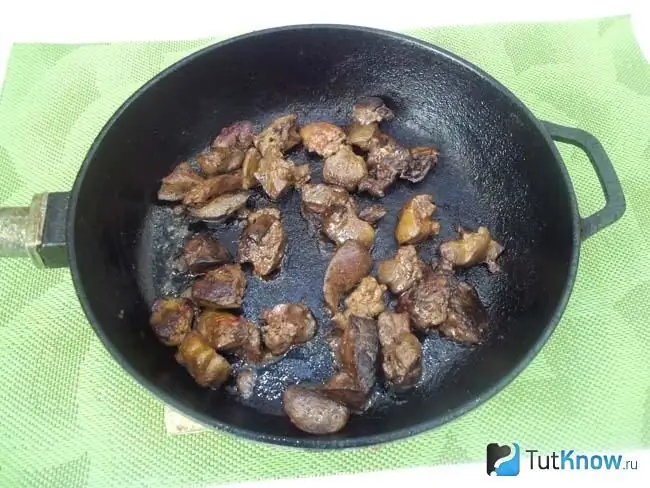 3. In a skillet, heat vegetable oil and fry the liver over medium heat until light golden brown. It is not necessary to bring it to readiness, tk. it will still be cooking in the oven.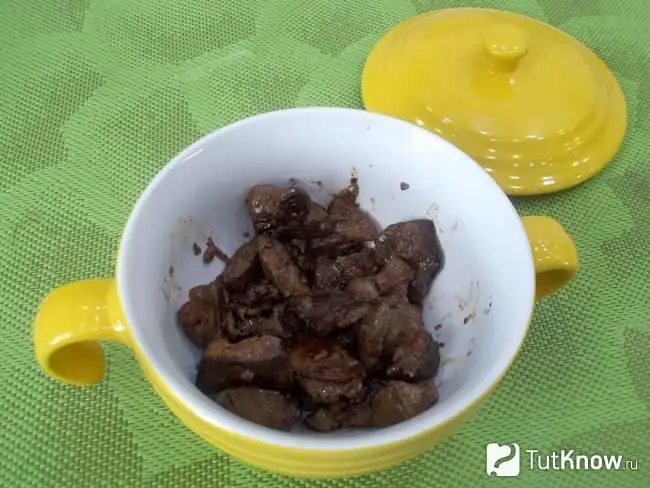 3. Place the liver in a ceramic pot.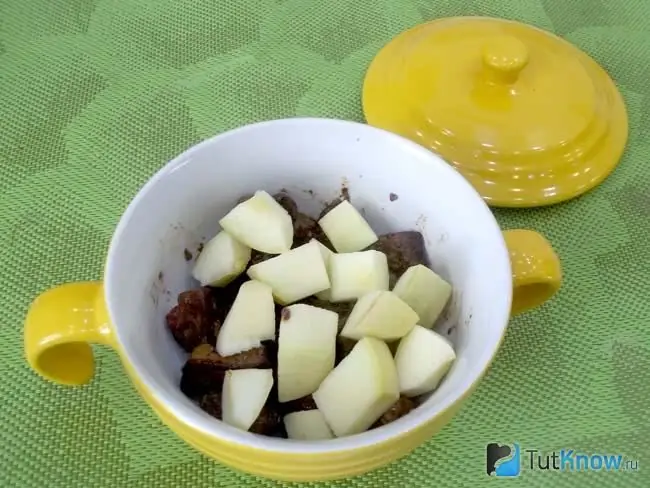 4. Wash the courgettes, cut into medium-sized pieces and send to the pot. Place it on top of the liver and do not stir. If you are using ripe zucchini, peel them off. it is firm and remove the seeds as they are large.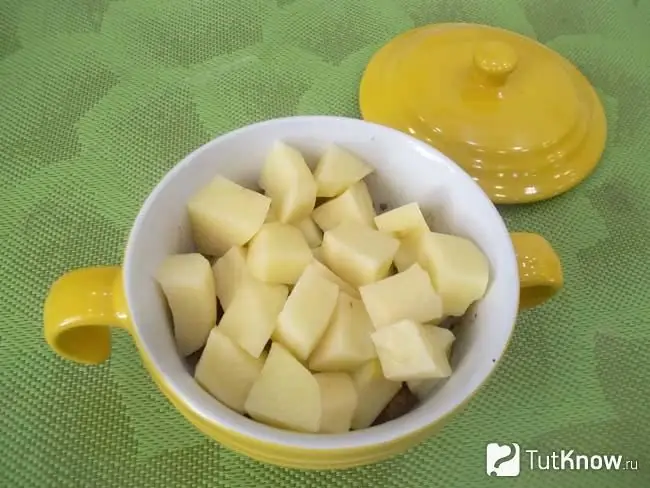 5. Peel the potatoes, wash, cut into the same size as the courgettes and send to the pots.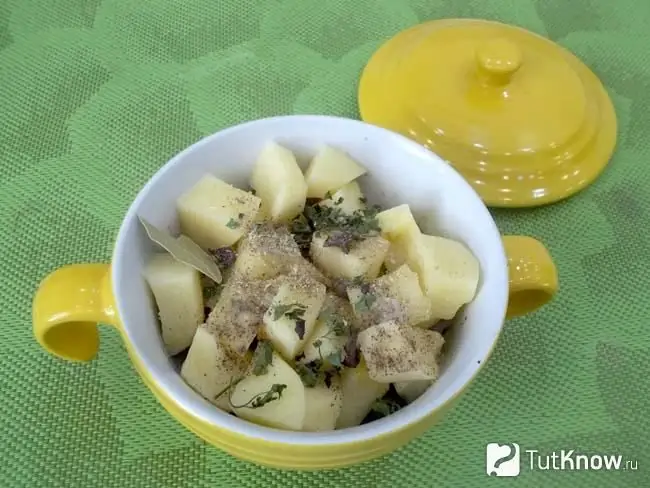 6. Season food with salt and black pepper. Season with salt and pepper. Add bay leaves, dried garlic, and chopped herbs. Dried herbs are used in this recipe.
Fill the food with drinking water so that it covers half of it. Cover the potato pots with liver and zucchini with a lid and place in the oven. Heat it to 180 degrees and bake the dish for 40-45 minutes. Please note that ceramic pots should not be placed in a heated oven, because from a sharp drop in temperature, they can crack. For the same reason, when removing them from the oven, do not place them on a cold surface.
See also a video recipe on how to cook chicken liver with vegetables.