How to make a sweet and sour marinade for oven-baked meat at home? Selection of products and cooking technology. A step-by-step recipe with a photo of preparation and a video recipe.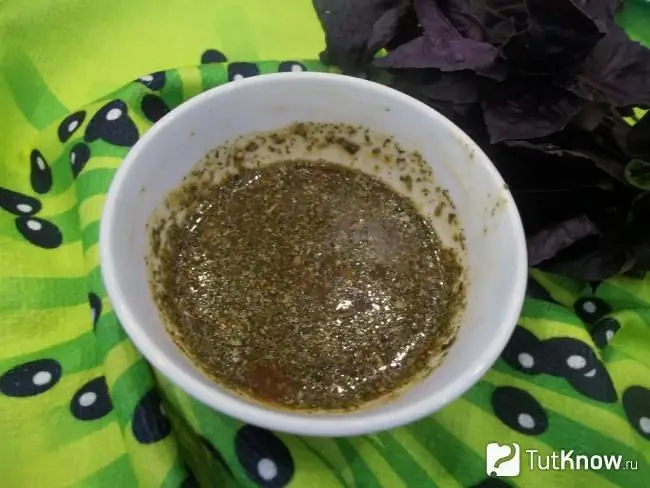 Did you know that the ancient Romans started using marinade for meat? As a marinade, they diluted sea salt with water and soaked the meat of the prey in the resulting solution. But over the years, people used new ingredients to make the marinade. We remember well the days when our grandmothers could not imagine marinade without vinegar. It softens the fibers of the meat, and after the meat is in such a solution, the finished dish turns out to be more tender and juicy. Today, a wide variety of products are used for the marinade. As a result, you can count a huge number of such recipes. I will share one of these options today.
If you want to know how to cook sweet and sour marinade for meat in the oven, then read the article to the end. I will show you step-by-step actions with an illustration, and tell you all the secrets and subtleties of the recipe. My recipe uses non-tricky ingredients, they are present in many families at home. If you cook the marinade correctly, it will reveal the taste of any cooked meat, add to it the tenderness that you want to get as a result. This marinade can be used for any type of meat and any cooking method. It is even suitable for barbecue. If you want to cook tender beef, pork or lamb at home, use this recipe.
Caloric content per 100 g - 52 kcal.
Servings - 1
Cooking time - 10 minutes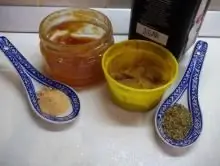 Ingredients:
Soy sauce - 3-4 tablespoons
Dried ground garlic - 1 tsp
Italian spices - 1 tsp
Ground black pepper - 0.5 tsp
Pasty mustard - 1 tsp
Honey - 1 tsp
Step by step preparation of sweet and sour marinade for meat: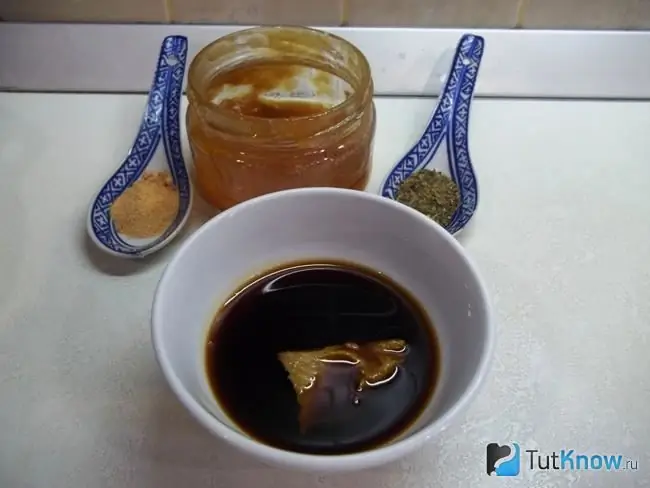 1. Pour soy sauce into a small bowl and add mustard paste. My mustard is ordinary, moderately spicy. Optionally, you can take grain Dijon or French. But keep in mind that these mustard varieties have a milder taste. Therefore, if you like more spicy marinades, it is better to use hot mustard. Dry mustard diluted with vinegar is also suitable. Vinegar softens meat well, it is especially great for fatty pork, because adds a certain sourness. The main thing is to take it in moderation.
In my recipe, soy sauce is used as the main ingredient for a quick marinade, but you can use wine, beer, dairy products instead.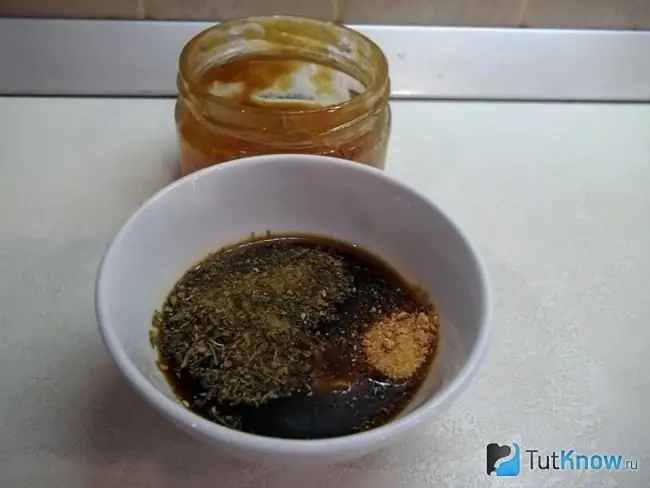 2. Pour Italian spices, dried ground garlic and black pepper into a container. The number of spices, as well as their set, can be selected at your discretion. If you do not like any of the suggested spices in the recipe, you can skip using it.
Paprika, marjoram, nutmeg, ground ginger, coriander, hot red pepper, finely chopped garlic cloves, tomato paste or sauce, kiwi slices, pomegranate and lemon juice are well suited here.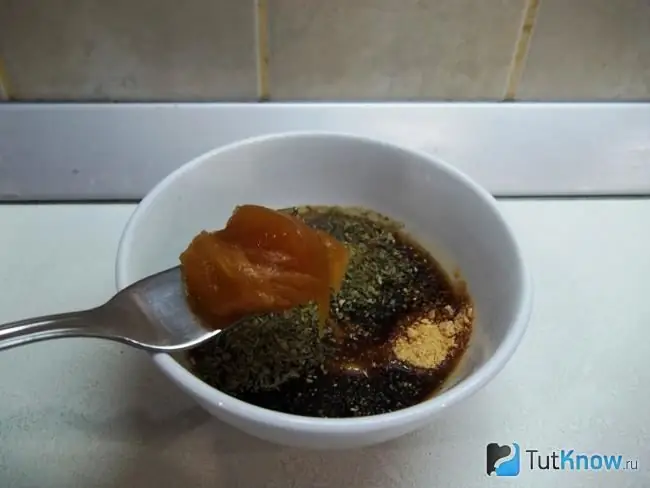 3. Add honey to products. If the honey is very thick, then preheat it in the microwave or steam bath so that it melts. Otherwise, very thick honey will be difficult to stir in the sauce until smooth.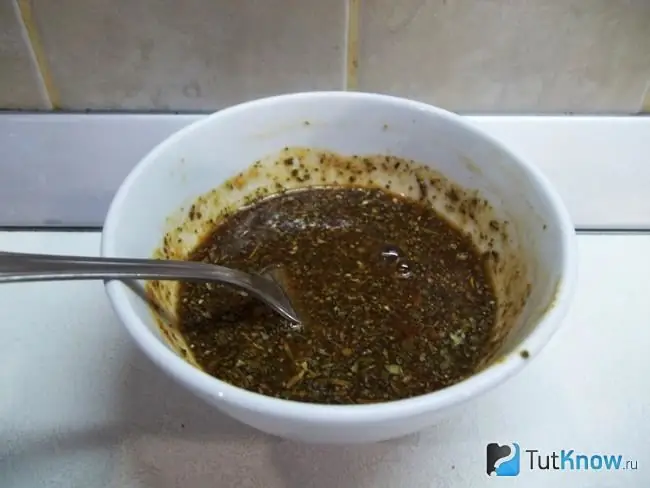 4. Stir and spoon thoroughly all the spices. Taste the marinade. And add salt if necessary. But be careful with its quantity, because the marinade is prepared on the basis of soy sauce, which is already salty. Therefore, salt may not be needed at all.
If you are preparing the marinade for a lean piece of meat, I recommend adding a spoonful of vegetable or olive oil to the composition. Do not use unrefined oil, as because of the pungent smell, it will ruin the marinade and give it a pungent oil smell. With olive oil, the marinade will have a more interesting and rich taste.
Spread a piece of meat with the finished marinade, put it in a bowl, cover with cling film and put in the refrigerator to marinate for at least 3 hours, and it is better to leave it overnight.
Such a marinade can be prepared in advance and stored in the refrigerator for two days, or made just before marinating the meat.
See also a video recipe on how to cook sweet and sour marinade for meat