Pancakes with meat, zucchini with semolina are quite unusual, but tasty and aromatic. If you are a lover of healthy and at the same time light food, then you will definitely like this recipe.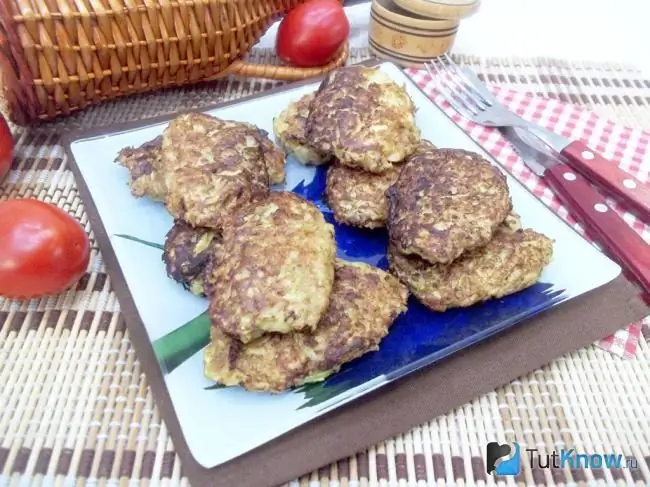 Recipe content:
Ingredients
Step by step cooking
Video recipe
Summer is a fertile time. We can enjoy our favorite fruits, berries and vegetables, and in addition enrich the body with vitamins and microelements. Today we'll talk about zucchini. Despite the fact that it is already autumn outside the window, but zucchini are still on sale, and we can afford to feast on them. By this time, many were already tired of fried zucchini, and then zucchini pancakes would be an excellent alternative. There are also many options for them, and today I propose to learn how to cook pancakes not only with zucchini, but also with minced meat and semolina.
Meat pancakes with zucchini and semolina are tender and fluffy. Among other things, they cook very quickly, especially if there is an electric meat grinder. Semolina perfectly absorbs the liquid that the squash pulp secretes. Thanks to this, the pancakes have a denser, but pleasant texture. Any variety can be used as a meat product. This recipe uses pork, but also very tasty zucchini pancakes with chicken.
Serve hot pancakes with white garlic or cheese sauce. Serve with mashed potatoes or boiled young potatoes. Spaghetti or rice will also be combined. However, with these pancakes you will experience an explosion of new unrivaled taste experiences.
Caloric content per 100 g - 118 kcal.
Servings - about 15
Cooking time - 35-40 minutes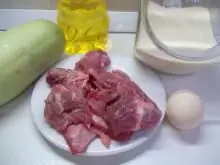 Ingredients:
Pork or any other type of meat - 500 g
Zucchini - 1 pc.
Semolina - 50 g
Eggs - 1 pc.
Salt - 0.5 tsp
Ground black pepper - a pinch
Vegetable oil - for frying
Step by step preparation of meat pancakes with zucchini and semolina: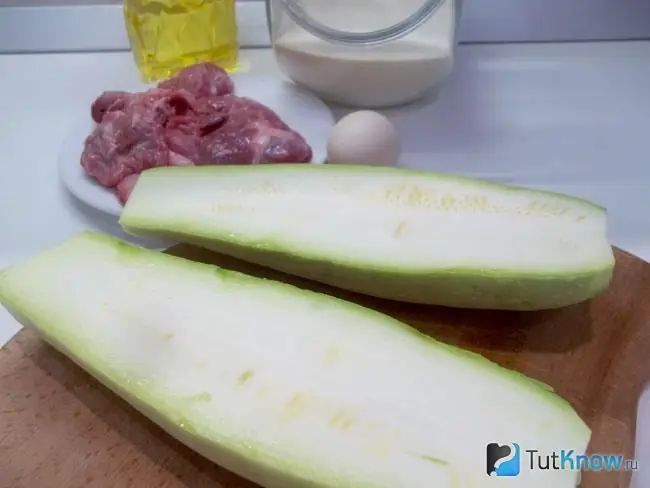 1. Wash the zucchini, cut off the tails on both sides, wash and dry. If old fruits are used, then remove large seeds from them and cut off the thick rind. It is not necessary to do this with young individuals.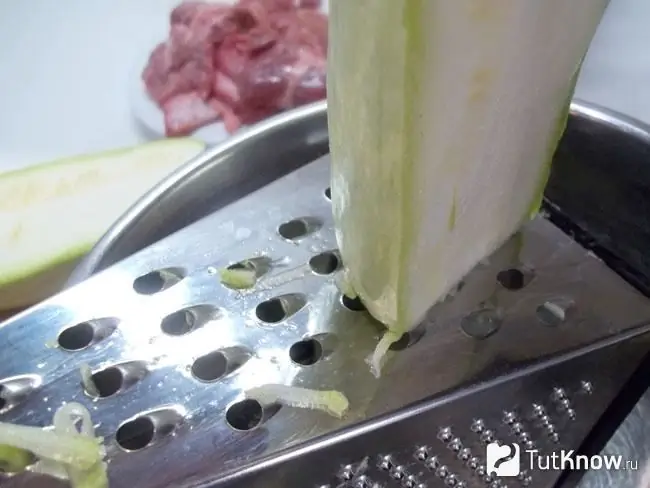 2. Take a coarse grater and grate the courgette. If you have a food processor, then use it to speed up the cooking process.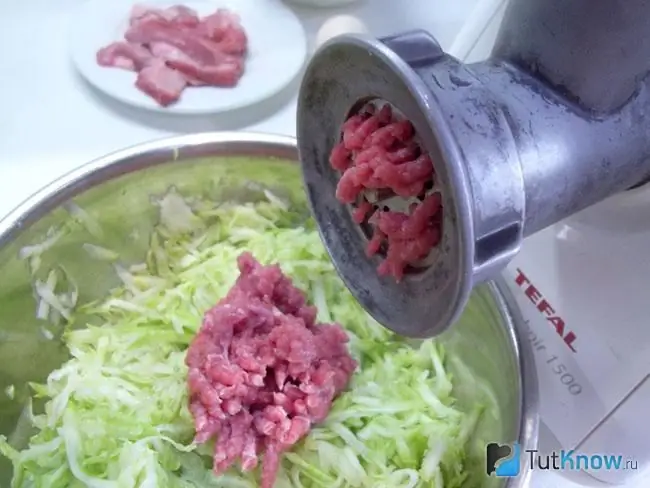 3. Place the meat grinder with the middle wire rack and pass the meat through it. Wash and dry it first. If there is film and conductors, cut them off. Also remove excess fat, otherwise the pancakes will be too greasy.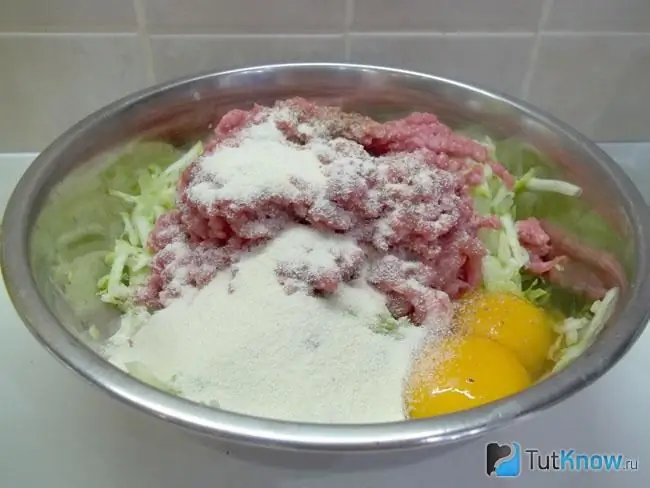 4. Pour semolina to the food and beat in the eggs. Season with salt and ground pepper and add any spices and herbs to taste.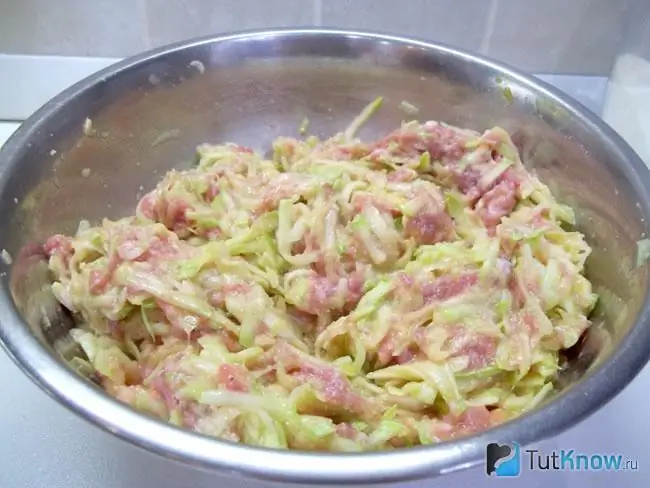 5. Stir the minced meat and leave to stand for 20 minutes, so that the semolina absorbs the juice from the zucchini. The groats will swell and will not squeak on the teeth in the finished cutlets.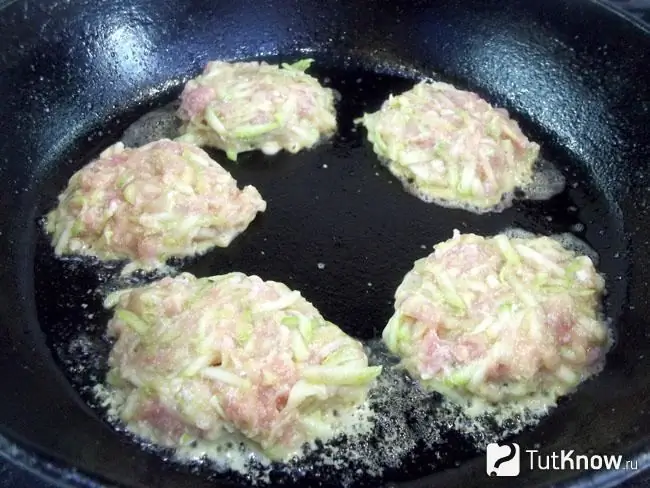 6. Place the frying pan on the stove, add oil and heat. Spread the minced meat with a tablespoon, forming it into an oval shape. Bring the heat to medium and fry the pancakes for 5 minutes until golden brown.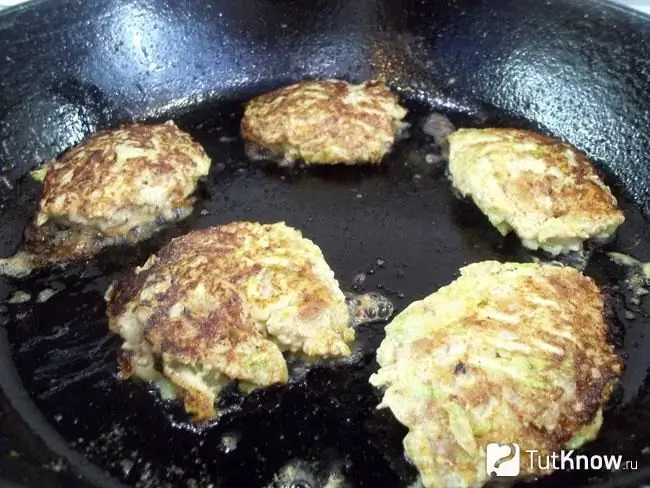 7. Turn them over and cook pancakes for 5-7 minutes until golden brown. Serve them warm with your favorite sauce.
See also a video recipe on how to cook zucchini pancakes with semolina.