How to quickly make a puff pastry pizza with sausage, cheese and sun-dried tomatoes at home. Treats for a festive and everyday table. Step by step recipe with photo and video recipe.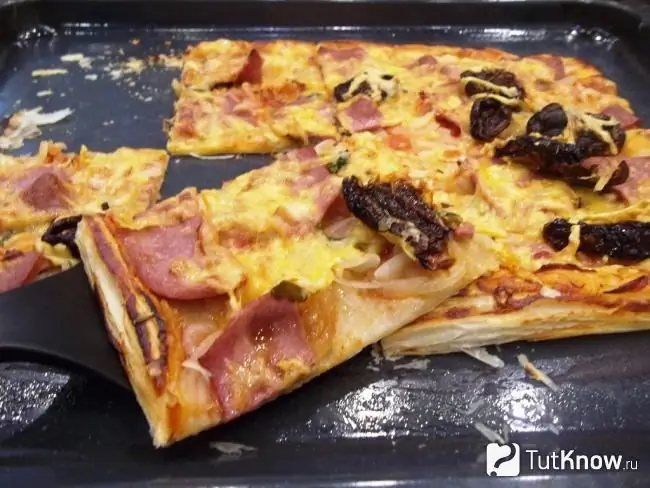 Do you like pizza? I think everyone will answer this question in the affirmative, without even thinking. Moreover, despite the fact that we all have different taste preferences in food. After all, there is no tasteless pizza, which is why everyone loves it. Pizza is so versatile that you can always get a new flavor by constantly changing the fillings. Thanks to this, we can bake the pizza that will become our favorite.
You don't have to go to an expensive restaurant to enjoy delicious pizza. After all, it can be baked at home with a large amount of filling, so that you can eat your fill with one piece. Usually, a pizza base is made from yeast dough. But today I propose to try to deviate from the rules and cook a super fast and slightly different homemade pizza. To do this, we take puff yeast or yeast-free dough as a basis, which is sold in any store. In this case, you will spend no more than 30 minutes cooking. I think this recipe will definitely interest you.
I will use the classic pizza filling: sausage, cheese and tomatoes. But we only take the tomatoes not fresh, but sun-dried. Pizza with sun-dried tomatoes is in no way inferior to baked goods with fresh tomatoes, but on the contrary, its taste becomes more intense. You can do the harvesting of sun-dried tomatoes yourself or buy a jar of ready-made tomatoes at the store. You will find the recipe for their preparation on the pages of our site using the search line. Having a jar of sun-dried tomatoes in stock, they can then be used to prepare various dishes, and not only for baking. But now is not about that.
Caloric content per 100 g - 282 kcal.
Servings - 2
Cooking time - 35 minutes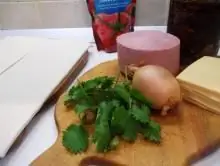 Ingredients:
Yeast puff pastry - 250 g
Cheese - 70 grams
Greens - a few twigs
Onions - 0.5 pcs.
Ketchup or tomato paste - 1-2 tablespoons
Sausage - 100 g
Sun-dried tomatoes - 10-12 pcs.
Step-by-step preparation of puff pastry pizza with sausage, cheese and sun-dried tomatoes: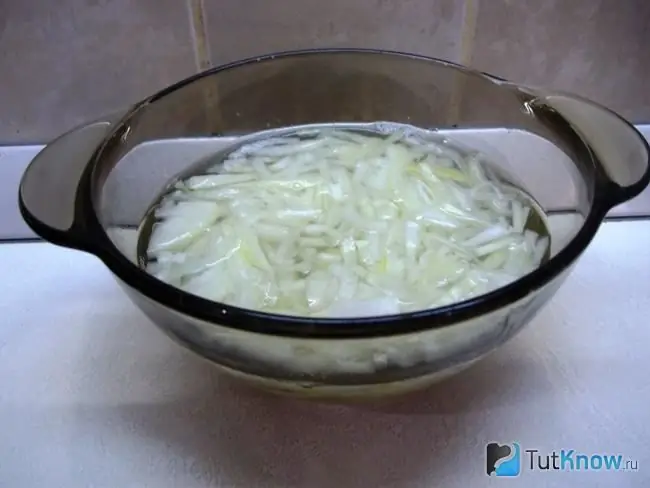 1. Peel the onions, rinse with running water and cut into thin quarter rings. To remove bitterness from it, pour boiling water over it. Also, if you wish, you can marinate it in vinegar and sugar. But you can use it as it is, it will be no less tasty. The main thing is not to overdo it with its quantity.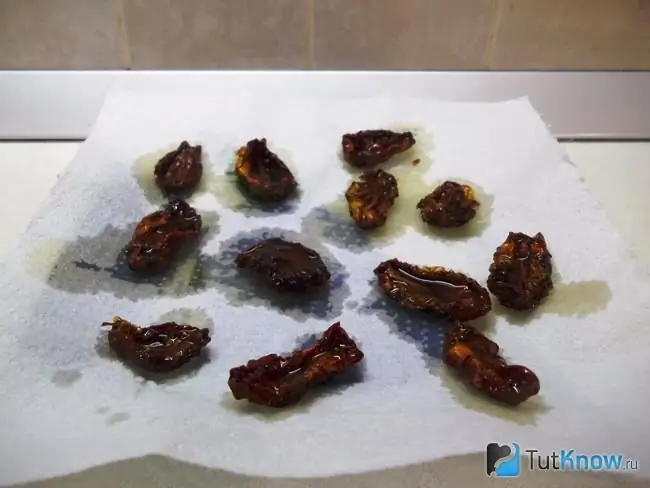 2. Remove the sun-dried tomatoes (I have homemade ones) from the jar and put them on a paper towel to remove excess fat.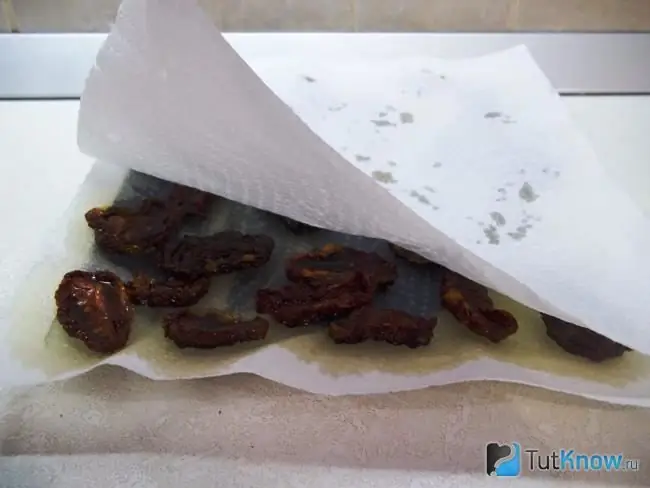 3. On top of the tomatoes, place another sheet of paper towel to soak them well from excess fat.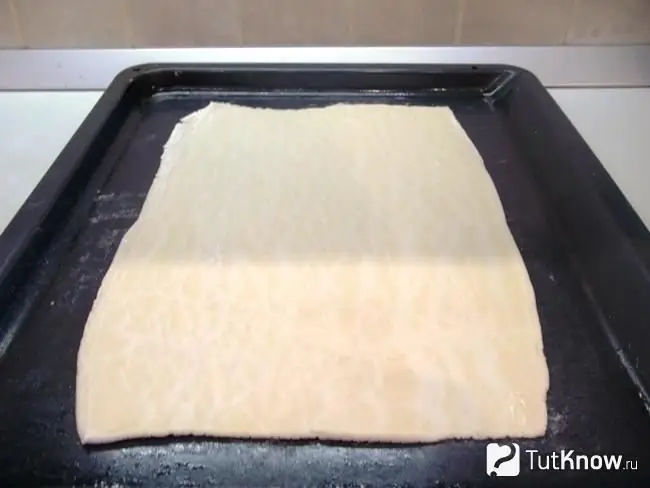 4. Puff yeast dough (you can use puff or homemade) remove from the freezer, release from the packaging and leave to defrost at room temperature. Better yet, take it out of the freezer in advance and put it in the refrigerator so that it thaws slowly. Then its structure is guaranteed to be preserved. The manufacturer usually recommends defrosting the dough for 15-20 minutes. But it is better for it to lie for 30 minutes to 1 hour at room temperature. Then it will easily roll out.
When the dough is soft and pliable, roll it into a rectangle with a rolling pin and transfer to a baking sheet. You can make a large pizza, or a mini-pizza portion by cutting the rolled dough into pieces.
Pre-grease the baking sheet with a thin layer of vegetable oil or cover with baking paper. But baking pizza on paper will make it easier to clean the baking sheet, because with her, he remains pure.
Use a fork to prick the dough several times over the entire surface so that it does not swell when baking.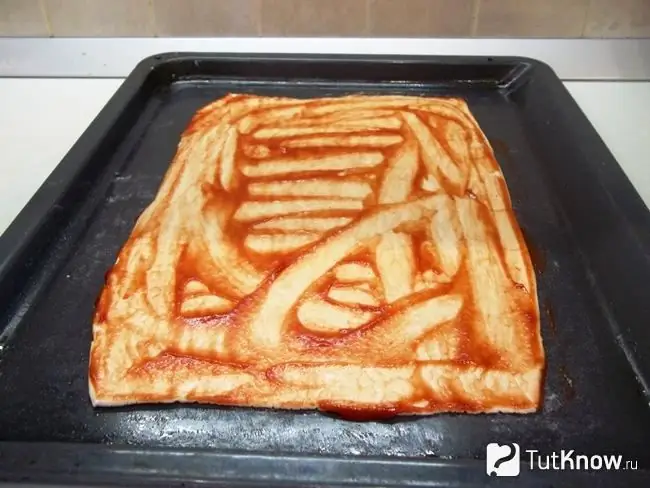 5. Brush the surface of the dough with a thin layer of ketchup. You can use tomato paste or sauce. You can add mayonnaise, mustard paste, or any sauce you like.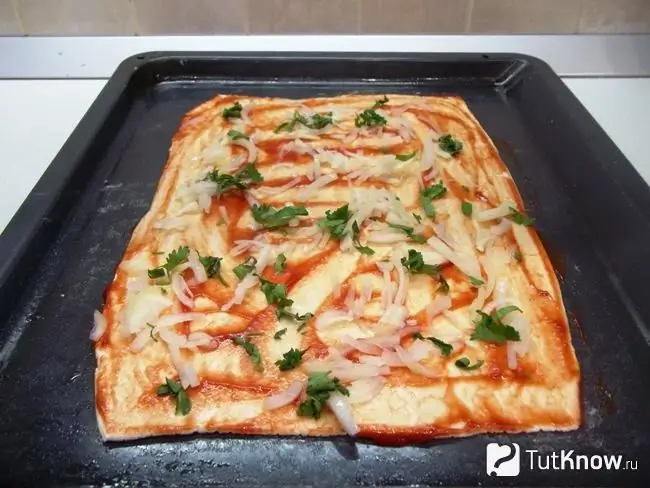 6. Top with onions and chopped greens. I have parsley, but you can take cilantro, basil, arugula. Also, a pinch of dry Italian herbs, paprika, cayenne pepper, dried herbs will not hurt.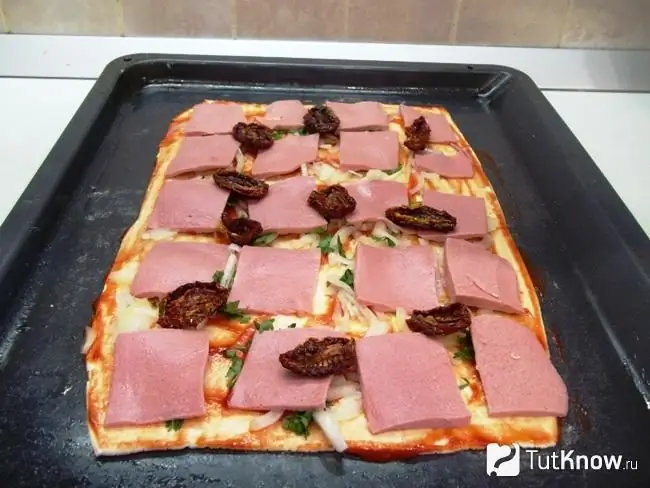 7. Cut the sausage into slices about 5 cm thick. I used milk sausage, but smoked sausage, salami, even sausages will do. Any sausage and other products are suitable as meat filling. Use everything that is at hand and in the refrigerator: boiled or fried meat, fish, you can even crush yesterday's cutlets on the surface.
Top with slices of sun-dried tomatoes. If you don't have sun-dried tomatoes, use regular fresh tomatoes cut into slices. But then take them dense and elastic, tk. soft when slicing and baking will produce a lot of juice. From this the dough will not bake well and may be "glittery".
Along with the tomatoes, you can add chopped or pitted olives, pineapple wedges, corn grains, seafood.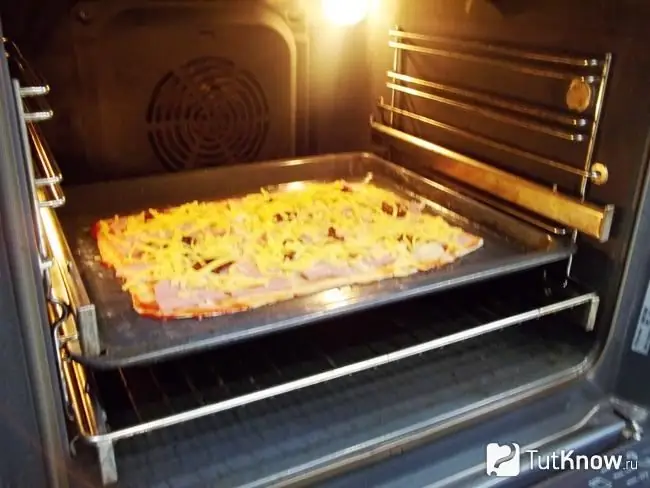 8. Grate the cheese on a coarse grater and sprinkle the pizza liberally over the entire surface. It is better to use soft cheese for pizza like Suluguni or Mozzarella, because they melt easily and are very delicate. But semi-hard or hard cheeses, such as Russian or Gouda, are also suitable. Also, baked goods with melted or sausage cheese will not be bad.
You can pour a few drops of olive oil on top of the filling, it will not hurt.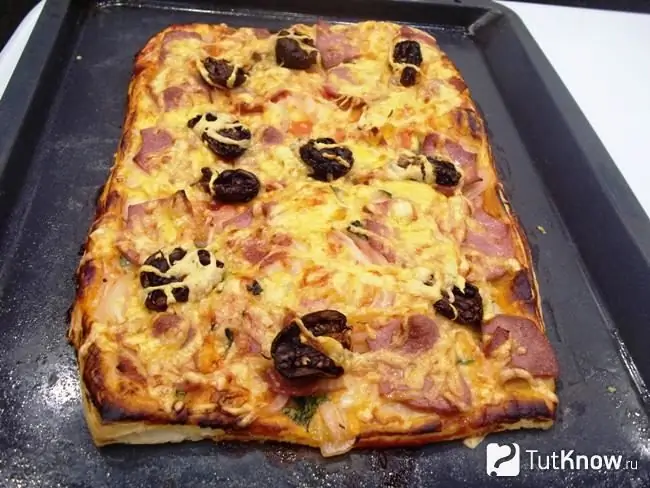 9. Send the product to be baked in a preheated oven to a temperature of 200 ° C for 15 minutes. Better follow the baking process, because overexposing baked goods will cause them to be tough and may burn. Puff pastry cooks very quickly.
Sprinkle the finished pizza with crispy puff pastry and delicious sausage, cheese and sun-dried tomatoes filling with fresh herbs before serving. Then cut it into pieces and start eating right away while the cheese is hot, melted and frozen. It is better to serve the pizza warm, but after cooling, cold, it remains no less tasty.
See also a video recipe on how to make puff pastry pizzas with sausage, cheese and sun-dried tomatoes